Xfinity Flex streaming box appears to be for the non-technical user who wants direct access to the various popular premium streaming services like Netflix and Amazon Prime, just to mention a few. But you don't want to install them on their own by using the firestick or Roku devices which gives you that freedom and more.
This replaces their small STBs – especially if you also are a subscriber to Xfinity Internet or Xfinity Phone. However, like the small STBs, it connects to the STB via either HDMI or cable-in. It also has HDMI-in (which the X1 STBs don't support). The fact that it supports Netflix, YouTube, and Prime Video (YouTube costs nit); that it supports 4K is a major plus. But, apart from these, it has some major issues.
Recently users started reporting that they are not able to use the Xfinity Flex streaming box as it is not working on their device. So, when we research this error, we have found some fixes that will surely help you. Therefore, read this guide until the end, as we have mentioned the necessary steps to fix this.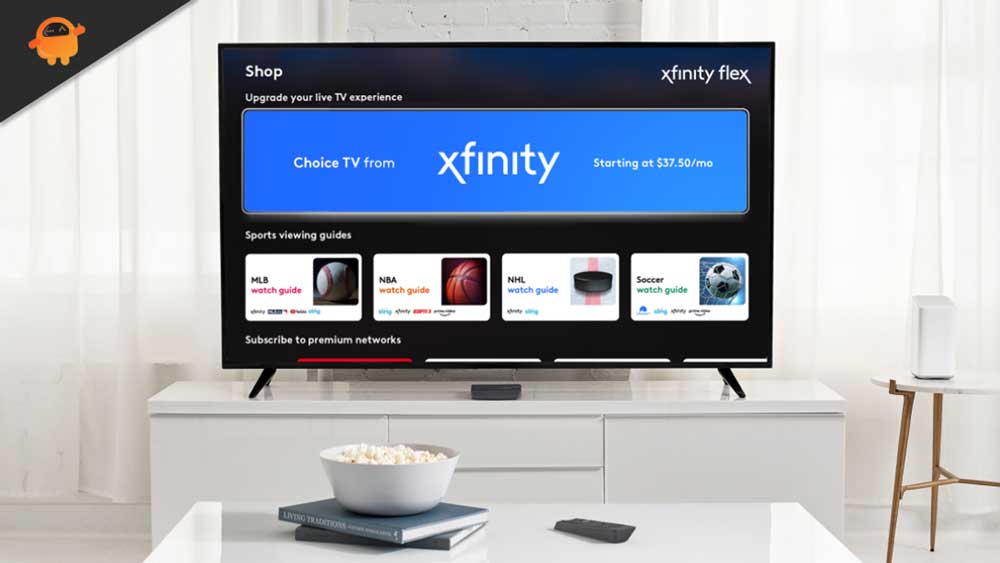 Fix: Xfinity Flex Streaming Box Not Working Issue
So, here are the guidelines that you require to follow to fix the Xfinity Flex streaming box not working issue. Therefore, make sure to follow them carefully. So, let's get started with it.
Method 1: Reboot The System
This is the very first step that you need to take if your Flexbox is not working at all. Rebooting make your device work like a new one and provide a fresh new start to work properly. We generally ignore this as we think that this will not help in such a way to fix this kind of issue, but that's not the truth.
Therefore, it is highly recommended you reboot once your X1 TV box if you ever find this kind of issue. Meanwhile, while saying that your flex TV box wouldn't work means it is not turning on at all, then this method won't work for you as to when the device is not turning on then how you can reboot it. So, don't worry! We have more options for you; simply check them out.
Method 2: Check The Power Cord
Did you check the power cord that you are using? If not, then you should do it first. Well, sometimes, due to a faulty or damaged wire, your Xfinity Flex streaming box is not working, due to which you are not enjoying the programs you used to watch on Flexbox.
However, there is a possibility that the power cord that you are using may get cut or the pins were broken due to some reasons. So, in that case, changing the wire will be the right choice for you. However, the same thing goes with the power socket.
Yes, you can also check out whether the power source that you are using is working properly or not. Most of the time, it is seen that the issue occurs due to the poor power source. So, check it, and if possible, then try using another source and let us know if it helps.
Method 3: Power Cycle The X1 TV Box
Suppose in case the power lights are blinking on your Xfinity Flex streaming box, but you cannot be able to access it, then this means due to some random bugs or glitches, the Xfinity Flex streaming box gets stuck, and its hardware isn't able to work properly. So, now how can you fix this? Don't worry! We are here to help you if you don't know about this.
To remove some random and temporary files from your Xfinity Flex streaming box, you need to simply power cycle your X1 TV box. Many users previously reported that this helped them fix the not working or crashing issue.
But don't forget to wait for at least 30 seconds before plugging in the wire to your Xfinity Flex streaming box. So, you can also give it a try and check if your Xfinity Flex again starts working on your TV or not. Well, I'm pretty much sure that this will surely help you resolve the issue.
Method 4: Check The HDMI Cable
Another factor that may come up as the main culprit for this issue. Many players previously reported that their Xfinity Flex streaming box is not working due to a faulty or damaged HDMI cable and sometimes starts crashing randomly.
Therefore, you can simply plug out the HDMI cable carefully from your TV as well as the Xfinity Flex streaming box. Then, inspect the cable and look if there is any cut or damage that may be the reason for this issue. If everything looks great, this means there is no issue with your HDMI cable.
But, if you find some faults that occur in the cable, you can opt for a new one. However, before buying a new HDMI cable, make sure to check if it is compatible with your TV or not because it is possible that your TV may not support a duplicate cable. So, for assurance, buy an HDMI cable from the manufacturer of your TV.
Method 5: Contact To Support Team
We highly regret if the above methods won't work for you as it is possible that there are some random internal issues going on with the hardware of the Xfinity Flex streaming box. Therefore, it is better to contact the technical support team and ask them for help.
I'm pretty much sure that they will surely come up with some sort of solution that surely helps you fix if the Xfinity Flex streaming box is not working at all. So, you should definitely try this out. You can also navigate to the link to contact the support team.
Also Read: Fix: Amazon Prime Video Not Working on Windows 11
Conclusion
I've had a flex for nearly a year now. It is, hands down, easily the worst streaming box I have ever used. Slow, laggy, unresponsive, constant dropped connections. I'm sure you are also getting frustrated with these errors. But, anyway, if you are facing an issue with your Xfinity Flex and it is not working at all with your TV, then you know how to fix it.
So, for whom you are waiting for. Go and enjoy your favorite program with a bowl of popcorn. So, that's all from our side. We hope this guide has helped you. However, in case you still have any doubts regarding the Xfinity Flex, let us know in the comment section.