Interested in buying the latest Xioami Poco M2, M2 Pro, and C3 devices but being particular about their waterproof, splashproof, and dustproof capabilities? Here we all about how all of these devices are protected against water and how do they perform in rain and other accidental water damages.
Xiaomi POCO smartphones are very well popular for their heavy gaming performance. The company does an exceptional job in launching mid-range and budget-friendly phones with top-notch features. Besides, POCO introduces its phones with a well-built quality capable of surviving typical environments up to an extent. However, no waterproof or splashproof certifications are mentioned by the company.
The devices come out with an excellent set of features at its price range. However, Xiaomi POCO fans seem to have just a little more expectation from these devices. Since the three smartphones have already made a huge impact on the market, POCO fans are excited to know if they come with a waterproof IP rating too. Generally, the waterproof IP rating is provided to the high-end phones or the flagships. But Xiaomi never fails to surprise the users with their new launches.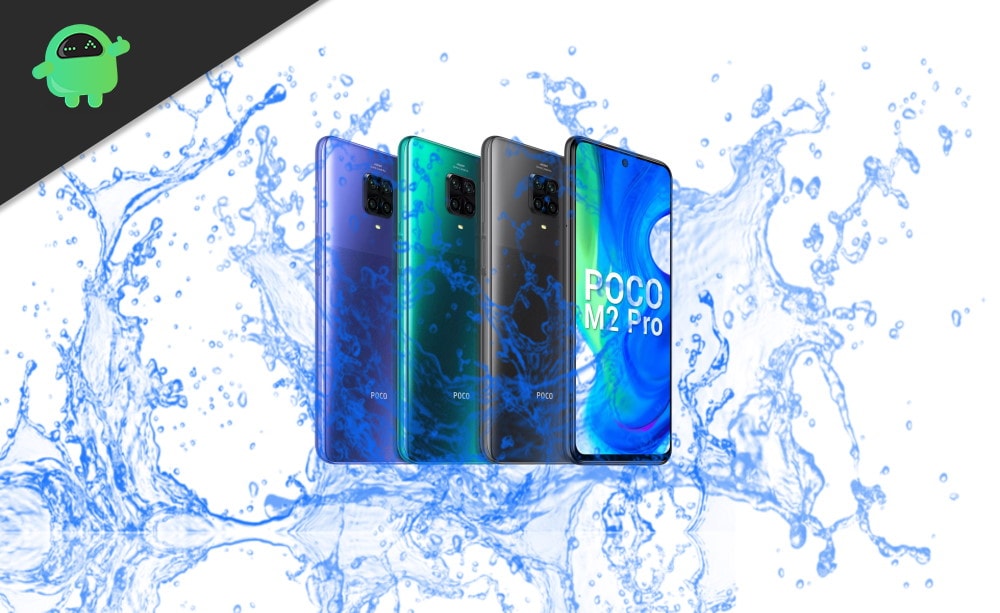 Did POCO Launch the POCO M2, M2 Pro, and C3 with Waterproof IP Rating?
Smartphones with a waterproof IP rating is just an addon that ensures extra protection of the devices, even in the worst scenarios. Adding more, a waterproof smartphone comes with certain special features such as surviving in a heavy shower, taking underwater photos and videos with no harm to the device, and more. These small things attract modern-day smartphone users the most.
So, if POCO launches the POCO M2, M2 Pro, and POCO C3 with waterproof rating, that would be an additional benefit for the users. Sadly, there is no such IP rating assigned for the particular devices. However, that doesn't leave us with the conclusion, as these smartphones feature a water-resistant coating, we will perform a water test on the three devices to find their true potential against the drastic environment.
Xiaomi POCO M2 Specifications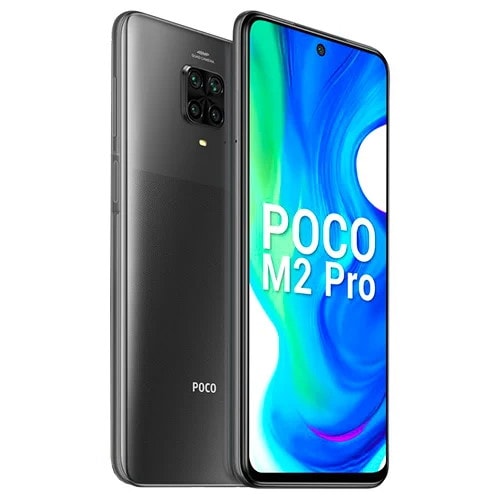 The POCO M2 from Xiaomi certainly comes out with some of the most promising features at its price range. First of all, it comes with a 6.53-inch IPS LCD display with Corning Gorilla Glass 3 protection. It is powered by the MediaTek Helio G80 Chipset along with Octa-Core CPU and Mali G52 MC2 GPU. The smartphone supports a max resolution of up to 1080 * 2340 pixels, and the overall plastic frame looks stylish and premium on hands. Besides, POCO M2 is available in two different storage variants: 6GB RAM + 64GB internal and 6GB RAM + 128GB internal.
Additionally, it has done a great job with the cameras as well. POCO M2 features a rear-quad camera setup including a 13MP main camera + 8MP ultrawide + 5MP macro + 2MP depth lens. For the front, it has a selfie camera with an 8MP lens with a 27mm wide aperture. The 5000mAh battery provides a long-lasting backup and comes with support for fast charging of up to 18Watt.
Xiaomi POCO M2 Pro Specifications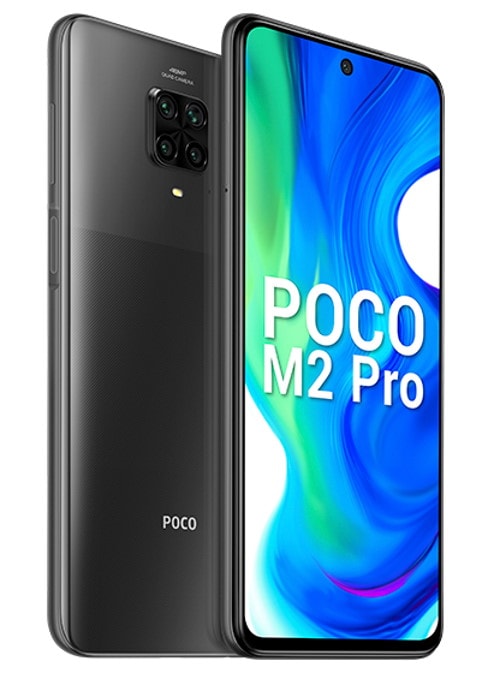 The POCO M2 Pro is an enhanced version of the POCO M2 itself. Starting with the display, it comes with a 6.67-inch larger display with an IPS LCD screen and a resolution of 0180 * 2400 pixels. It runs on Android 10, MIUI 11, and is powered by a Qualcomm SM7125 Snapdragon 720G chipset. Plus, the Adreno 618 GPU ensures smooth gaming up to an extent. Unlike the POCO M2, the M2 Pro is available in three distinct variants: 4GB RAM + 64GB internal, 6GB RAM + 64GB internal, and 6GB RAM + 128GB internal.
Coming to the camera section, it again features a quad-cam setup at the back, including a 48MP main camera + 8MP ultrawide lens + 5MP macro and 2MP depth lens, ensuring the best quality photos. At the front, it has a 16MP selfie camera with support for HDR, Panorama, and 1080p video recording. As per the battery, it does include a 5000mAh non-removable battery, pretty much the same as POCO M2. However, it comes with support for 33Watt fast charging.
Xiaomi POCO C3 Specifications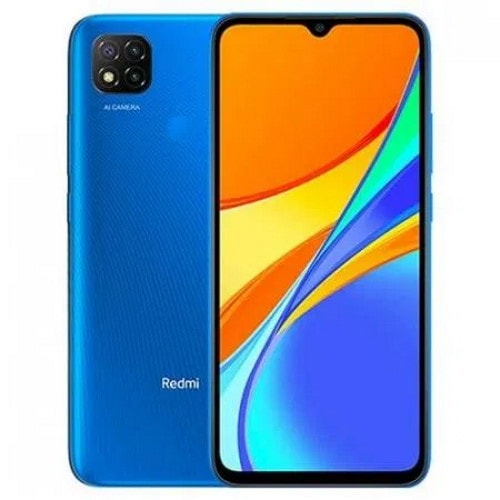 The Xiaomi POCO C3 is a budget-friendly device coming at a price range of under Rs. 10,000. The device includes a 6.43-inches IPS LCD display along with Panda glass protection. It supports a maximum screen resolution of up to 720 * 1600 pixels. There are two storage variants for POCO C3, which include 3GB RAM + 32GB internal and 4GB RAM and 64GB internal. In addition, the POCO C3 features a dedicated microSD slot as well. The C3 runs on Android 10, MIUI12, and comes with the MediaTek Helio G35 Chipset and the PowerVR GE8320 GPU. Although it is not an ideal option for high-end gaming, it still does an outstanding job with the overall performance.
Unlike the POCO M2 and M2 Pro, the POCO C3 comes with a triple camera setup, including a 13MP main camera along with a 2MP macro and 2MP depth sensor. The 5MP front camera comes with 1080p video quality support. Besides, POCO C3 comes in three color variants: Arctic Blue, Lime Green, and Matt Black. Plus, it is powered by a 5000mAh battery that lasts up to longer hours and includes a 10W fast charging support too.
Xiaomi POCO M2, M2 Pro & C3 Waterproof Test
Feature-wise, all three of the devices seem to have great specifications, and surely POCO has not done any compromises with their build-quality as well. However, as there is no official IP rating assigned to any of the devices, it has been a matter of debate that if these devices come with waterproof protection or not. So, to clarify this doubt, here we will hold a waterproof and splash-proof test on all the devices to find the truth.
Finally, after successfully conducting the water test on POCO M2, M2 Pro, and C3, we are up with the conclusion. After performing the test, the POCO M2 and M2 Pro seem to have excellent water-repelling proficiency. Both the devices passed the splash-proof test quite comfortably and were able to out-stand underwater for a couple of minutes without much problem.
On the other hand, the POCO C3 did a great job against the splash-proof test. However, this device is not as efficient as the M2 and M2 Pro in the waterproof test. So, even if all the devices somehow managed to pass the waterproof test, we cannot consider them truly waterproof devices.
| | | | |
| --- | --- | --- | --- |
| Device name | Display/touchscreen | Camera & body | I/O parts |
| Xiaomi POCO M2 | no issues | no fog in the lens | speaker issues |
| Xiaomi POCO M2 Pro | no issues | no fog in the lens | charger point problem |
| Xiaomi POCO C2 | display touchscreen | water droplets in smartphone body | water droplets inside volume rocker buttons |
Perhaps they come with a splash-proof standard that allows them to survive in limited drastic conditions. Yet, they are not ideal for underwater usage or in extreme conditions. Instead, they must be taken care of against water, dust, or other harmful condition.
Conclusion
After the final water test on the POCO M2, M2 Pro, and C3, the devices passed them to an extent. This concludes that the new POCO smartphones come with great durability and water-repellant capability.
This test is purely based on individual/team observation. This test will only give an idea of whether a device is waterproof or not. So users are advised not to try this at home, as it might damage your device.
Even though they are not truly waterproof, they can handle accidental water or other liquid splashes with no issues. Furthermore, no official IP waterproof rating is given for Xiaomi Poco M2, M2 Pro, and C3 devices. So, it is advised to keep them away from water bodies like pools and not to use them in extremely drastic environments as that can cause harm to the device.