Minecraft is a popular sandbox video game that allows players to design and build their own worlds. Sometimes, players may receive an error message stating, "You are not whitelisted on this server!" when attempting to join a server. When the whitelist feature is enabled on the server, and the player's username is not on the whitelist, this error occurs. Here we will discuss a solution to this error on Minecraft.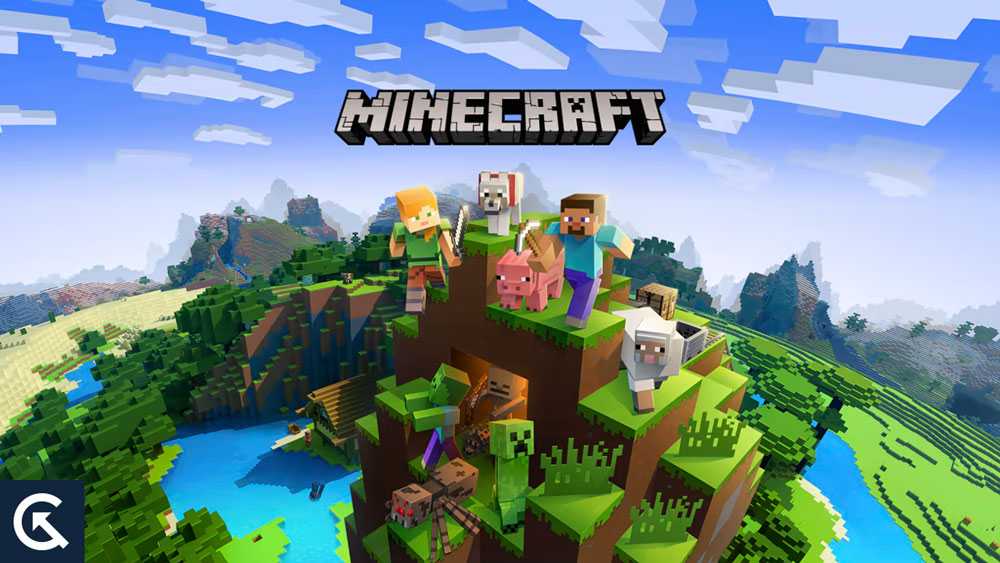 Understanding the Whitelist Feature in Minecraft
Defining what the whitelist feature is and how it works is essential before moving forward with the solution. It is a feature that allows server administrators to control who gets access to their servers through the whitelist. Using the whitelist feature, only players whose usernames are included in the whitelist can join. It is an effective way for server administrators to restrict access to their server, especially if their server is private or exclusive.
Although whitelisting has advantages, it can also have disadvantages, including the inability to let players who aren't on the list join the server. Whenever you receive the "You are not whitelisted on this server!" error message, it means that the server administrator hasn't added your username to the whitelist.
Fix: You Are Not Whitelisted on This Server! Error on Minecraft
So, here are some fixe that will help you resolving the "you are not whitelisted on this server! error on Minecraft issue:
Fix 1: Contact the Server Administrator
It is easiest to solve the "You are not whitelisted on this server!" error by contacting the server administrator and requesting to be added. Owners or owners of the server can add or remove players from the whitelist as long as the administrator has the authority to do so.
You can find the server administrator's contact information on the server's website or in-game chat. If you cannot find their contact information, you can also try sending a private message or email. If you have a problem with the server, be polite and answer the server administrator's questions clearly. To be added to the whitelist, you must provide your Minecraft username.
You should be able to join the server without encountering the error message once your username has been added to the whitelist by the server administrator. Please note that the server administrator may take some time to respond to your request, so please be patient.
Fix 2: Check Your Username Spelling
It is possible that your username was misspelt if you previously played on the server and suddenly encountered the "You are not whitelisted on this server!" error. "Player123" and "player123" are not the same username in Minecraft because usernames are case-sensitive.
Go to the Minecraft launcher and select "Edit Profile" to see if your username is spelt correctly. Ensure that your user name is spelt correctly, including capitalization, under the "Profile Name" field. Make sure your username is spelt correctly, and try to join the server again.
Fix 3: Disable the Whitelist Feature
It's possible to disable the whitelist feature in Minecraft if you can't get added to the whitelist or get in touch with the server administrator. It is important to note, though, that this solution only works if you are allowed to modify the server settings. To disable the whitelist feature, follow these steps:
You will need to log in to the server console or control panel.

Open the "server.properties" file.

Replace the line that says "white-list=true" with "white-list=false".

You will need to restart the server after you have saved the changes.
When you disable the whitelist feature, you should no longer encounter the error message when joining the server. Nevertheless, this solution may not be feasible for private or exclusive servers where the whitelist feature is required.
Fix 4: Wait for the Whitelist to Update
Although you may have been added to the whitelist, it may take some time for the server to update the list and allow you to join. There can be a delay if the server is updating the whitelist settings or if there is a lag on the server. You should wait for a few minutes before trying to join the server again in such circumstances.
Fix 5: Try Joining with a Different Account
You may be able to join the server with a different account if you have multiple Minecraft accounts. No matter whether you've played on the server before, there is a possibility that your account isn't on the whitelist. See if you can join the server with a different account and avoid the error message by logging in with a different account.
Fix 6: Clear Your Minecraft Cache
Occasionally, Minecraft cache files can become corrupted or outdated, resulting in server connection errors. You can clear your Minecraft cache by following these steps:
Make sure you close Minecraft as well as any other programs you may be running.

Afterward, to open the Run window, press

Windows key + R

.

In the text box, type "

%appdata%

" (without quotes).

Go to the "

.minecraft

" folder.

Make sure the "

assets

" folder and "

options.txt

" files are deleted.

Restart Minecraft and try joining the server again.
Fix 7: Check the Server Status
There is a possibility that the server you are trying to join is experiencing issues or is unavailable. You may be able to find updates or announcements regarding the status of the server on the server's website or social media pages. It may also be possible for the error to persist on a different server.
Fix 8: Update Your Minecraft Client
It is possible that you will encounter errors when trying to join servers if you use an outdated version of Minecraft. In the Minecraft launcher, check to see if there are any updates for your Minecraft client. Upon finding out if an update is available, download and install it, and then retry joining the server.
Fix 9: Verify Your Minecraft Account
It's possible that your account needs to be verified if you've recently changed your email address or password for your Minecraft account. Using your Mojang account, log in, and follow the directions to verify your email address or to update your password. If you have not yet verified your account, please try joining again after you have done so.
Fix 10: Double-check Your Connection
There is a possibility that a connection problem causes the error if none of the above solutions works. Your connection to the Minecraft server must be steady if you want to connect to it; otherwise, you may receive errors such as "You are not whitelisted on this server!".
Changing your network settings and connecting to a different server will allow you to check your connection. For assistance with your internet connection, contact your internet service provider or troubleshoot the problem.
Also Read: Fix: Minecraft "You Need To Authenticate to Microsoft Services" Error
Conclusion
For Minecraft players, the "You are not whitelisted on this server!" error can be frustrating, especially if they have previously played on the server. It should be possible, however, for you to fix this error by understanding how the whitelist feature works and following the solutions above.
When contacting the server administrator, be patient and respectful, as the whitelist feature is crucial to controlling access to their servers. In addition, make sure your username spelling and Internet connection are not the cause of the error. So, that's all we have for you. But, in case you need more help, comment below and let us know.