In this guide, we will take you through how to add friends in Honkai Star Rail. In Honkai: Star Rail, players can discover a vast new world of adventure, immersing themselves in the game's rich storytelling, breathtaking visuals, and exciting gameplay. The game allows players to explore the depths of the Honkai universe, where they can discover new characters, fight epic battles, and experience the thrill of victory. With so much to explore and enjoy, Honkai: Star Rail is a game that keeps players engaged for hours. Honkai: Star Rail is the fourth installment in the Honkai series.
The game features brand-new characters and alternate versions of existing characters from Honkai Impact 3rd, providing a fresh and exciting experience for both new and old players alike. As the first release from HoYoVerse after the groundbreaking success of Genshin Impact, many gamers have eagerly awaited the release of Honkai: Star Rail. The game has already been downloaded over a million times on the Google Play Store alone, owing to its impressive graphics, engaging storyline, and fast-paced gameplay. It's more fun with friends, so let's find out how to add friends in Honkai Star Rail.
Honkai Star Rail: How to Add Your Friends
If you are a new player starting out on Honkai: Star Rail, you may feel overwhelmed by the game's complexity. It can be frustrating to learn that adding friends in the game is not an option until you have played for about two hours. During this time, you must focus on unlocking various game features and building your character.
The good news is that once you have played for two hours and completed the quest 'Today is Yesterday's Tomorrow: The Voyage Continues', you can add friends in Honkai: Star Rail. However, it is important to note that the game does not offer multiplayer or co-op options, which can be disappointing for some players.
Despite the lack of multiplayer or co-op options, Honkai: Star Rail still allows players to add friends for other features such as sending support units as temporary members of others' parties in some game modes and quests. So, if you want to add friends in the game, you will need to focus on progressing through the story and completing quests. Once you have reached the portion where you board the Astral Express, you can add friends and take advantage of these features.
Adding friends in Honkai Star Rail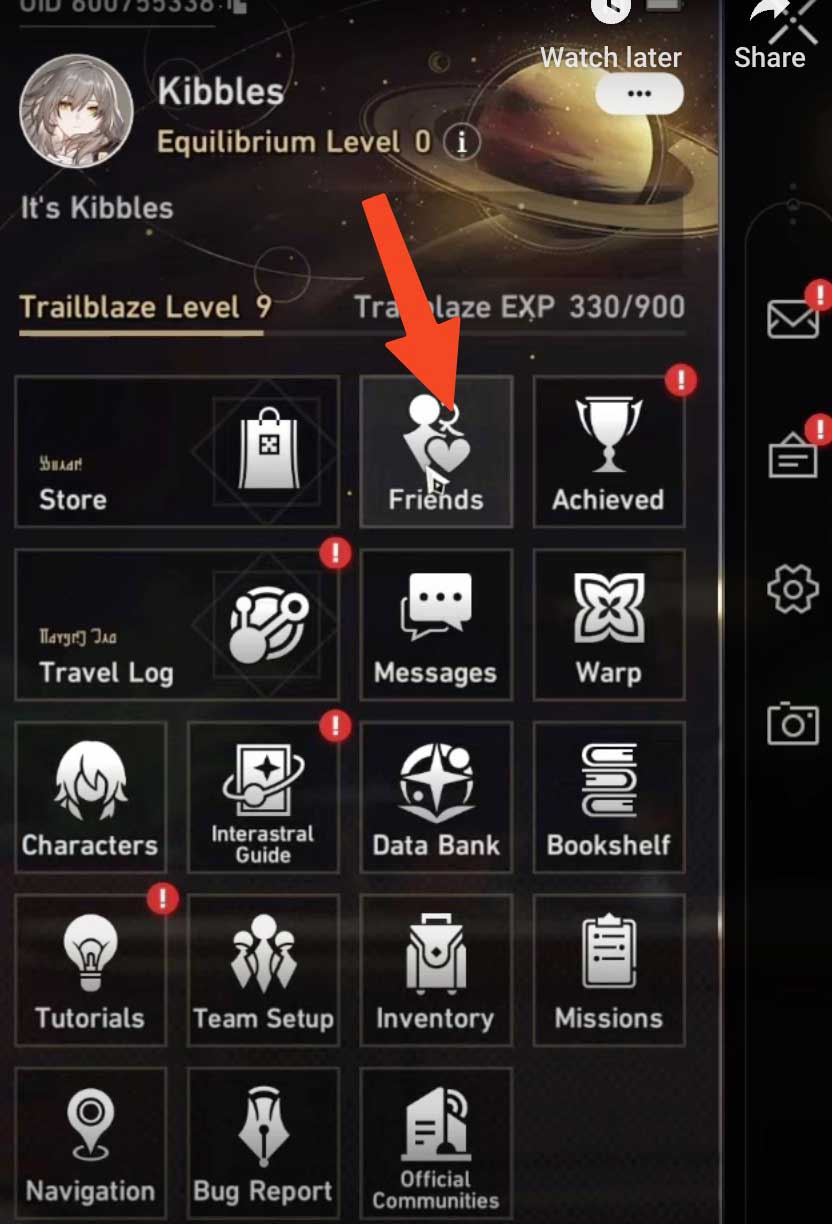 Adding friends is essential in any multiplayer game to enhance your gaming experience. The process is simple and straightforward. Here's a detailed step-by-step guide to walk you through the process:
First, you need to open your phone and select the icon at the top right corner of your screen. This will open your settings.
Next, click on the 'Friends' tab located in the settings. This will direct you to the Friends page.
To add a friend, you need to enter their UID (Unique Identifier), which can be found in the bottom left corner of their screen. Entering their UID will send a friend request to them, and they will be added to your friend list once they have accepted your request.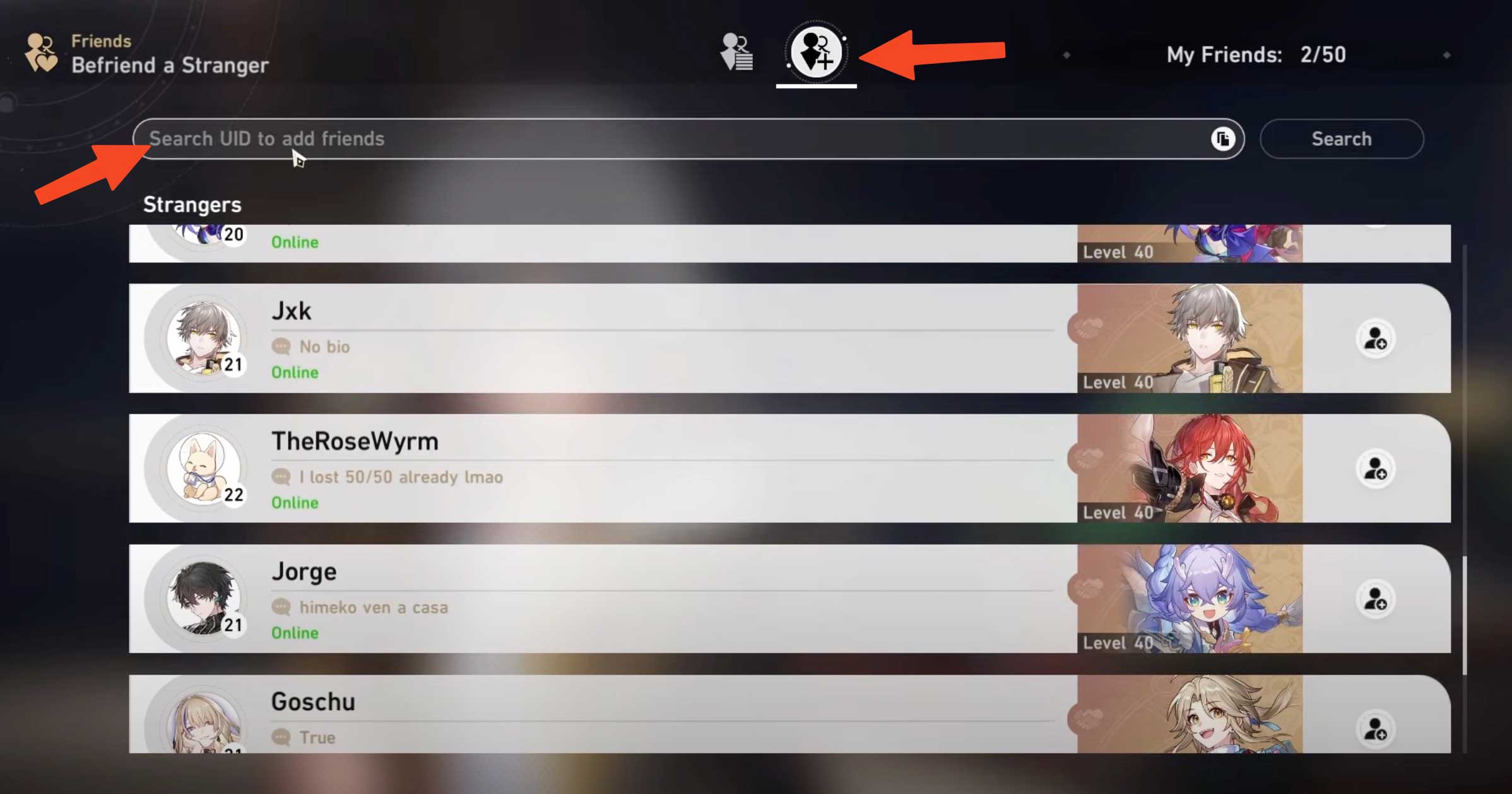 However, it's important to note that both players must be in the same region to add each other as friends successfully. For instance, if your friend is playing in the EU region while playing in the NA region, you cannot add each other as friends. Thus, select the same region when the game asks which region you want to play in when you boot the game.
Adding friends will help you play with your friends and enhance your multiplayer experience by allowing you to communicate with each other in-game and share rewards.
Conclusion
We hope that you found this guide helpful. Adding friends in Honkai Star Rail can be a great way to enhance your gameplay experience. Connecting with other players allows you to exchange tips and strategies, share in-game resources, and form alliances to take on even greater challenges. Furthermore, having a strong friend network can help you progress through the game faster, as you can receive bonuses and rewards for playing with friends.