In this guide, we bring you a very unique and helpful tool called the Advanced IMEI Generator Tool. Currently, the v1.00 build is in use. As the name suggests, this tool comes in handy for generating a new IMEI for your device, in case you lost the existing one. It is developed by Hasky. The tool allows you to generate IMEI with one simple click on your mouse. Also, this IMEI generating tool is free to download and use. This definitely adds to the advantage of the users.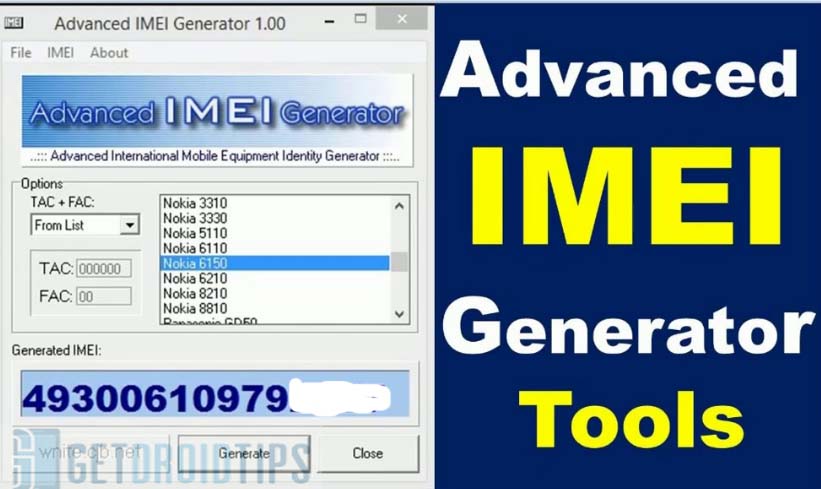 Those of you who may not be aware of the tech aspects of a smartphone, we will tell you about IMEI. International Mobile Equipment Identity or IMEI number is a 16-digit unique serial number that uniquely identifies your smartphone. This is a very important feature of the smartphone. As it provides the uniqueness quotient of a smartphone, the law and order authorities can use this to spot this device if it's stolen. It guarantees the warranty of your Android device.
Also, if someone uses a smart device for anti-social activities, he/she can be traced using the IMEI number. In case you don't know about your own phone IMEI number, we will tell you how to can know it. Simply go to your phone dialer and type *#06#. It will display your device's IMEI on the display. These days if you buy a smartphone, you can see the IMEI number on the retail box. Always be careful that not to publicly reveal your device's IMEI number otherwise, it may be misused by the miscreants.
Download Advanced IMEI Generator Tool v1.00
Here is the download link for the IMEI generating tool. The download is free and the file size is pretty less.
You May Also Like,
How to Use the IMEI Generator Tool v1.00
Before you know how to use this tool, you must have some basic with you which will be required to generate the IMEI number for your desired device. We have listed the same in the Requirements section below. Check it out.
Pre-Requisite
GetDroidTips will not be responsible for any bricking or crashing of your device/system while you follow this guide. Use the tool at your own risk.
Using the Advanced IMEI Generator
Step-1 Download the Advanced IMEI Generator v1.00 to your PC.
Step-2 Extract the executable file to any folder/directory of your computer.
Step-3 Connect your Android device to your computer via USB cable.
Step-4 Wait till the PC detects your device which will ensure correct connection. Otherwise, try to reconnect your device.
Step-5 Then launch the IMEI generator Tool v1.00.
Step-6 Select your device
Step-7 Click on the Generate button to get the new IMEI for your phone.
That's it. Now you have your new IMEI number on your device. So, guys..! If you have lost the IMEI on your Android device, then grab the Advanced IMEI generator Tool. It will create a new IMEI for your phone. We hope that this guide was useful for you.