You may be overwhelmed when you open up the task manager and see programs that you don't know using up more resources. But ideally, there will be some legitimate windows programs running in the background. Although in the worst-case scenario, there might also be some malicious programs running. Normally, you cannot tell the difference without doing some research on the name. In this guide, let us understand what AggregatorHost.exe is, what are its functions and whether it is safe or harmful for your computer.
You might have come across a process named "AggregatorHost.exe", which runs in the background. You might be wondering what that AggregatorHost.exe process is and whether it is safe or harmful. So here in this article, we are going to explain what it is and how you can disable it in case you want to.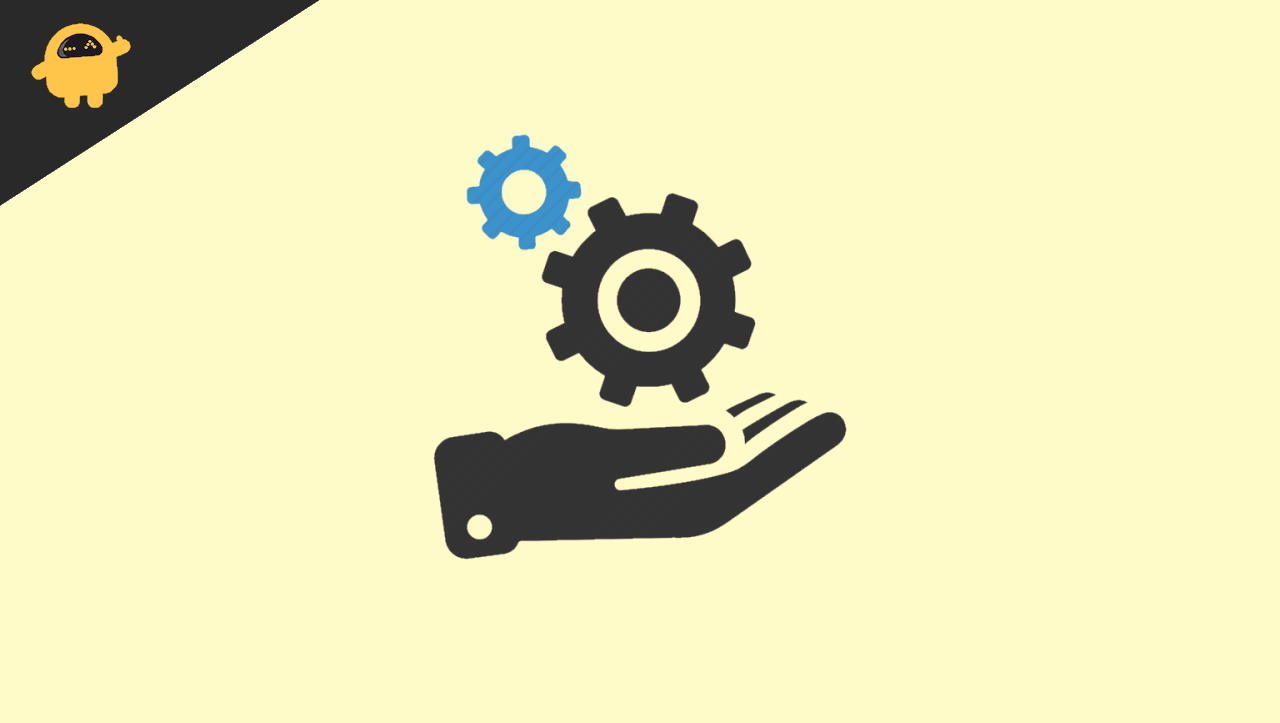 What is AggregatorHost.exe
Aggregator host is a windows process that runs in the background. Although some people reported that the process started appearing in windows preview or beta builds, making it most uncommon. But we were not able to identify the publisher of the process because it does not have any data associating it with any publisher. Although so far, it did not perform any malicious tasks. It's just something that runs in the background as a part of other windows processes.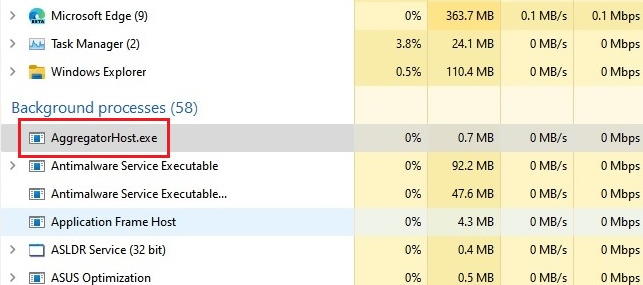 A deeper look into the process and some research make us think that the process may be associated with Windows's telemetry collection. We might be wrong here, but there aren't any clear views on this process. We also found out that the process is available even on clean installation. This means that the process should have originated from Microsoft itself, making it to be somewhat legitimate.
Is AggregatorHost.exe safe or harmful
As mentioned already, the process is mostly available in beta or insider preview builds of windows. That is, when you update your windows to an insider build, you might have the process running in the background. Although, if you did not update it and the AggregatorHost.exe started appearing, chances are the process might be tampered with using some malicious programs. To rule out this, you may have to run a malware scan on your system.
Another way to find out whether the process has been tampered with is by examining the location of the process. Usually, all windows programs run from the C:\Windows\system32 folder.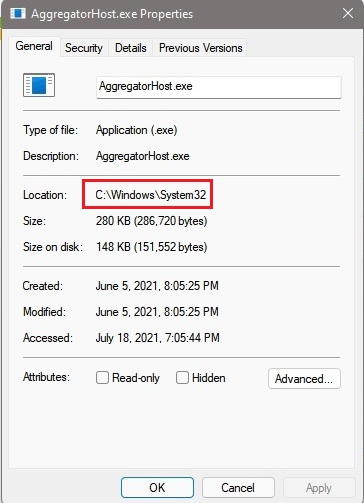 Although if the process is a malware or virus running in disguise, then the location of the process will be different, mostly running from the Temporary folder.
How to get rid of the Aggregator Host program:
If, for the above-said reasons, you think that the process has been tampered with and is malicious, then you should get rid of it. So here are some steps you can try.
Method 1: Perform Full malware scan
The first method of removing malware is performing a full scan for malware on your PC. You have to use any reputed anti-malware software because it is critical to have the latest definitions against the latest malware to attain the best results.
Download Malwarebytes, a trusted on-demand malware scanning tool. (Note you can use any other trusted tools as well).
Install the application and run a full scan on your system.
Depending on your system performance and the size of your hard disk and files, it will take more time to complete the scan.

(Image Credits: Malwarebytes)
Once the scan is complete, the antimalware application should take care of any threats found during the scan.
Note: This is not a Malwarebytes sponsored article; we are recommending it because we found it to be very effective, even for the free version. However, you can use any other reputed ones if you already have a subscription for them.
Method 2: Remove the process from Safe mode
If the malware or virus is so stubborn, then you will not be able to remove it using anti-virus or anti-malware software. Now you have to enter the safe mode in windows and manually remove the process.
Open the start menu and click on the power icon.
Hold down the shift key and click on Restart.
This should restart to Advanced options.
Now from the options, click the appropriate no. for Safe mode.

(Image Credits: Microsoft Support)
Once the PC starts up in the safe mode, go to the C:\Windows\System32 folder.
Search for the AggregatorHost.exe file and move it to a different location.
Method 3: Reset or Reinstall Windows
If nothing else works, then it is time to reset or reinstall your windows installation. Installing Windows 10 takes less time when comparing it with Resetting your PC. But when you reset, you get the option to remove all apps but retain your Personal data.
Open Start on your PC.
Search for Reset this PC and click on the result.

From here, follow the on-screen prompts to reset your PC.

When asked, make sure you select the option to keep the data.
Note: Although it is always a best practice to backup your data just in case anything goes wrong.
Conclusions
As you can see, mostly AggregatorHost.exe is a legitimate windows process and a safe process unless it has tampered with any other malicious programs. Else there is no need to mess with the program. Most of the time, the process will cause any harm as well as will not consume any noticeable system resources. So best is to avoid doing anything to your system unless it is really causing any issues.