If you're here, then probably your Alcatel MTK device is soft bricked or need an MTK tool to fix it. To use these MTK tools, it requires a secure Boot DA files. Today we will give you links to download the latest Alcatel MTK devices secure Download Agent files so that you can use it with your favorite MTK tools.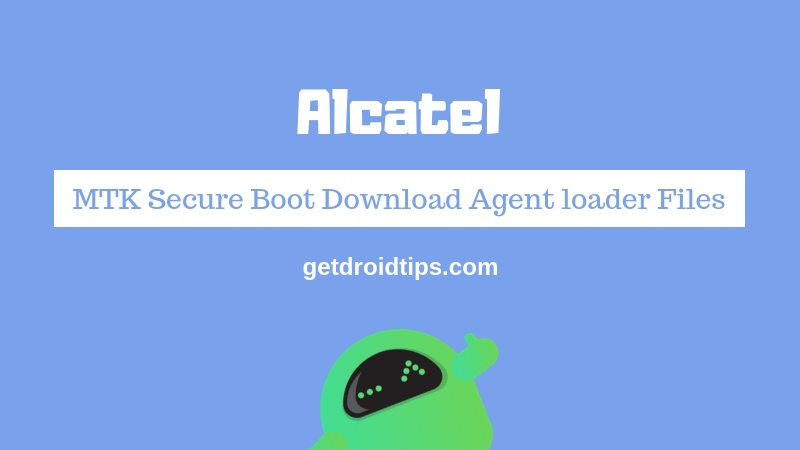 For new Alcatel MTK devices, you will encounter many errors using MTK tools. Some of these errors are authentication or buffer errors which comes during flashing a ROM or IMG file. These all errors can be fixed with the help of an Alcatel MTK secure Download Agent file.
What are Secure Download Agent loader Files?
Before proceeding with Alcatel MTK Secure Boot Download Agent loader Files, let's get to know a little about these files first. These boot/firmware files are commonly known by the name of DA files. They play a major role in flashing any file into an MTK device.
Also read: Download MIUI 10.1.1.0 Global Stable ROM for Redmi 4 Prime
With these Secure Download Agent Loader files, you can easily access and modify the internal storage of any Alcatel MTK device. This can further help to backup, flash, bypass Factory Reset protection (FRP lock) etc. So if you have a device in which you need to flash a custom ROM of IMG recovery file, then you will need its particular Secure DA files.
Download Alcatel MTK Secure Boot Download Agent loader Files [MTK DA]
Down below are links to download Alcatel MTK secure Boot DA files for latest Alcatel devices. You can use these files instead of the basic/generic MTK DA fie while using SP Flash tool or miracle box. We will also give step by step instructions for using these files using various MTK flash tools.
File Name
Alcatel-OT-4034_5010_5012_5015_5016_5022_5023_5025_5116_DA_SWSEC

.7z

File Type
7Z zip File archive
Supported Device(s)
Alcatel OT 4034, 5010, 5012, 5015, 5016, 5022, 5023, 5025, 5116
File Size
1.1 MB
Download Server
Mega.nz
Note: If you're not able to access the download link, then try again with a VPN service. Some countries/ISPs have blocked Mega.nz servers on their network. So users need to use a third party VPN service to access Mega.nz server.
Advantages of Alcatel MTK Secure boot download Agent loader files
Like we discussed above, these Alcatel Secure DA files are important to access the inner storage of an Alcatel MTK chipset. These new Alcatel MTK secure boot Download Agent Loader files will help you to access and modify the main storage. And then you can perform the following functions:
Also read: Common Samsung Galaxy J4 Core Problems and Fixes
Unlocking FRP system lock
Backing up data and cache
Cloning stock ROM
Extracting stock recovery image
Flashing new IMG and ZIP files
Install stock firmware
All of these can be done with the help of a secure DA boot file agent.
If you're facing any issues with the download links then report to us ASAP. Also if you're facing any issues with these Download Agent files, then feel free to comment down below. We will be happy to assist you. Thank you and have a nice day.