You were using Apple TV on Roku or Fire Stick when all of a sudden, Apple TV crashed. What would you do? I know that it is unlikely to be that sudden but the Apple TV gets crashing more often over time as reported by some users. This has prevented them from actually watching any content on Apple TV which is bad since you are paying a premium for the service and an outage can ruin it.
If you are struggling with this issue, trust me you aren't alone as there are many users out there who are facing the same issue. After analysis, I have devised a set of troubleshooting methods that you can use to fix Apple TV crashing on Roku or Fire Stick.
Reasons why Apple TV is crashing on Roku or Fire Stick?
It would be a momentous task to zero in a specific reason why Apple TV is crashing on Roku or Fire Stick because there are simply too many variables included. There could be something wrong with the internet connectivity or the apps/services are failing due to outdated software versions.
Apart from that, some users are facing issues with playback due to not enabling SD card usage on Roku so that's another reason. Similarly, there are a few other things that could trigger it. For anything, we have a list of troubleshooting methods that you can use to fix the issue.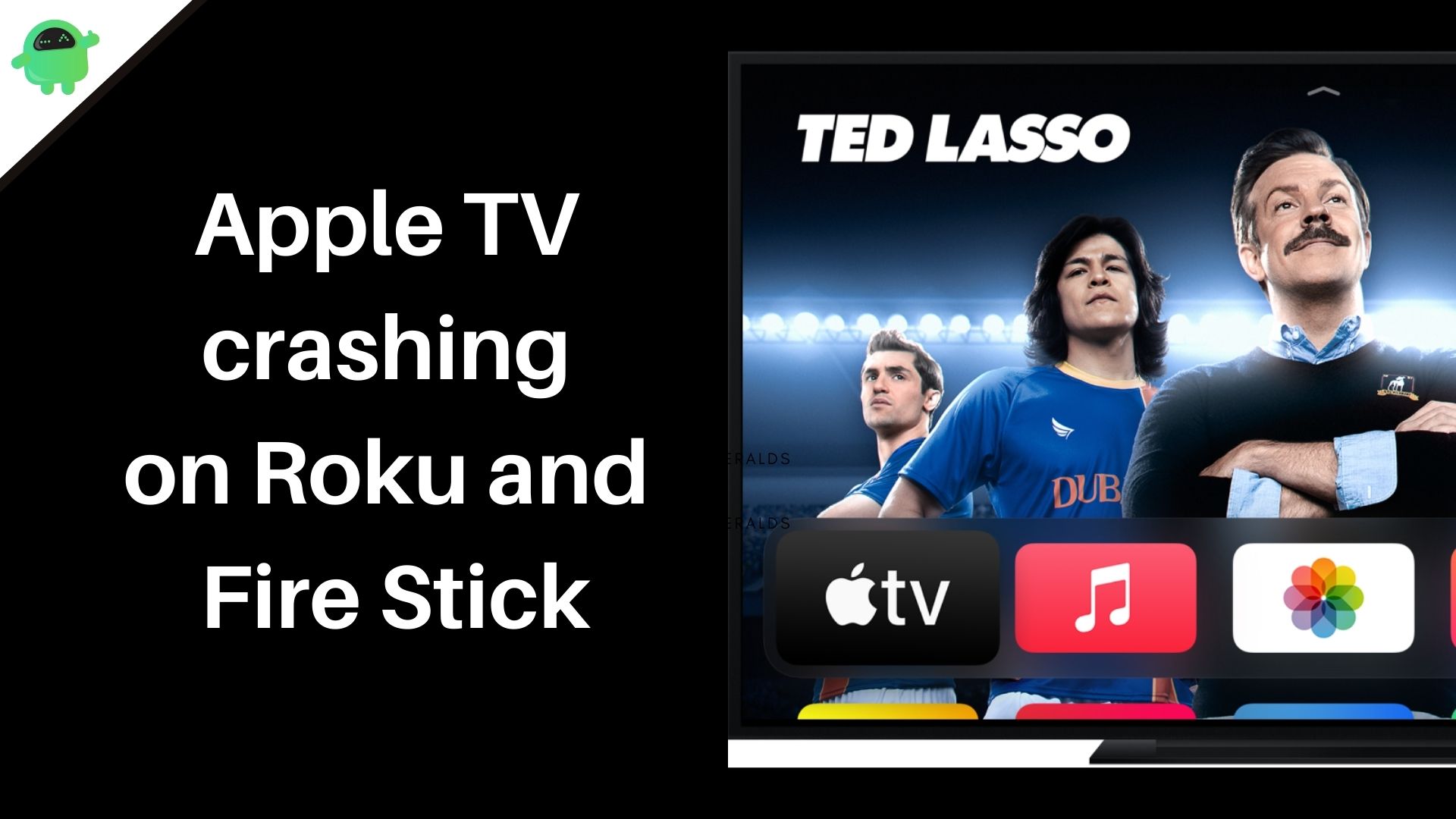 How To Fix Apple TV Crashing on Roku or Firestick?
Here are some ways you can fix Apple TV from crashing on Roku or Fire Stick.
#1: Restart Roku/Fire Stick
This is probably the first thing you'd do to fix any issue no matter if it's related to hardware or the software. Strangely enough, it works for many users as the crashing issue on any system is more likely to be due to a software glitch and that requires just a reboot and it's gone. Here's how you can restart both these devices.
Restart Roku
Firstly, press the Home button on your remote.
Next up, go to Settings >> System >> System Restart.
Select "Restart" from the list of menus using your remote's directional pad and confirm by hitting "OK".
Let the device restart itself.
Restart Fire Stick
Go to Home and proceed to Settings.
Navigate to "My Fire TV" and then select "Restart".
This will cause the firestick to restart automatically.
#2: Check for internet connectivity
All tech including Apple TV, Firestick, or Roku uses internet connectivity to do business. Without working internet access, these devices are pretty much useless in most cases. Whenever you see Apple TV or Roku or Fire Stick crash, you need to make sure that there's an internet connection or not. It won't take much time as you can literally try any other app or channel on your smart TV to verify. You can even use the phone connected to the same WiFi to check whether the internet is working or not. Run a speed test on your TV to check if the speed is a problem or not.
#3: Restart the modem/router
The next logical step is to restart the modem or router your TV is tethered to via ethernet or WiFi. There's a possibility that there's something wrong with the router that caused Apple TV to crash in the first place. Doing so will help fix the issue.
#4: Update Roku/Fire Stick software updates
You need to make sure the firmware for Roku or Fire Stick that you use with Apple TV is up to date or not as it can cause problems as well. Here's how you can make sure the firmware is at the latest one.
Updating Roku
First, press Home on your Roku remote and go to Settings.
Proceed to "System >> System Updates".
Tap on "Check Now" to manually verify if there are any updates available or not. If yes, you can download and install it.
Reboot the device and that should let all the changes assimilate.
Updating Firestick
This particular method is for updating the software for Amazon Fire Stick and here's how it goes.
Firstly, go to Settings of your Amazon Fire Stick and proceed to "My Fire TV".
Proceed to "About >> Check for Updates".
If there's an update available on the TV, you can hit the "Install Update" button and that should do the trick.
Turn off the TV and wait for a few moments as the TV will automatically reboot.
The installation takes 5 to 15 minutes so you will have to wait.
As soon as the update is complete, check whether Apple TV is still crashing on Fire Stick or not.
#5: Check for Apple TV updates
Apple TV is crashing due to some XYZ reasons. After updating the firmware on Roku or Firestick that you use with Apple TV, it's time to update the Apple TV as well. Here's how you can do it.
Firstly, go to Settings on your Apple TV device, proceed to System >> Software Updates.
Next up, tap on "Update Software" to find whether there's an update or not.
If yes, you can select "Download and Install" and it will do the same.
Finally, restart Apple TV and check if it works properly or not.
The next thing to do is to set updates as automatic. For this, you need to go to Settings >> Apps.
Next up, set it to "Automatically Update Apps" and this should get the ball rolling.
#6: Enable playback using SD
This is a particular troubleshooting method that you can use if you have trouble playing any content on Apple TV on Fire Stick for some reason. This is a workaround where you need to go to Apple TV app settings and enable playback using an SD card. This should resolve the problem of finding movies and shows and playing them without any hassle. Turns out this is a software issue and there's nothing to be concerned about if this was a hardware issue.
#7: Reinstall the Apple TV app
Assuming there's something wrong with Apple TV, you can employ this method to see if this works. You can uninstall the app, reboot the TV, and reinstall it. Next up, check whether doing so did fix the problem or not.
#8: Talk to Apple Support
If you still can't figure out what's wrong, talk to Apple Support with a description of what's wrong and seek technical assistance to fix the issue. If the problem is related to Apple TV, you must be able to get a fix or at least a workaround from Apple Support.
#9: Talk to Roku/Amazon Support
If there's nothing wrong with Apple TV, it's something wrong either with Roku or Amazon Fire Stick devices. Fortunately, both have official channels to communicate with such as their websites, Twitter handle, customer care, and support that you can talk to. The specialist from Roku or Amazon will be able to guide you on fixing the issue specific to their devices.
#10: Get help
The final resort is calling a technician from Apple (or visit an authorized service center) or at Amazon's or Roku's to find what's wrong and what needs to be done to fix the issue.