Apple's AirPlay feature is useful to cast screens and stream content on more significant devices like TV via the iPhone, iPad, or Mac & vice versa. The best part is that you can also use AirPlay with your Roku TV. Additionally, you can browse images & videos, listen to music from your iPhone or iPad, watch TV shows, etc. But some unfortunate Roku users encounter the AirPlay Not Working issue or the Black Screen Problem while trying to connect it.
Now, if you're one of the victims of such an issue, then follow this troubleshooting guide to fix it. Well, there may be several possible reasons applicable behind such an issue that you can check below. Additionally, we've provided workarounds below that should come in handy to resolve this issue. Multiple reports appear on the Roku community that the Roku device shows a black screen while AirPlay content is from an iOS device.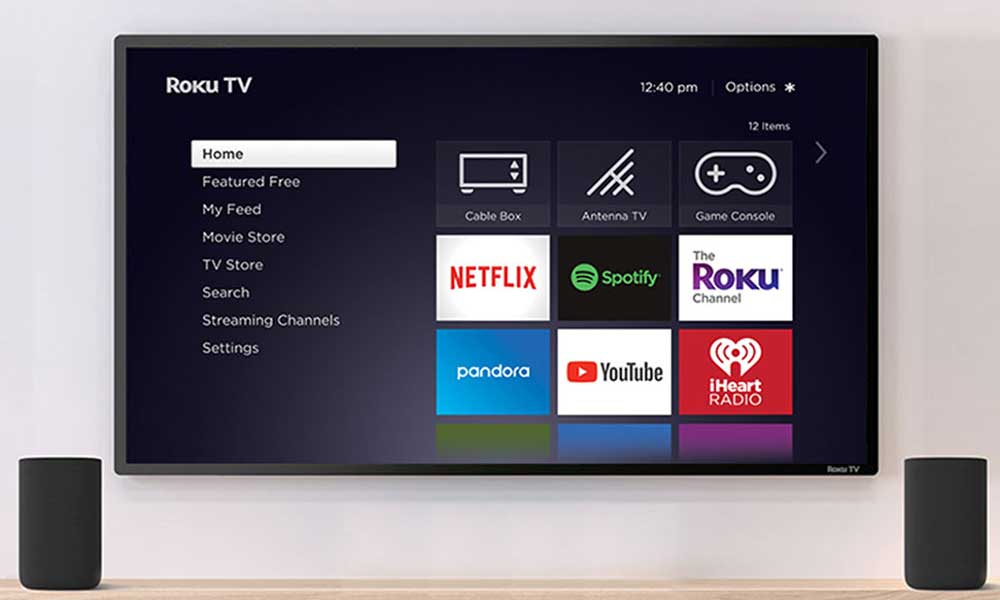 Why is AirPlay Not Working on Roku?
Roku TV considers one of the best-in-class streaming devices among all in the market across the globe which offers so many possibilities just like connecting AirPlay to Roku TV. However, the chances are high that sometimes you may face issues with the AirPlay connection or the black screen issue with Roku TV, which becomes frustrating. There can be multiple reasons, such as the connectivity issue, outdated software version, issues with the AirPlay on Roku TV, etc.
Additionally, issues with the Wi-Fi router, corrupted or missing paired devices on Apple devices, temporary system glitches on the Roku TV, and more. So, without wasting any more time, let's jump into it.
Fix: Roku AirPlay is Not Working, and Black Screen Problem
If you're one of the victims to encounter such an issue, then make sure to follow this troubleshooting guide to resolve it. Here we've shared a couple of possible methods that you can check below.
1. Restart Your Roku and Apple Device
First, you should try rebooting the Roku TV or Streaming Device as well as the Apple device to fix the AirPlay not working or the black screen issue. This specific issue can be fixed by rebooting the device. You'll have to unplug the power cord and wait for a couple of minutes, then plug back the power cord again. Turn on the device and check for the issue.
2. Ensure Your Devices are Connected to the Same Network
You should check whether your Roku and Apple devices are connected to the network. If both the devices aren't connected to the same internet network that means you'll have to connect to the same network and try again. Two different network connectivity can trigger several issues whatsoever.
3. Check the Software Compatibility
It's also recommended to check your Apple device's and Roku device's software compatibility to ensure they're running the latest software version. Sometimes an outdated software version can cause bugs and stability issues whatsoever. To check the Roku TV version, you can follow the steps below.
Go to Settings > Hit System Options.
Select About > Roku TV must be running a 9.4 or higher version.
Note: Any older version of Roku might not support AirPlay. You'll need to update your Roku TV to the latest version to use AirPlay.
4. Enable AirPlay on Roku TV
If you're still encountering the AirPlay issue on Roku TV, ensure your TV has the Airplay option enabled. To check that, you can follow the steps below.
Go to Settings > Select Apple AirPlay.
Select HomeKit > Enable the AirPlay option.
Now, you can try connecting AirPlay to Roku TV.
Once done, you can attempt to mirror your screen via AirPlay on Roku.
5. Reboot the Wi-Fi Router
Make sure to reboot the Wi-Fi router to check whether the network connectivity issue is bothering you if your Wi-Fi router is in power-saving mode to check for the issue. Sometimes signal interference issues in congested areas or houses can prevent signals or establish connections. Weak signals are prone to cause the AirPlay not working issue on Roku TV so it's better to update the router's firmware to the latest version.
6. Reset Roku's Network Connection
Sometimes temporary networking glitches or cache data issues in Roku's network settings. You may need to reset the Roku network connection of your Roku TV to check for the issue. The default factory settings might resolve the issue.
7. Reset paired devices on your Apple Device
If, in case, you've paired multiple devices on your iPhone, iPad, or Mac, then make sure to reset the unnecessary paired devices from your Apple device and then try connecting the Roku TV to check for the issue.
8. Factory reset Roku TV
Another thing you can do is perform a factory reset on your Roku TV to ensure there is no issue with the system glitch or cache. The default factory setting will help you configure the AirPlay option easily on Roku TV.
9. Contact Customer Support for Roku and Apple
Last but not least, you should contact Roku support or Apple support to get further assistance. The chances are high that submitting the support ticket might help a lot. If required, ask permission to send a technician to check for the issue physically.
That's it, guys. We assume this guide was helpful to you. For further queries, you can comment below.