Google Meet has become one of the best virtual meetings app despite being upgraded recently from its earlier name. And in the COVID 19 pandemic and work from home scenario, this app is really helpful for corporates and businesses. However, there are times when you might need to send or attach a file to your manager or colleagues while having a meeting in Google Meet. Thankfully Google Meet allows you to attach files while having Google Meet Video chat. More on that below.
Google Meet doesn't have the file attachment option, but it requires so many prerequisites for it to work smoothly. But the best thing about Google Meet is its security and simplicity. So, your Google account will be directly connected to these services. We just have to use other services of Google, which work with Google to make this easier. So, let's see how we can send files during a Google meet video chat.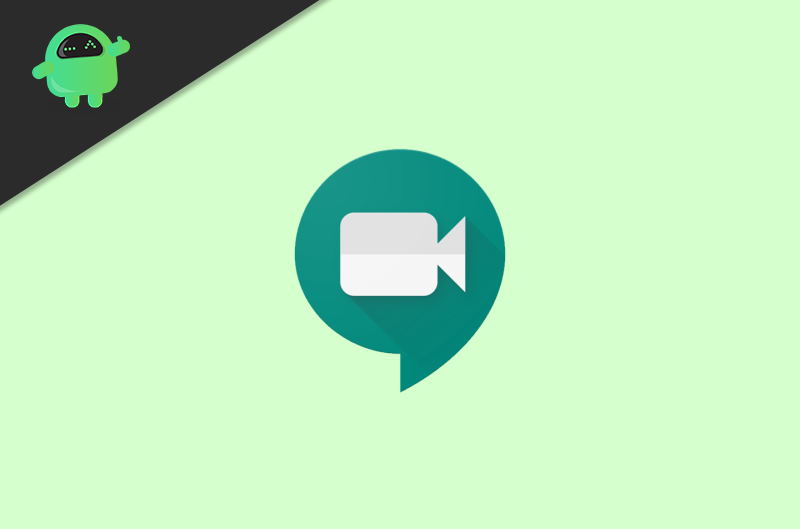 How to Attach Any Files to the Google Meet Video Chat
Google Meet does offer its web or browser version, which you can use to join any video meets in the Google Meet. But it certainly lacks some of the great features that could be used through its mobile Application.
Google Meet's mobile application offers more features like screen sharing, which can not be done through its browser version. So, if you want to use all these features, first install the Google Meet app from the Play Store or the App Store.
Method 1: Schedule Event Through Google Calendar App
For sending any file or attachment in Google Meet App, you should have a Google Calendar app. So, you have to download the Google Calendar app. It will help you to schedule your meetings prior to the time of the meeting.
As every Google application here, you also have to log in from your Google Account. This will help you to connect your meetings according to your calendar schedule.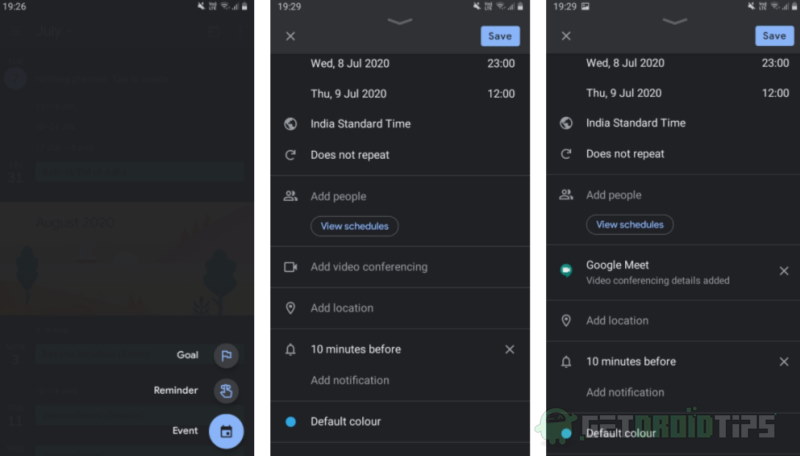 Now, after installing and logging in the app. You need to create a new calendar event. So, for doing this, tap on the plus icon at the right bottom of the app. There you will see an option called the event, tap on it, and your event will be created.
For adding Google Meet in the calendar app, you have to see an option in the event, "Add Video Conferencing." Tap on it, and Google Calendar app will generate a Google Meet link automatically.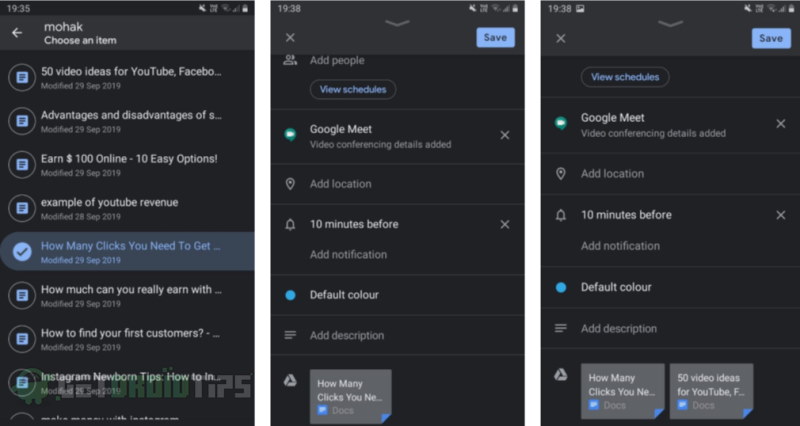 So, now for adding files in the Google Meet's meeting, you have to look for a field called "Add Attachments." If you are using the mobile app, then you will only be able to upload files that are stored in your Google Drive account.
After this, you will be given the option to select the files you want to add. Just browse all the files and select the file you want to add. You can also add more files by just repeating this step.
Method 2: Using Desktop Version
If you are using Google Calendar on the desktop or its web version, then you can upload the files from your PC as well. So, if you want to use this feature on mobile, then you can open any browser or Google Chrome, preferably.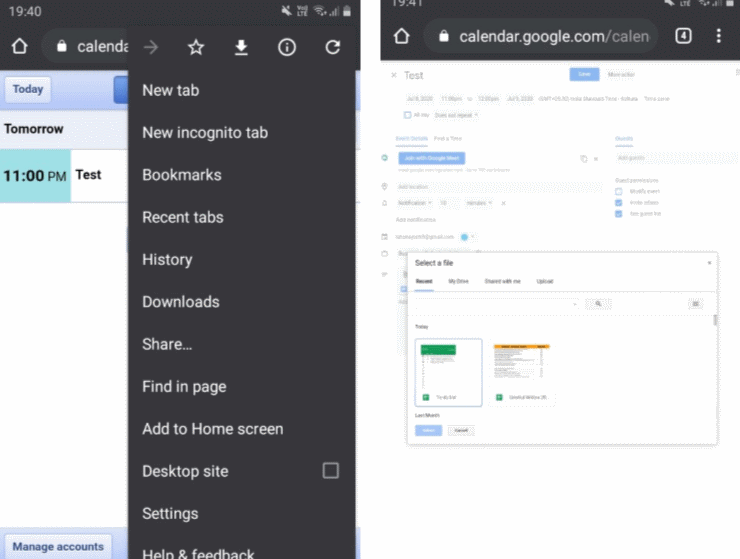 Open Google Calendar website, then tap on three dots at the top right of the chrome. After that, you will see there an option of Desktop site, just tap on that, and you will be able to access its desktop version. Then you can browse the files in your device upload to your Drive, and this works very fine.
Method 3: Access the Files in Google Meet
When your meeting starts, you can join it through the Meet app, and there you will find all of your meetings that are scheduled. You can also join it through the Calendar app.
Now for accessing your attachments, tap on the "i" button, which will be the last option in the navigation bar. Then you will find two options there one for copying and sharing the meeting link, and the other one is a list of all the attachments which you added through the Calendar app. Press on any attachment to open it in the Google Drive.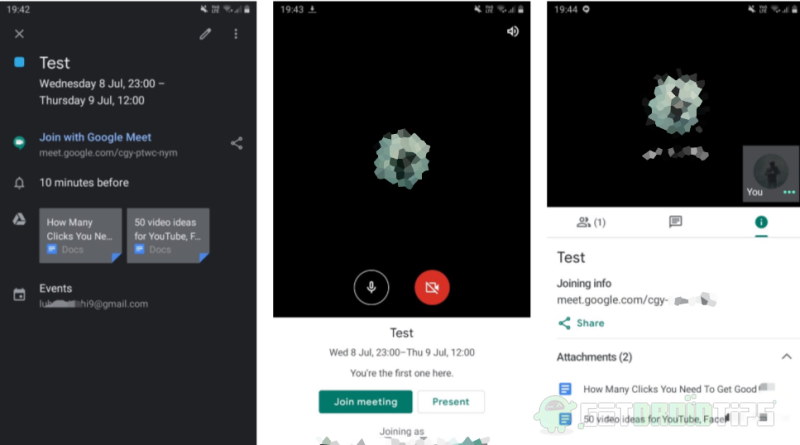 You can also add more files to the meeting if you have forgotten to do so before the meeting, just go back to the Calendar event. Then tap on the pencil icon to edit it.
Method 4: Adding Files through Links
In case if you do not want to use the calendar app to add any attachment during the meeting. Then there is an alternate for putting files in the meeting. You can use the chat feature of Google Meet app to send the link of the files which you can store in any cloud hosting available online.
Just upload your file to any cloud storage, and then tap on the chat button in the middle of the navigation bar. After that, you have to copy the link by of the file which you have uploaded earlier to the cloud storage. Paste it into the chat field and tap the send option. Google Meet app will allow anyone to access that hyperlink.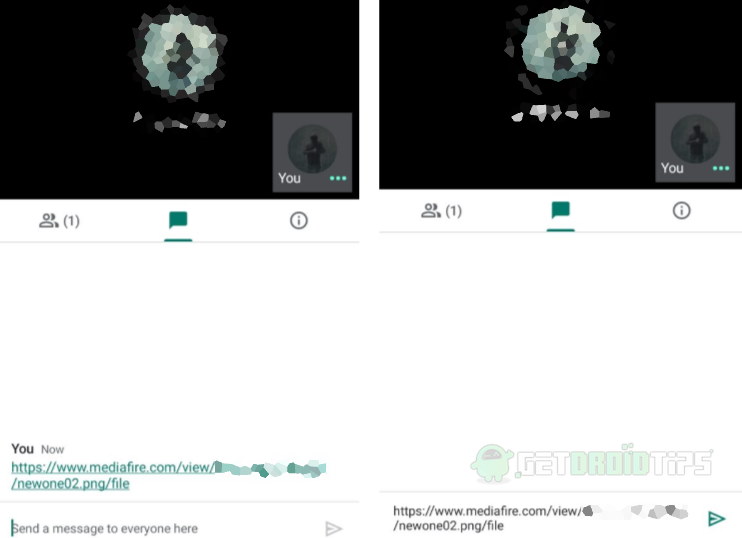 You can also use this method if you have not scheduled your meeting through the Calendar app. So, these were the methods by which you can add files in the Google Meet app.