During the infamous world pandemic, Google revised a new version of its old video chatting program, Hangouts. This new version of Hangout that is now called Google Meet is available to anyone with a Google account. One can start a video conferencing from their G-mail inbox using the small menu present at the left side-bar.
But if you don't intend to use Google Meet or do not want it to cover the space on the side-bar, then you can simply remove it. Yes, within a very short span of introducing Meet, Google has also allowed its user to customize whether if they want to keep the Meet button or hide it.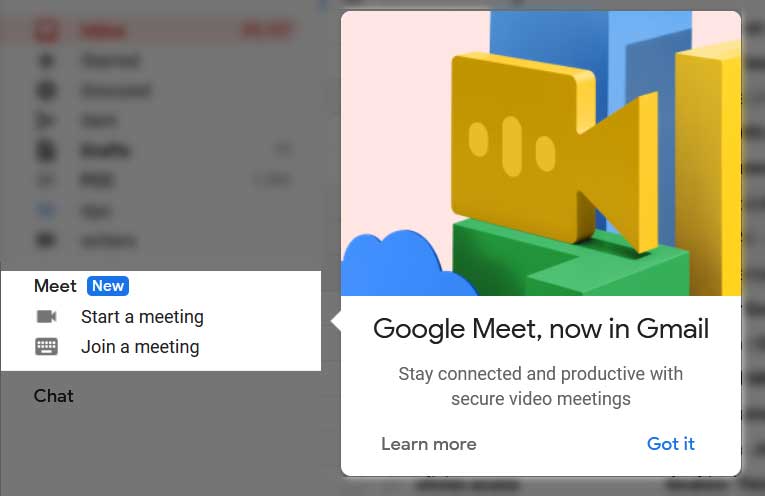 What is Google Meet?
Google Meet is a video communication platform that has knowingly replaced Google chat and Google Hangouts. Initially from February 2017, it was on commercial service but with the COVID-19 pandemic, Google rolled out free access to Meet for G-mail account holder. The free version of Meet could have one host and up to 100 participants on one video communication. The company states that any of the consumer data will not be recorded or stored for companies' personal benefits.
Until now the free Meet video conferencing has no time limit but it might be limited to 60 minutes from the starting of September 2020.
Recently there were some talks about negative customer feedback about Google Meet being taking quite some important screen space. After this, Google proposed a way of hiding the Meet button from the main screen. However, for the corporate G Suite account holders hiding the Meet button is still not possible.
How to hide Google Meet buttons from Gmail?
Below is one quick and easy way that will let you hide the Google Meet button from Gmail:
Open your "Gmail account."
On the Gmail window, go to the top right corner and click on the "Cogwheel icon (Settings button)."
From the drop-down menu, select the option ""
On the Settings window, select the "Chat and Meet"
Now from the options below, click on the "Hide the Meet section in the main menu" checkbox.
Finally, click on the Save changes button located below on that window.
You will no more witness the Meet button in the Gmail left sidebar. However, if anytime you feel like to bring it again on the Gmail screen, follow the same steps as above and select the option "Show the Meet section in the main menu."
Users can also access Meet by the following link, https://meet.google.com/. We hope you will find hiding the Meet button from Gmail quickly and easily. After reading this article if you have any queries or feedback, please write down the comment in the below comment box.