There are a lot of ways that one can consume all of the entertaining content that the internet is home to in today's world. While most people prefer watching videos on YouTube or streams on Twitch, some others might not be able to find the time in their busy schedules to sit down and watch them. Instead, they opt-in for a much serene activity – listening to podcasts. While podcasts have been around since ages, it is only in the recent few years that they have blown out of proportion and have gotten the attention they deserve.
There is a podcast for everyone – be it comedy, horror, science and anything in between. Listening to podcasts while doing your daily chores such as cleaning your house, commuting to work or college and sometimes even writing assignments is a great way to kill time while making the most out of it. However, most people don't pay as much attention to the service they use to listen to their podcasts which we feel is a crucial aspect.
In order to truly enjoy listening to your favourite narrator on your favourite podcast, a good app is a must. Luckily, the Apple App Store is home to dozens and dozens of great services. Some are paid while most of them are free. Whatever the criteria might be, we have taken the liberty to narrow down the list to some of the best podcast apps for iPhone that you can download and enjoy in 2020! So without any further delay, let's get right into the roundup!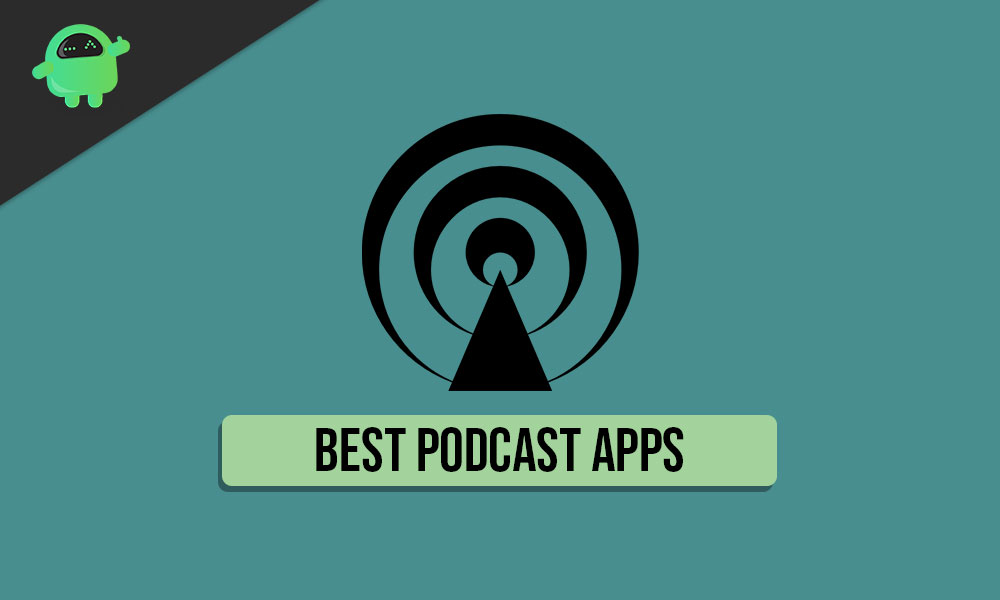 Best Podcast Apps For iPhone in 2020
1. Google Podcasts
Kicking the list off, we have what is probably one of the best experiences that a podcast app can get you. Google Podcasts comes directly from Google (duh) and has all the core essentials you would need. You can set different speeds while listening to a stream and also have the ability to set a sleep timer. The dashboard in this podcast app is also exceptionally well-designed and gives you a glance over all of your downloads, subscriptions and listening history.
Download Google Podcasts
2. Spotify
While you might be a little confused with us recommending Spotify as a podcast app, you should also know that Spotify recently made a deal with the big production companies in the podcast industry. This brought access to an entirely new section in the Spotify app named "Podcasts". You can find most of the top-rated and popular podcasts on Spotify and the list is growing at a rapid number. So if you already had a subscription to Spotify and didn't want to shell out even more cash for another podcast app, this is your best bet.
Download Spotify
3. Castro
This one is strictly an Apple-exclusive, making it that much better for all the iPhone users out there. Castro follows the philosophy of a swift user interface with an emphasis on discovery and information. The discovery page on this podcast app is probably one of the best we've seen in a long time since it also gives you a little introduction to what the podcast is about. There are other features that make Castro stand out in the Apple world of apps as well. This includes being able to change the app icon and theme. You of course get access to the traditional features such as a sleep timer, playback speed control and much more. Finally, you also get access to Siri Shortcuts which makes this that much more viable to use.
Download Castro
4. Overcast
One of the oldest podcast apps that are still around for Apple users to enjoy is Overcast. But as a disclaimer, if you expected the best user interface with modern elements – this ain't it chief. Instead, we would recommend Overcast to the feature-hungry people out there. One of the best examples is the fact that Overcast allows you to skip the intro and outro of your podcasts and you can even tweak it accordingly specific to each podcast. This is great for those who hate listening to the podcasts which have an opening or closing advertisement. You also get Siri Shortcuts making it quite customizable, Apple Watch support so you don't need to have your phone around to enjoy podcasts while running or doing other activities. There is also a dark theme which is suitable to use during the night.
Download Overcast
5. Pocket Casts
Ending our list of some of the best podcast apps for iPhone, we have my favourite – Pocket Casts. While I use the app on my Android phone on a daily basis, the iOS version is no slouch either. One of the biggest reasons why you might want to try out Pocket Casts is its design and user interface. Every option, every tap feels rich and responsive. The podcasts are laid out in a card-style format giving you more information in less space. While playing your favourite podcasts, the app dynamically shifts the colour scheme to match the artwork on the screen as well.
Pocket Casts also has a behemoth amount of features too. You can set a sleep timer to ensure you don't have your podcasts playing even after you're fast asleep. The playback speed option is also a good way to save time while listening to your podcasts. There is also an option that trims the silence between words, eliminating any long pauses in the podcasts. Overall, in feature and form Pocket Casts is a great app to enjoy your stories on.
Download Pocket Casts
That's all, folks! We hope you enjoyed our roundup of some of the best podcast apps for iPhone in 2020! Which one among the list is your favourite, and how many of these podcast apps for iPhone have you already known or have been using? Know other good iOS apps to enjoy listening to podcasts on that you feel people might find interesting? Do let us know in the comments section below; we'd be delighted to hear from you guys!