In this guide, we will list out the various methods to check your Graphics Card on your Windows 11/ 10 PC. Graphics Card is an essential hardware component on your PC with many powerful baked-in features. Their functionality isn't just limited to running games and software on your PC. Rather, that is just one aspect of it and they do much more than that. They are even responsible for rendering each pixel that you see on your screen. In this regard, two types exist: Integrated Graphics Cards and Dedicated Graphics Cards.
The former doesn't have its own processor as such, they share the system resources. On the other hand, the Dedicated Graphics card comes with its own Graphics Processing Unit GPU and RAM (or VRAM aka Video RAM). Nvidia and AMD are two popular examples of an integrated graphics card whereas the Intel HD Graphics card has become a synonym with Integrated graphics. On that note, it is always a good idea to know which graphics card does your Windows 11/ 10 PC has. And in this guide, we will help you with just that. Follow along for the detailed instructions.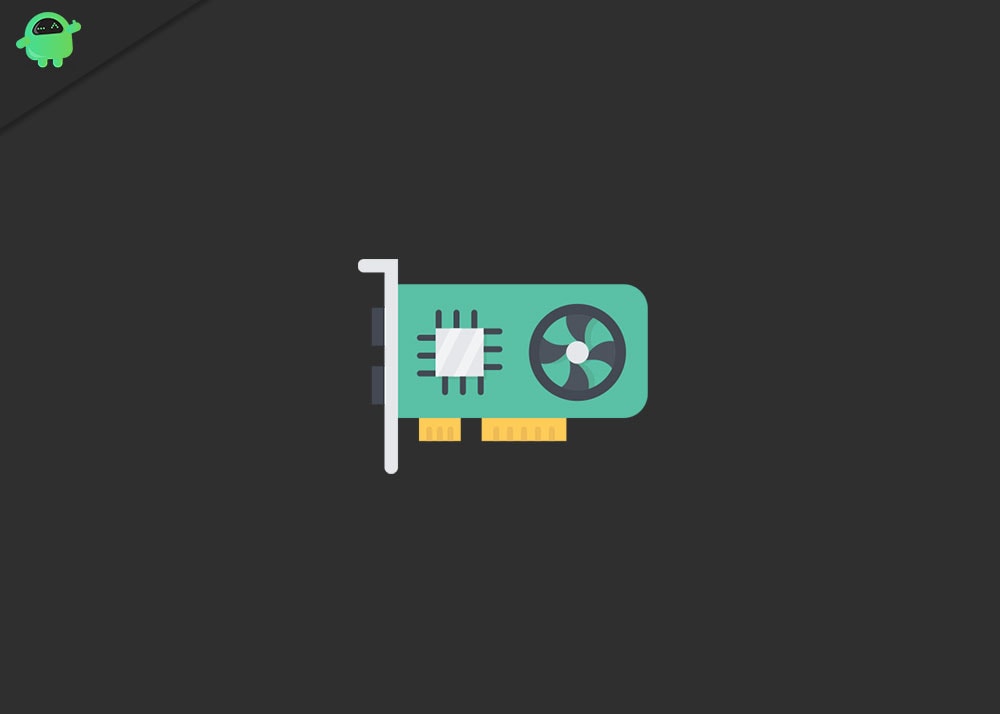 Different Methods Check Your Graphics Card In Windows 11/ 10
So some of you might ask the need to carry out this task. Well, there are many reasons for the same. To begin with, most games require basic minimum graphics specifications. Until and unless you know your PC graphics configurations, you might have a tough time. Likewise, this information might also come in handy when you are planning to update your graphics card drivers. With that said, there exist two different methods through which you could check your Graphics Card: via the Windows 10 baked-in options or through a third-party app. Let's check out both of them.
Via Windows 11/ 10 Options
You could carry out this task through the Windows Settings page, Device Manager, System Information page, DirectX Diagnostic Tool, Task Manager, or the Control Panel. As far as this guide is concerned, we will be focusing on the Device Manager and the DirectX Diagnostic Tool. The reason? Well, they provide the most comprehensive details about your GPU and should be more than enough to meet all your requirements.
Through the Device Manager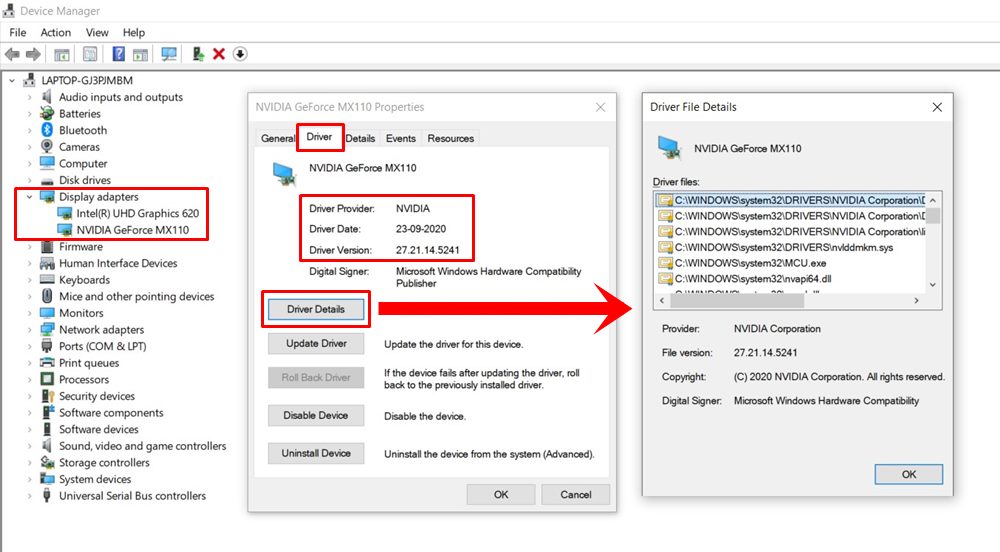 Right-click on the Windows icon situated at the taskbar and select Device Manager.
Then click on the Display Adapter section to expand it. This will show you both the Integrated and Dedicated Graphics Drivers
Double click on the desired one to bring up the Properties dialog box.
Furthermore, go to the Drivers tab and you could see more information about the same.
Likewise, you could also update, disable, or uninstall drivers from this page itself. Then the Driver Details option will list out all the driver files and their installation directory on your PC.
Via DirectX Diagnostic Tool
You could also check your Graphics Drivers via the Windows 11/ 10 DirectX Diagnostic Tool.
So head over to the Start menu and search dxdiag. This will launch the Diagnostic Tool.
Go to its Display section and you will be able to get detailed information about the integrated graphics drivers.

Likewise, head over to the Render section and it will give you information about the dedicated graphics drivers.

You could check out the details regarding the Total Available memory as well as how much is used by the Display and Shared memory.
Check Graphics Card using Third-party apps
There exist quite a few third-party apps through which you could check your Windows 11/ 10 graphics card. In this regard, the CPU-Z app tick marks all the prerequisites.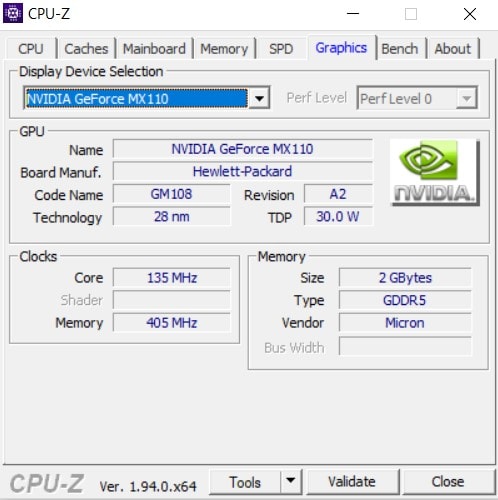 So go ahead, download and install the CPU-Z app on your PC.
Then launch it and head over to the Graphics section.
Select the Integrated or Dedicated graphics driver from the Display Device Selection drop-down
The app will then display all the information related to that.
That's it. We conclude the guide on how to check your Windows 11/ 10 graphics card details. We have shared two methods for the same: from the options already present on your PC or via a third-party app. You may use any of these two- whichever you find more comfortable to deal with. Rounding off, here are some iPhone Tips and Tricks, PC tips and tricks, and Android Tips and Tricks that you should check out as well.