If you are a Google Chrome user, it's not a strange thing that "Your connection is not private" message appears on your screen. When you try to visit some sites, this error may appear, it's not because of your system failure. There are some other reasons behind this message.
Now you are so anxious to know why 'your connection is not private' error occurs in Google Chrome. The answer is as simple as the question that your Google Chrome is preventing you from visiting an unsafe website. This error message occurring due to your browser can't verify the SSL certificate. In this writing, we discuss how to fix your connection is not a private error. Let's start with SSL.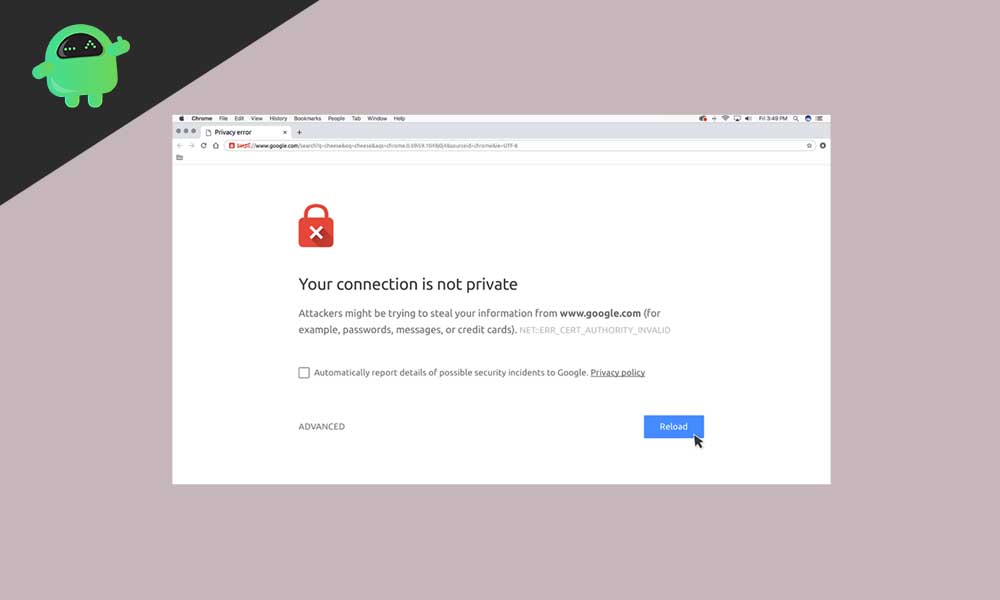 Before jumping into the solutions to solve the issue, you have to know what SSL is and how it helps you from preventing visits to unreliable sites.
What is SSL (Secure Socket Layer)?
The SSL is designed to help to keep your data safe and secure. The responsibility of SSL encryption is to build a protection wall from attackers who steal your data, personal details, including your bank details also. We like to advise you to set up SSL on your website before you make a transition through your website.
If you try to visit a site automatically, Chrome will send a message to the server asking for the website. If the specific website uses HTTPs, chrome will verify whether the site has a valid SSL certificate or not. Your Google Chrome will always prevent you from visiting a website that does not have a valid SSL certificate.
Far away from the SSL certificate, there are some other reasons to appear 'your connection is not a private' error on your Chrome screen. They are;
Expired SSL certificate
SSL certificate reserved only to the Domain, not Subdomain
The untrusted organization issued SSL certificate
One of the main reasons to occur 'your connection is not private error' is the SSL certificate. This issue can solve from the client-side, and it is so easy as well. Let's discuss the solutions in detail.
Page Reload
In case the browser fails to send a request to the server or the SSL certificate is being reissued, you can use this reloading feature. Up to some extent, this simple option works efficiently. After reloading the page, the issue gets to solve.
Don't use Public Wi-Fi.
Usually, public Wi-Fi runs on HTTP. While you make a transaction using public Wi-Fi, your input information may not be encrypted. The information remains as text, and others using the same network can steal your data. So your Chrome will show 'your connection is not private error' to protect you from hackers.
In a fixed interval of time, you need to clear your browser cache and cookies; otherwise, it may get overloaded and cause the error. Follow this step to clean your browser:
Click the three dots, as you can see in the top right of Google Chrome screen.
Select More Tools
And choose Clear Browsing Data
Verify the boxes next to Browsing history and Cached image and files
Click the Clear data button and exit
Use incognito mode
Before deleting the browser's cache and cookies, you first check if the error occurred due to cache by trying incognito mode. Using incognito mode means you are using your browser without a cache or cookies or browser history.
To use the incognito mode you follow this step;
Click the three dots in the top-right of the Chrome screen.
Select New Incognito mode and try to visit the site through incognito mode.
Set your computer Date and Time
Your computer's date and time do not set correctly, then 'your connection is not private error' may occur. Chrome counts your PC's date and time is essential to check the SSL certificate's validation. Before going to try any other solution, you can make sure your computer's date and time set correctly.
Change settings in your antivirus or internet security program
Usually, some antivirus software and internet security programs scan for HTTPs. In such a situation, it will block unusual SSL certificates. You can fix this issue by switching off the SSL scanning function.
As well as you can disable the current running antivirus and revisit the site. If the error message does not appear again, then you can switch the antivirus software and can solve the connection.
Continue with an unsafe connection
Your Google Chrome prevents you from visiting a website; you can still enter into the site at your own risk. You can ignore "your connection is not private" error message. To proceed manually, you have to click Advanced >Proceed to domain.com link at the bottom of the error window.
Neglect SSL certificate error
If you no longer want to see the error, 'your connection is not private,' ignore the SSL certificate error from the Google Chrome shortcut. But this process is not safe. While proceeding with this feature, your browser will put the warning in silent mode. And the error must be there and prevent you from visiting unsafe sites.
Follow this step to activate the feature;
Right-click Chrome shortcut
Select Properties
At Target Field, add-ignore-certificate-errors
Then click OK
The error code NET::ERR_CERT_COMMON_NAME_INVALID shown, ignore it and click Proceed
Now you can revisit the specific website, and no more error will appear
Although again, if "your connection is not private" error appears on your Google Chrome, you can try the above techniques to solve the issue. All the solutions we have given are dependable, and it's so easy to fix the issue.
While the error "your connection is not private" appeared on the Chrome window, you don't have to worry. Chrome is trying to prevent you from entering unsafe sites. Thus you can protect your data and personal details as well. After going through this article, you can solve the issue efficiently and can enjoy uninterrupted Google Chrome browsing. If you have any queries or feedback, please write down the comment in the below comment box.