Microsoft Edge and Google Chrome have always been rivals with each other. Where both browsers tend to call themselves the best browser, but the reality is something different. Some like to use Google Chrome but some people like the Microsoft Edge browser better. But the question arises, which Browser is the best? Well, today we will do a complete comparison test between Microsoft Edge and Google Chrome. And we will see which browser is the best to perform in overall performance, usability, and features.
Both browsers have their own set of pros and cons. Where Chrome is known for eating RAM resources of a computer. Whereas Microsoft Edge is commonly referred to as a slow browser. But are these myths true? Maybe these are just speculations that users have in mind. And the best way to clear such speculation is to test Microsoft Edge vs Google Chrome. Which browser is Best? If you use Google Chrome or Microsoft Edge, then you will realize both the browsers are pretty different in terms of looks and functionality. But which one among them is the best for an average person? Well, let's find out.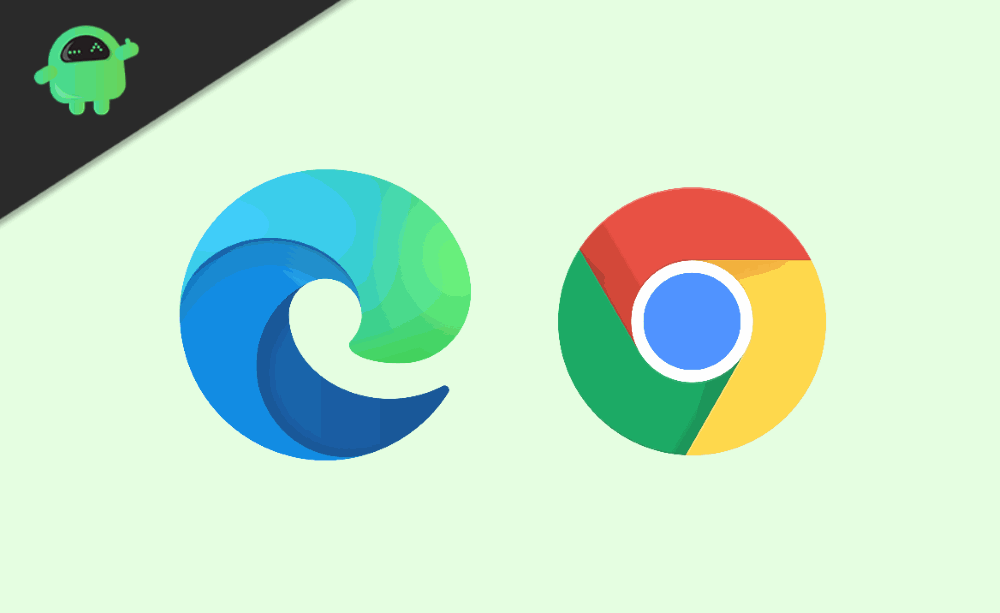 Microsoft Edge vs Google Chrome: Which Browser is Best?
Browsers are commonly used for surfing the web. Where some programmers are developers use browsers for sandboxing and development purposes, its safe to assume that more than 90% of users use these browsers to surf their favorite website. Most users have biased opinions on which browsers are the best. Some call Microsoft Edge as a slow browser where some call Google Chrome as a heavy and resource-hungry browser. There are ore browsers available out there, but today we will compare Microsoft Edge and Google Chrome in terms of their functionality, terms of usage, security, and functions.
Microsoft Edge: Overview
Microsft Edge is the default browser of Windows 10 replacing Internet Browser. The browser is built on Web Standards and designed for the Services to run across multiple platforms, Features like Inking, Virtual private assistant and automatic from fil is added to Edge. Security is tough enough to detect phishing and other social engineering attacks.
Pros
It's easy to handle data and the Fasy Website Approach.
Integration of the Cortana feature.
Distraction-free reading Mode.
Direct Note-taking from a web page.
Lightweight and fast surfing.
Cons
Bookmark and Syncing issues.
Less extension and no History search option.
Cant Play any standard web game.
Google Chrome: Overview
Google Chrome is an open-source internet browser released by Google for multiple platforms. Chrome allows synchronization with Google accounts and services. It features tabbed browsing, automatic translation and spell-checks. It also has an integrated search bar called Omnibox. Chrome has the latest updated security features to keep your Web experience safe.
Pros
Tabs are Dynamic and have a separate process.
Chrome's Task manager to kill websites when they freeze.
Faster Bookmarks and Application Shortcuts
Save username/password feature.
Cons
Comparing Microsoft Edge vs Google Chrome
To find out which is the best browser we have to compare both of the browsers by their abilities, features, and compatibility.
Futuremark Peacekeeper is a Javascript Benchmark that runs the browser for various rendering tests to check the abilities of the browser to render objects.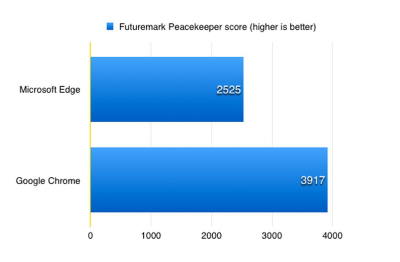 SunSpider is another Javascript Benchmark developed by apple to compare the web browsers as it takes into account features like encryption.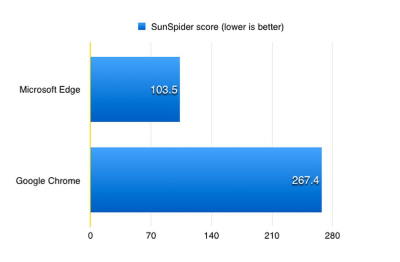 V8 Benchmark Suite is a Benchmark to test JS performance developed by Google.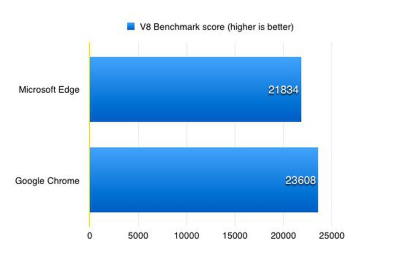 The above test results show that Google Chrome is Slightly better than Microsoft in terms of abilities to render objects in the browser and in JS performance, however, Microsoft is better than chrome in terms of encryption.
Features: Microsoft Edge vs Google Chrome
Both browsers come with a different set of features. Down below is a complete analysis of each browser's features:
Default Search Engine and rendering
Chrome uses an open-source engine called Blink developed by Apple called Webkit. It is a native browser for Linux Desktop Environment. Chrome has an open-source variant, called Chromium by other organization. Open-source software can be used by other organizations as a framework for their browser. The default search engine Chrome uses is Google.
Microsoft Edge uses its own private EdgeHTML rendering engine, which is an updated version of the Internet Explorer rendering engine. The new engine was built to get rid of legacy problems and to get a faster result. Default Search Engine used by Edge is Bing.
Extensions
Chrome enables users to download and install add-ons that add more features to the browser. Chrome web store has a huge collection of extensions. Google allows developers to code and submits new extensions to the store which means chrome has more to offer.
Microsoft Edge supports extensions too, one can download extensions from Microsoft store. Since Microsoft has shifted from IE to Microsoft edge developers have to recode the extensions which means there is not a lot of extensions that support Edge.
Default Settings
The default Home Page and search engine for Chrome are Google and you have a quick access function to google applications. you can change these settings if you want. The default medium chrome uses for casting is Chromecast.
The Home Page of Microsoft Edge consists of stories from Microsoft News, and the default search engine is Bing. For casting Edge uses DLNA protocol or Miracast, and it is compatible with different types of
Compatibility
Google Chrome is compatible with almost any operating system, including Linux, Windows, macOS, iOS, and Android.
Microsoft is Edge is compatible with Windows,macOS, iOS, and Android.
Conclusion
Both Google Chrome and Microsoft Edge is the best browser in their own right but Chrome is the king it has slightly more advantages than Edge but as time goes by Edge will become more like Chrome day by day. We can see the Benchmark tests, and how well Microsoft Edge does in comparison to Chrome