Samsung Galaxy S21 Ultra is the top-tier flagship smartphone under the Galaxy S21 lineup and the OEM has already started enrolling the One UI 4.0 Beta testing program based on the latest Android 12 for the interested users in selected regions. However, if you're a custom firmware bird and don't wanna stick to the stock ROM only then you can Install the Modified Custom ROM on your Samsung Galaxy S21 Ultra based on Android 11 right now.
You can go with any of the Custom ROMs out of three modified custom firmware that we've mentioned below with all requirements and installation steps. You'll find out Dr.Ketan ROM (by dr.ketan, XDA Recognized Developer), BeyondROM (by ZonalRipper, XDA Member), and HYPER-ROM (by Hyper.Alvi, XDA Senior Member) in this article. A big thanks to all of them for sharing such an amazing and useful modified custom firmware guide for the Galaxy S21 Ultra.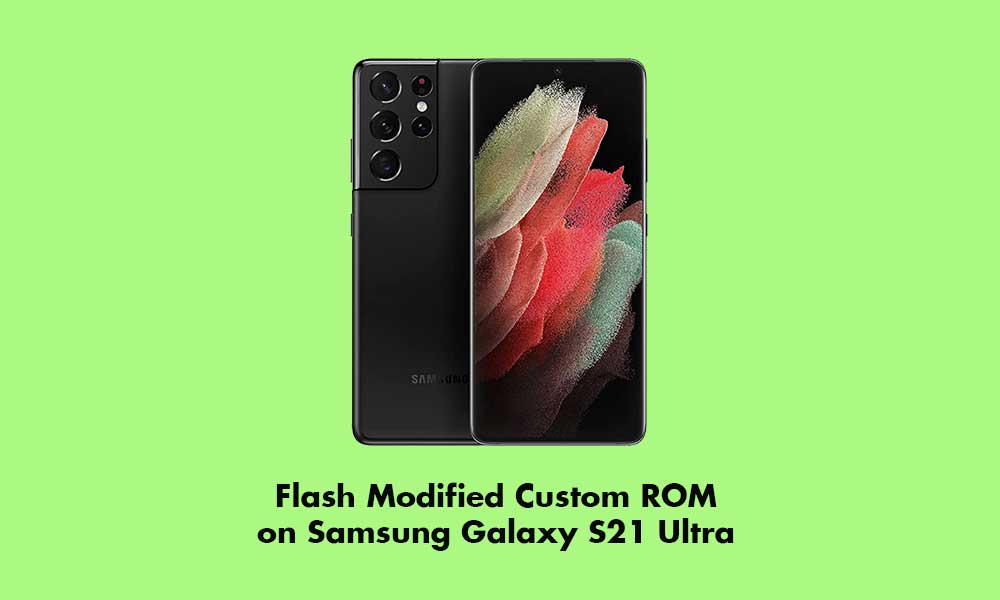 Install Modified Custom ROM on Samsung Galaxy S21 Ultra
Custom Firmware is more customizable and full of features out of the box that you may find useful but when it comes to stability or bugs, there is nothing better than a Stock ROM. However, due to the open-source nature of Android OS, and a lot of customizations or tweaks apart from bootloader unlocking, rooting, custom recovery, etc, Android device users are more addicted to custom firmware.
Now, without wasting any more time, let's jump into the modified custom firmware details below.
1. Dr.Ketan ROM (G998B)
It's available in both Android 11 (One UI 3.1) and Android 12 (One UI 4.0 Beta).
ChangeLog
OneUI 3.1
– R01 – 15.03.2021
– R02 – 30.03.2021
– R03 – 30.04.2021
– R04 – 10.05.2021
– R05 – 02.06.2021
– R06 – 10.06.2021
– R07 – 14.07.2021
– R08 – 06.08.2021
– R09 – 26.08.2021
– R10 – 05.09.2021
OneUI 4.0 Beta (Android 12)

– SB1 – Released to only Test users
– SB2 – 21.09.2021
– SB3 – 11.10.2021
Important Notice:
– This will void the warranty.
– As of now you will lose Samsung Pay and Samsung Pass forever if you root once, even unrooting won't help. (hope in the future we can get it working on tripped Knox device)
– OTA won't work once you root the device.
ROM Features:
– Ad-Free QS Panel Toggle
– SafetyNet Pre-fixed
– Reboot to recovery QS Panel Toggle
– Native call recorder (Manual) While you are on call – click 3 dot – Record (Should work without CSC restriction)
– Removed many stubs & common bloatware (tried to preserve most functions though)
– Removed carrier bloatware
– More secure OEM patch.
– High Volume warning disabled
– Pre-fixed Titanium freezing while restoring apps
– Probable fix for Titanium Backup schedule
– Internet browser Secret mode
– S Health patch for using with a rooted device.
– ROM Tool Options
– ROM Control (SystemUI preferences)
Warning: GetDroidTips won't be held responsible for any kind of error or damage that may happen on your handset while/after following the guide. Do it at your own risk and you should know what you're doing.
ROM Download Link:
Samsung Galaxy S21 Ultra (G998B) – Dr.Ketan ROM
Requirements:
G998B with TWRP installed (File included in the ROM zip)
Steps to Install Dr.Ketan ROM
You must read the particular changelog for the specific version that you are going to install. It will have the latest information about features, changes, known bug list/fix, and the installation guide of the respective version.
Download and extract ROM zip file on PC.
The ROM file includes all required files. So, simply read the Installation.txt file on the PC and follow to steps properly.
It should help you to successfully install the modified Custom ROM on your Samsung Galaxy S21 Ultra handset.
2. BeyondROM v1.7 [AUHD]-[EXYNOS]-[SM-G99XX]
ROM Info:​
Supported devices:​ [SM-G998B], [SM-G991B], [SM-G998B]
ROM Base:​ G998BXXU3AUHD (Android 11)
Changelog​:
v1.7 – Rebase AUHD/New: Safetynet Fix+Boot Logo [You must be on AUHD to flash this version]
ROM Features:
Kernel:​
CSC features:​
Call Recording
Camera shutter sound menu
LTE Only option
Real-time network speed in the status bar
Applock Enabled
ROM Disarm:​
Knox partially removed
Light ROM debloat
Disabled Encryption
Disabled PROCA
Disabled VAULTKEEPER
Disabled stock recovery-from-boot
Modded Settings/Services:
Screenshots in secure apps allowed
Phone status: Official
Software Info ROM Details
Long Press to Kill
Fixes:​
Galaxy watch pairing
Bluetooth patch (fix loss of BT pairing on reboot)
SafetyNet Patch (must enable Magisk hide)
Secured Folder
Samsung Health fix
Other Tweaks/Mods:​
Warning boot screen removed, custom boot animation
Automatic EFS backup
Various build prop tweaks
Pre-rooted with Magisk (needs app install after flash)
Liboemcrypto.so mod for Netflix playback
Frame buffer increase to help to the game (untested)
Not Working:​
Knox related apps: Samsung Pay, Samsung AutoFill
Dual Messenger (soft reboot if you have a secure lock screen and dual messenger enabled)
Secured Folder (Transferring to and from the secured folder are not working)
Important Note:
The firmware flashing steps will trip Samsung Knox and possibly void the warranty on your phone.
By following the installation steps, you'll lose data on your phone. So, take a backup before doing anything.
ROM Download Links:
Requirements:
The device bootloader should be unlocked first.
You'll require a PC and a USB cable.
Install the Samsung USB Driver on the PC.
Install Odin Flash Tool, TWRP,
Warning: GetDroidTips won't be held responsible for any kind of issue that may happen on your device while/after following this guide. You should know what you're doing and proceed at your own risk.
Steps to Install BeyondROM v1.7
Here we've provided a bootloader unlocking step that you'll need to follow first. Once the bootloader is unlocked, you can proceed to the next method.
UNLOCK BOOTLOADER:
Enable Developer Options on your device from the Settings menu > About Phone > Software Information > Continuously tapping on 'Build Number' seven times.
Now, go back to the main Settings menu > Open Developer Options > Enable OEM Unlock and USB Debugging too.
Switch off your device > Press & Hold the Volume Up + Volume Down keys then connect the device to the PC via a USB cable.
The handset should boot into the Download Mode (Blue Screen).
Now, press and hold the Volume keys to navigate to the bootloader unlock screen.
Then press the Volume Up to confirm and proceed to the bootloader unlocking.
Note: Bootloader unlocking will wipe your phone data and restart a couple of times. Just have some patience.
Once the device booted into the system, skip the initial setup process. [You don't need to sign in to anything]
Make sure to enable Developer Options again and USB Debugging again on the device.
You'll see that the OEM Unlock option is now enabled and greyed out.
Congrats! You've unlocked your device bootloader successfully.
FLASH TWRP + PATCHED VBMETA:
Boot your phone into the Download Mode by following the same steps above.
Now, press the Volume Up key to continue > Load up the ODIN Flash Tool.
Go to Options > Turn off auto-reboot.
Select the USERDATA slot > Select the TWRP+Patched VBMETA file (Device Specific).
Click on Start > Odin tool should complete the TWRP flashing with a PASS message.
Now, make sure to keep the USB cable plugged in, hold Volume Down and Power, as soon as the screen goes black hold Volume Up and Power
Your device should now boot in TWRP.
IN TWRP:
Make sure to do a full wipe (Wipe > Format Data > type yes)
Next, restart the phone back to TWRP recovery (Reboot > Recovery).
Download the ROM and copy either to the phone (PC to Phone) or to a USB OTG device.
FLASH ROM:
From the TWRP Recovery menu, go to 'Install'.
If you're using OTG, then tap on 'select storage' > Select 'USB OTG'.
Browse to the location where you've downloaded or copied the ROM zip file on the USB device.
Then select the ROM zip file > swipe to confirm flashing.
Follow the on-screen instructions to complete the firmware flashing process.
It may take some time to complete. So, have some patience.
Once done, tap on 'save logs' (in case you have any flashing issues)
Tap on Finish > Reboot to the system normally.
Complete the initial setup process then download and install the Magisk Canary app from Magisk Github.
When you run Magisk for the first time it will need to do some setup and will automatically reboot the phone to apply changes.
You're done.
Coming from another Custom ROM
CLEAN FLASH (recommended)
Load into TWRP
Do a full wipe
Reboot back into TWRP
Flash Beyond ROM
DIRTY FLASH (warning)
Dirty flash may or may not work, we cannot guarantee that flashing a ROM over the top of another ROM will not give you any issues so it is therefore not our recommended choice, but obviously, it's your device so feel free to do so if you like but please do not ask for help with problems if this causes you issues.
Updating BeyondROM to the latest version
If your Samsung device is running on version 1.0 then jumping to 3.0, then there is a very high chance that you will need to upgrade your phone firmware to the latest version before flashing the latest version of BeyondROM.
Note: Check out the changelog before updating because it'll be included details if you need to be on a certain version to flash this version or if dirty flash from the previous version is ok.
If dirty flash is not possible and you do need to upgrade your device firmware to flash the latest version then check out the recommended steps below: We're assuming that you're already on BeyondROM.
Download the latest/required version of the stock firmware (Samfirm/Frija etc…)
Unzip or extract the ROM file on the PC.
Rename the files and remove the .md5 from the end of the files.
Now, boot your device into the Download Mode.
Launch Odin Flash Tool > Turn off auto-reboot.
Make sure to insert the relevant files into their slots (BL = BL, AP=AP, CP=CP, CSC=HOME_CSC)
Note: It's important to use HOME_CSC to keep your data intact.
In the USERDATA slot, insert your TWRP+PatchedVBMETA tar file (Device Specific)
Then click on Start Flash and wait for the firmware to be flashed completely. It may take some time.
Once completed, make sure to keep the USB cable connected then press & hold the Volume Down + Power keys together for a few seconds until the screen goes black. As soon as the screen goes black, press & hold the Volume Up + Power keys together for a few seconds to enter into the TWRP Recovery screen.
Now, from TWRP, make sure to flash the latest BeyondROM (select the Dirty flash option).
Wait for the flashing process to get completed. Once done, make sure to save logs. (if anything goes wrong)
Finally, reboot the device to the system normally. It may also take some time.
You've successfully flashed the modified Custom ROM on your Galaxy S21 Ultra.
Enjoy!
3. HYPER-ROM [v1R] [S21Ultra]
This ROM supports SM-G991B, SM-G996B, SM-G998B (based on Android 11). According to the developer, it's quite stable for daily use, and almost every system app or service works fine. Such as Framework, SystemUI, Settings, Camera, Launcher, Edge panels, Digital Wellbeing, Smart Manager (based on S21 Ultra), Messages, Clock, Calendar, My Files, Keyboard, Weather, Phone & Contacts (Latest from store), HyperTools.
Changelogs:
Notes:

– You need to be on the ROM based firmware for the ROM to boot and work
– After ROM boots up open hypertools to set things up.
V1R Build

#1 Main
– Based on G99xBXXU3AUGM
(You need to be on this firmware for the ROM to boot and work)
– Added support for SM-G991B, SM-G996B, and SM-G998B
– Fixed root issues and SafetyNet
– Patched bootloader warnings showing on boot

#2 HyperTools
– Ported all mods from S10-N10 latest versions
– Some UI changes
– Added circle battery, custom battery margins
– Fixed aspect ratio on S21 screen
ROM Download Link:
Warning: GetDroidTips won't be held responsible for any kind of issue that may happen on your device while/after following this guide. You should know what you're doing and proceed at your own risk.
Steps to Install Hyper ROM on Galaxy S21 Ultra
Go to Custom Recovery by pressing & holding the POWER + VOL UP buttons together for a few seconds until the custom recovery screen appears.
Select FULL WIPE (recommended) > Select Mount everything.
Choose "Install ZIP from sdcard" > Choose the ROM zip file.
Go through aroma options and restart the device to the system.
It may take some time to boot the device, so have some patience.
Finally, go through the initial setup screen and enjoy!
That's it, guys. We assume this guide was helpful to you and you've successfully flashed the modified Custom ROM on your Samsung Galaxy S21 Ultra device. For further queries, you can comment below. For additional help with rooting or flashing the firmware, you should visit the XDA thread from the source link below.