Smartphones become our daily need and as time goes on, we're submerged into the technical things around us. It's needless to say that each and every smartphone runs on a preloaded official stock firmware that comes out-of-the-box. The official Stock ROM offers stability, performance, better security, and more that's really important for all of us. The Tecno Spark 3 Pro came in April 2019 with Android 9 Pie preloaded. Recently, the company has released an official Android 10 update for Tecno Spark 3 Pro that you can download below and install it by following the guide as well.
To recall, Android 10 was released in September 2019 with lots of goodies which is a successor of the Android 9.0 Pie. It has plenty of features, security improvements, visual changes, more stability, etc that you should consider as a smartphone user. So, whether you're using the stock Android Pie ROM and want to upgrade to Android 10 or you've installed any custom firmware & now go back to the stock ROM, this guide will help you to install the much-awaited and most latest firmware version.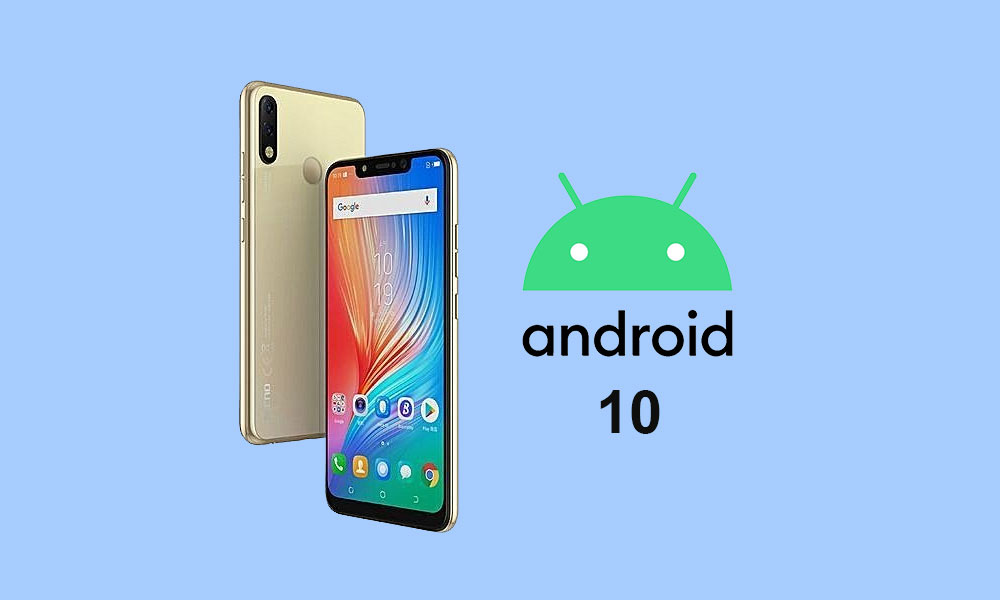 What's on Android 10?
Android 10 (aka Android Q) is the latest version of Android OS launched by Google last year. It's the 10th iteration in the Android OS family that features so many things like system-wide dark mode, redesigned system UI, gestures navigation, enhanced privacy & location control, improved app permissions, foldable support, easy security updates, etc.
Additionally, it also brings inbuilt call screening, smart reply, multi-camera API, 5G support, chat bubbles, live caption, Focus mode, sound amplifier, family link, and more. You will get web & app activity, opt-out option for ad retargeting & personalization, etc.
Features of Android 10
We have provided some of the important features of the Android 10 below:
1. System-wide Dark Theme: Android 10 finally brings a full system-wide dark mode or you can say the dark theme to Android OS. As people love dark themes everywhere these days, this is a good step taken by Google. Even if any of the third-party apps don't support dark mode, you can forcefully enable it.
2. Live Caption: The Live Caption mode automatically captions videos, audio messages, and podcasts over apps like a subtitle. This feature will be available on Google Pixel smartphones very soon. This will be helpful for all the users who have hearing issues.
3. Smart Reply: This feature offers a quick reply option for the messages which you will receive on the notification panel. The smart reply option is already available on WhatsApp or Facebook Messenger app. This is a quite similar kind of experience.
4. Gesture Navigation: This time the gesture navigation control has been improved than the previous generation Android Pie. The back button is now ditched and you can easily go backward or forward via swiping left or right. Most noticeably, the home bar is now wider than the previous one.
5. Privacy Controls: Android 10 packed with improved privacy features. You will get privacy settings like Web and App Activity and Ad Settings. App permission control also available in order to manage data leakage.
6. Sound Amplifier: This feature basically allows users to adjust the sound settings of their devices even in noisy surroundings. The Android users can also boost sound, filter background noise, and tune the audio for a better listening experience.
7. Location Controls: Now, Android 10 users will have the ability to choose their location data with the Map and other apps. You can choose which apps will track the location and which one won't.
8. Security Updates: Android 10 running Android smartphones will receive the latest security patch updates via Google Play Store directly. That's a good move by Google.
9. Focus Mode: The focus mode is the improved version of Digital Wellbeing which allows users to select and control app usage. Digital Wellbeing was introduced in the Android 9.0 Pie version.
10. Family Link: Family Link is a newly introduced feature in Android 10. Parents can use this option in order to set daily screen time limits, bedtime, and more for their children.
How to Install Android 10 ROM on Tecno Spark 3 Pro
Before doing anything, we need to download the ROM file for the Tecno Spark 3 Pro and check out the requirements below.
Pre-Requisites
Disclaimer:
GetDroidTips will not be responsible for any hardware or software issue happening to your phone upon installing this firmware or following this guide. Perform this installation at your own risk..!
Instructions to Install