Update 17 Dec 2021: We have added the latest download links for Samsung OneUI 4 Keyboard APK with extended features compatible with any Android device. The new Samsung Keyboard has got quite popular along with the features in OneUI 4. The new keyboard allows users to get emojis, GIFs, and stickers directly from the keyboard with a single button. This little new feature is the new talk of the town as the majority of people use the keyboard to chat with their friends and families. And having extended features as stickers and GIFs supports makes the conversation much better.
Until now, this feature was only available with Samsung's latest device ranges only which got One UI 4 latest update via OTA. However, with little tweaking and developer support, the keyboard app from One UI 4 is successfully ported and now supports a majority of Android devices. So whether you use a Samsung smartphone or not, you can use the features from the OneUI 4 keyboard. Down below is a step by step guide to download and install the same on your device.
Download Samsung OneUI 4 Keyboard APK for any Android device
Samsung has done finally a great job with its keyboard app. The app now allows users to connect the app with different services like Grammarly, Bitmoji, and Spotify to make the chatting experience much better. Apart from these third-party integrations, the Samsung keyboard from OneUI 4 also supports creating and animating emojis. This is extremely helpful when you wish to combine multiple emojis. And apart from this, a wide variety of sticker support is also available to explore the same.
Samsung Keyboard APK Features & Toolbars
One of the most enhanced features of the Samsung Keyboard is its support with stickers and Gifs. Now users can search a wide variety of stickers and GIFs from the keyboard itself. Apart from that multiple third-party interactions are also available such as Music and AI-powered stickers.
The toolbar provides quick access to the features of the keyboard. Here are some of them:
Handwriting: Use your handwriting to enter text.
Search: Locate specific words or phrases in your conversations.
Translate: Type words or sentences on the keyboard to translate them
into another language.
Spotify: Add music from Spotify.
YouTube: Add videos from YouTube.
Clipboard: Access the clipboard.
Text editing: Use an editing panel to help pinpoint text that you want to
cut, copy, and paste.
Modes: Select a keyboard layout.
Keyboard size: Adjust the height and width of the keyboard.
Bitmoji: Create your own personal emoji and use it in stickers.
AR Emoji: Create your own personal emoji and use it in stickers you can
share.
Mojitok: Create your own stickers or insert automatically suggested ones.
Download Samsung OneUI 4 Keyboard APK
The process to install the keyboard is similar to any other APK package. Simply download the APK file from below and click on it to install it on your smartphone. Please make sure that your smartphone supports Android 8.0 and above to run the Keybaord application to its full potential.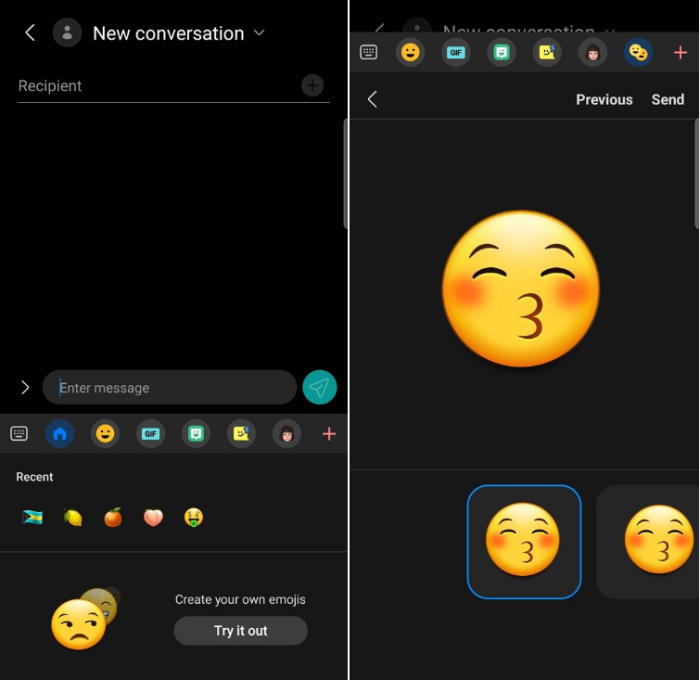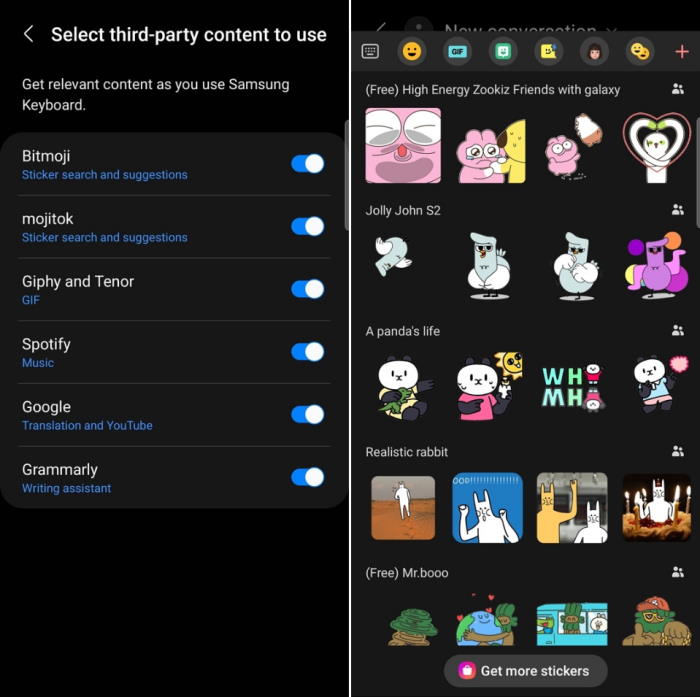 Download Samsung OneUI 4 Keyboard APK
The above version of the app is tested on devices from Redmi, Oppo, Sony, Vivo, and Realme. The app shall work fine on all devices as far as the operating system is Android 8.0 and above. If the app doesn't work, try to reboot your device once and see if it helps. For any further help or discussion, please comment down below.