Let's check out the steps to enable Unknown Sources on Android. There is one major factor that differentiates the Android ecosystem from its iOS counterpart. And its the open-source nature of the former. In other words, there are a plethora of things that could be carried on an Android device. For example, everyday users could try out many custom launchers, customize it with different theme packs, icon sets, font styles among others. Likewise, the tech geeks go a step ahead and try out an altogether different OS in the form of custom ROMs. Well, these are just the tip of the iceberg. There exists a plentitude of possibilities that could be tried out on Google's OS.
Most of the above tweaks we mentioned could be carried out simply by downloading its associated apps right from Play Store. The steps are pretty simple as well. Just search for your favorite apps and games on the store and tap Install. However. things aren't so simple if you wish to download and install apps outside of Play Store. Although you could still install third-party apps and games, but there are some changes that need to be done beforehand. And today we will be sharing just that. In this guide, we will show you how to enable Unknown Sources on your Android device to enjoy more apps. Let's check out how this could be done.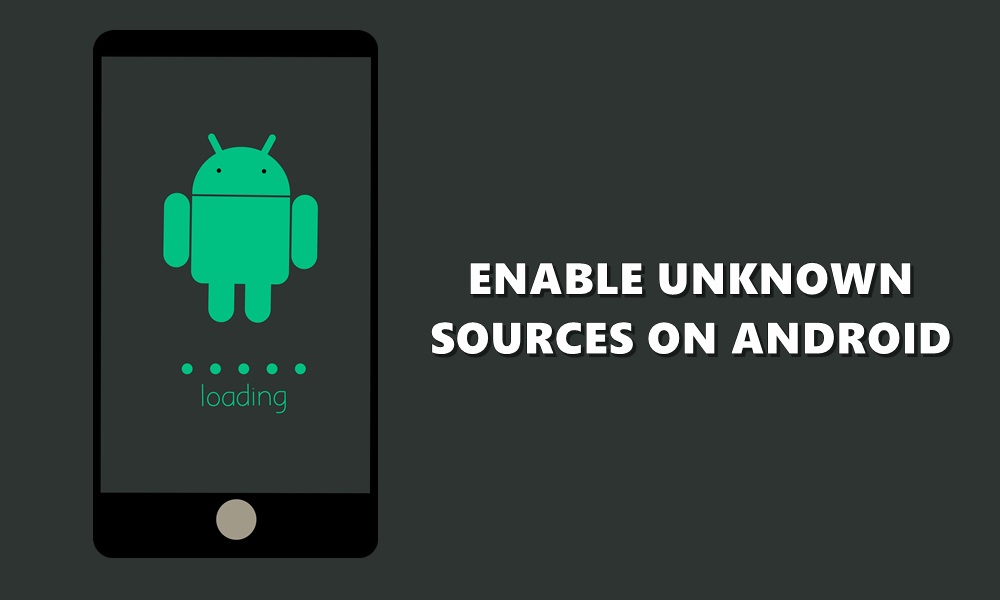 Enabling Unknown Sources on Android: Why it's needed?
So you might be wondering why you need to enable this Unknown Source in the first place when Play Store offers everything. Well, there could be various reasons for the same. For example, consider these scenarios.
Some apps place a geo-restriction on its downloading. That is, you can't download that application from Play Store, it will just not be visible to any user belonging to that region.
It might also happen that the developer brings an update to the app that makes it quite buggy or unstable. You can't really roll back to the previous build of that app from Play Store as there isn't any such option. Although you could easily uninstall that app, that's not always the viable option.
Likewise, suppose one of your friends has shared an APK file via WhatsApp, Telegram, ShareIt or any other medium and you wish to install the same.
Well, these are some of the scenarios that you might be regularly facing. And in all three of them, you can't really find an answer to them, until you enable Unknown Sources on your Android device. Once you do so, you could easily sideload any app from any source, be it from a Google search or any instant messenger. Likewise, you could also download and install any version of the app from the external source once you enable it. Along the same lines, you could even try out geo-restricted apps on your device.
So with the "why" part now pretty much clear, let us turn our attention to the "how" part. That is, let us check out the steps on how to enable Unknown Sources on Android to enjoy more apps. Follow along.
How to Enable Unknown Sources on Android
Here are the required steps that need to follow in order to enable Unknown Sources on Android:
On your Android device, head over to Settings.
Tap on the Apps and Notifications section and subsequently tap on Advanced.

From the list that expands, tap on Special app access. This should be the last option.
Within that, scroll down to the Install Unknown Apps section.
You will now see a list of all user-installed apps along with the access status. By default, it will be set to Not Allowed for all the apps.

In this instance, you will have to decide which of the apps you generally use to download third-party apps from. Let us suppose the Chrome browser is one such app. So tap on Chrome and just enable the toggle next to Allow from this source.
Well, there is no hard and fast rule that you have to enable this feature for the required apps right at the beginning. You could also do the same as and when the need arises. Let us take an example.
Suppose, you haven't enabled the Unknown Sources for Telegram and someone sends you an APK file.
Go ahead, download the app and try to open it in Telegram. You will be greeted with the message that unknown sources aren't enabled on your device.

So tap on Settings and you will be directly taken to the Install Unknown apps section for that app. Just enable the Allow from this source toggle, head back to the app and continue with the installation steps. You could now easily install the app.
Conclusion
With that, we conclude this guide on how to enable Unknown Sources on Android to install apps and games outside of the Play Store. By doing so, you are definitely expanding your domain of Android apps. However, not all third party sites are safe for downloading apps. Always do good research beforehand and then only go ahead with the download. On that note, we also have extensive coverage on iPhone Tips and Tricks, PC tips and tricks and Android Tips and Tricks. Don't forget to check them out as well.