Crowns and Kudos are two in-game currencies in Fall Guys: Ultimate Knockdown. Both these currencies help the players purchase something for their character, such as emotes or cosmetics. Getting both these currencies are somewhat in the same way, except that you can actually spend real money to buy one of these in-game currencies. As with the purpose they serve, it's pretty the same as well.
The crowns will help you purchase the items that of a good rarity in the game, whereas the Kudos act as a base currency, with which you can buy items of the lesser rarity. However, whatever you may want to buy, the basic step is to actually get some of these currencies. That is why we're here with this guide, and it'll help you get Crowns and Kudos. So without bragging too much, let's look at how to get Crowns and Kudos in Fall Guys.
Fall Guys – How to Get Crowns
Among the two in-game currencies, Crowns are fairly harder to get in Fall Guys. You can get crowns either by winning or by going through the season rewards. When it comes to gaining it by winning the game, you'll actually have to grab the crown after all those obstacle courses and eliminations. However, the crowns will pay off for your hard work as it is needed to buy some of the rarest items in the game.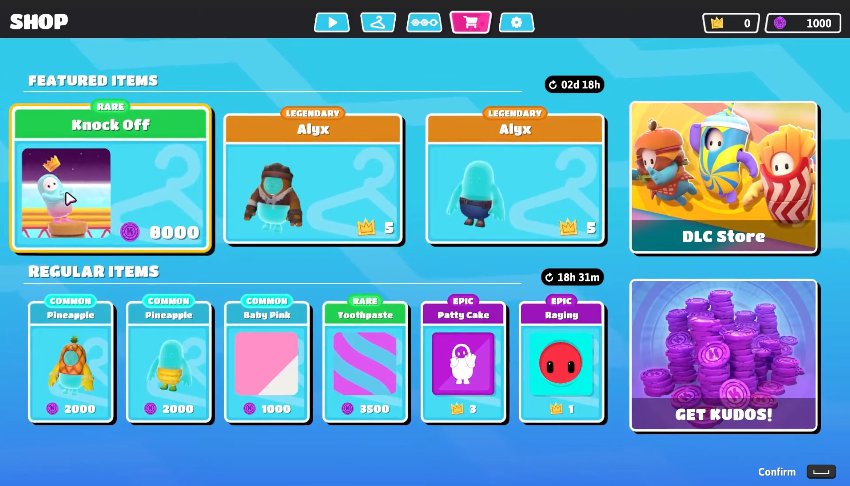 Fall Guys – How to Get Kudos
Unlike Crowns, Kudos are easier to get among the in-game currencies. When it comes to Kudos, the players can obtain it in two ways – either by playing the game or buying it for real money. The pricing of Kudos comes at $0.005 per Kudo or you can buy the bundle packs. However, if you choose to collect Kudos by only playing the game, then the good news is that you'll get this currency just by playing, regardless of whether you win or lose. The obstacle courses you pass, the more Kudos you will earn.
Both these in-game currencies will help you buy items in Fall Guys: Ultimate Knockout. However, it is a great idea to collect as much crowns as you can as you'll find exclusive and rare deals that you can only purchase with crowns. That said, we hope reading the article above has equipped you with some bit of information. Please let us know by commenting down below if you have any further queries regarding the same.
Also, check out our iPhone Tips and Tricks, PC tips and tricks, and Android Tips and Tricks if you've got queries for it or want help. Thank you!