Respawn Entertainment has done a great job by releasing Apex Legends in 2019, which became free-to-play and popular enough among the gaming community. If in case, you're playing Apex Legends for a while, the chances are high that you're facing multiple issues whatsoever. Apex Legends No Server Found Error? is one of them and if you're experiencing it in 2023, make sure to follow this troubleshooting guide.
This particular error seems to appear from time to time to several players. Most importantly, after getting the Season 9 update, players frequently encounter such an issue. The Apex Legends Season 9: Legacy No Server Found Error appears when the client fails to connect to the Apex Legends servers due to several reasons.
The chances are high that the servers are under maintenance. In such scenarios, it's quite possible that you won't be able to fix this issue if in case the servers are actually down or having an outage. So, waiting for the servers to get back online and active is what you'll have to think for. Sometimes it may take a couple of hours for servers to get back online depending on the technical fault.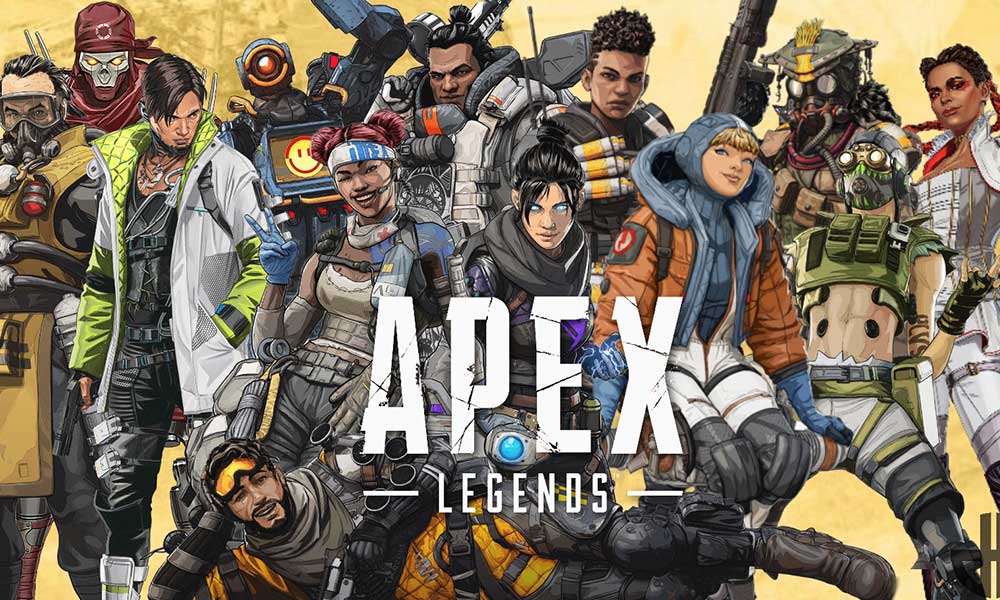 How to Fix Apex Legends No Server Found Error? – 2023
Now, without wasting any more time, let's jump into the possible workarounds below.
1. Check Server Status
Well, checking the server status info is a useful way to keep updated yourself if you're consistently getting server connectivity issues. To check it, you can visit the Apex Legends Status webpage, and know more about it.
At the time of writing this article, it seems that latency issues are affecting the game badly across several regions and servers. Additionally, you can follow the official @_ApexStatus Twitter handle to get updated with all server status-related info. Whereas visiting the unofficial Apex Legends Status Down Detector page can also do the job easily.
If there is an actual server downtime or outage happening, make sure to wait for a couple of hours until servers come back online. There is nothing to do extra in that scenario. But if the servers are running well and still you're getting connectivity errors or no server error, you should follow the rest of the methods one by one.
2. Check Your Network
Checking the network connection is another necessary task if you're getting multiple issues with online gaming such as connectivity errors, can't connect to the servers, etc. If you're using a Wi-Fi network or a wired connection, make sure to cross-check your network properly whether it's working for other games/browsing or not.
If there is an issue with your internet, you can always contact your ISP for further assistance. If your network is working well with other websites or online games, you can follow the next method.
3. Power Cycle Your Router
Make sure to perform a power cycle of your Wi-Fi router in order to clear any kind of temporary glitch or networking cache issues whatsoever. In order to do so:
Turn off your Wi-Fi router first.
Now, unplug the power cable from the router.
Wait for a couple of seconds and then plug back the power cable in.
Turn on the Wi-Fi router and check whether the problem has been fixed or not.
4. Switch to a Wired Connection
In order to cross-check the internet connection whether it's working for you or not, make sure to switch to a wired connection from the Wi-Fi network or even vice-versa. Sometimes it may possible that switching the network connection can easily fix several issues.
5. Perform Hard Reset [Console]
For the PS4 console users, performing a hard reset to the console may come in handy in most cases. Sometimes a glitched system or cached data can cause multiple issues with the gameplay or server connectivity. To do that:
Keep signed in to your PS4 console.
Now, head over to Settings > Go to Account Management.
Navigate to Activate as Your Primary PS4. If it's already activated, select Deactivate.
Now, sign back into your PS4 account and go to Settings again.
Locate Initialization > Select Initialize PS4.
Confirm the process by selecting Full.
Once done, your console will reboot.
Please Note: This process will wipe out downloaded games, saved game data, etc that are available on your console.
6. Reset Wi-Fi Router
Try resetting your Wi-Fi router in order to clear the temporary networking glitch or system cache issue. To do this:
Make sure your Wi-Fi router is turned on.
Now, locate the Reset button or pinhole at the backside of the router.
Either press and hold the Reset button or use a pin to insert it into the pinhole & long-press the Reset pinhole.
Release the button once you see a glitch or stutter in the LED blink. [It indicates that your router has been reset now]
Finally, log into your router's admin dashboard > Input the necessary IP config details and save the changes.
You're done.
7. Use a VPN
Maybe your region server has some issues or more active players are online at the same time which basically overloads the server capacity. So, you can try using a VPN (Virtual Private Network) and select a different region to check whether you're able to play Apex Legends or not.
If yes, that means there is a technical issue at your specific region server that will be fixed by developers as early as possible. However, we won't recommend you using a VPN service because it increases input lag and ping delay.
8. Use Mobile Hotspot
If you have a doubt that your internet connection is somehow causing trouble to you, make sure to use a mobile hotspot in order to cross-check the networking problem. Just use a smartphone and turn on the hotspot > connect to the Wi-Fi on your console or PC and start playing Apex Legends.
Even it'll load the game slow and you won't be able to play properly, you'll come to know what's going on.
9. Clear Background Tasks [PC]
Meanwhile, Windows users can always check for background running tasks and clear them which are unnecessarily running. These background tasks can easily consume a lot of system resources to which will eventually slow down your computer and triggering issues with the online gameplay in some cases. To clear background tasks on your PC:
Press Ctrl + Shift + Esc keys to open Task Manager.
Now, click on Processes > Select the unnecessary tasks and click on End Task one by one.
Once done, make sure to close it, and reboot your system to apply changes.
10. Check Software Updates
It can also possible that an outdated system version on your PC or the PS4 console is causing several issues with the system performance as well as the networking connectivity. You should always try checking software updates whatsoever to get updated with all the latest features and patch fixes.
11. Check Game Updates
Similarly, you should also check for game updates because developers mostly release patch fixes and additional features with every update. If in case, you haven't updated your Apex Legends game for a while, try checking it periodically. If there is an update available, make sure to download & install it without any second thought.
12. Check Your NAT Type
NAT Type is another big reason to get multiple internet-related issues or connectivity errors if you're using the PlayStation 4 console. There are three types of NAT connections available that console users may come across in some cases. Always check whether your NAT Type is 1 or 2.
If it's showing NAT Type 3 then make sure to contact your ISP (Internet Service Provider) to get it fixed professionally.
That's it, guys. We assume you've found this guide helpful. For further queries, let us know in the comment below.