In this guide, we will talk about troubleshooting Dropbox not syncing with Windows 10 issues. Dropbox is popular cloud storage. Thanks to technology that when the limited storage on our devices runs out, we can still store our files over the cloud. It is an excellent source of information backup.
Dropbox is the best way to save space on your hard drive, speed up your computer, AND make it easy to restore your files. Also, there's an option called Selective Sync settings in Dropbox. This feature allows you to only sync those files from the cloud to the computer that you regularly use.
Recently, many users came forwards and complained that their Windows 10 PC Dropbox is not syncing their data. Also, now they are looking for some potential fixes to get rid of this situation. So, after that, we will decide to bring a guide to fix this issue to help the fixing not syncing issue on Dropbox.
Also Read: Top 5 Dropbox Alternatives
How to Fix Dropbox not Syncing with Windows 10
There can be various issues that may cause the DropBox to not sync with Windows 10 PC/Laptop. We will check that one by one.
Shutdown Your PC and Restart Dropbox
I know you may have already tried this one. But, still, I suggest you give it a shot again. Nothing complicated. Just close your application, hover to the start menu, hit the power button, and select reboot. Then, once your device rebooted successfully, rerun the Dropbox and try syncing. So, if the issue is occurring due to some temporary bugs or glitches, by doing so, it will get resolved.
Use Task Manager
If you find that while syncing, you are stuck on the not responding window. Then, I'll suggest you use your Windows Task Manager and end task for Dropbox-related processes. However, to do so, hover to the Task Manager. Then right-click on the process related to Dropbox and hit the End Task button. After you did this, again rerun the Dropbox and check if the not syncing issue gets resolved or not.
Troubleshoot Network Connection
Press Windows key + I to access the Windows Settings
In the Settings dialog box, there is a search bar.
Type Network Troubleshoot > Click on the Find and Fix Network Problems

Click the checkbox Apply Repairs Automatically
The system will detect possible issues and let you know for the redressal of the same.
Check Your Dropbox Space
Sometimes it occurs just because you are run out of storage. So, it is the most important aspect to check your storage regularly. Generally, you'll get a 2TB cloud storage plan if you own the Dropbox Plus membership. Meanwhile, for the Basic Plan, you'll get only 2GB of cloud storage capacity. In most cases, it is noticed that this low storage availability cause this type of problem.
Now, how to know if your Dropbox storage gets full? To know this, open your Dropbox, you will see the meter that if you are running out of storage. Also, you will get some symptoms if you are running out of storage, like you'll not even be able to edit the files as well. So, therefore, checking your Dropbox space and updating it is the most important factor.
Open Dropbox using your browser and select the avatar option located on the right side of the window.
Then, click on the Settings option. Now, on the next window, select the Plan in order to know how much storage is available.

Is the File in use
Check that the file you want to upload in the cloud is currently in use or is open within some other application. If such is the case then the sync will not happen. Close the file first of all and then it should upload to the cloud.
Resume and Restart the Sync
Go to the System tray > right-click on the Dropbox icon
Click on the profile picture of the connected account
Select the option Pause Syncing


Leave for a few minutes and then select the option Resume Syncing
Corrupted DropBox Folder
Check whether the folder into which you want to upload your files is corrupt or not. You can try to upload the same file into another Dropbox folder. If the uploading/sync works, this means the first folder is corrupted.
Dropbox generally allows the sharing of files and folders. In case anyone has shared a folder with you then you can sync the files of that folder. however, if that person is no longer sharing the folder, then you won't be able to access the file or the folder. If the permission has been denied by the original sharer, that means the folder may not be visible anymore and you cannot further sync any file into it.
UnLink and Re-Link
Go to the System tray > Click on the Dropbox icon
Select Preferences > Click Unlink this DropBox
Once done, restart your system
Now add your account again to Dropbox. The complete process of sync will begin again. It will take some time to finish.
WhiteSpace Error
This issue happens when two folders or files have the same name but with an unused space within the name. For example GetDroidTips.docx and Get DroidTips.docx. Normally, it should show no error. However, there are reports from suer who have a problem syncing the file due to this issue.
Selective Sync Option in Dropbox
It might be possible that you enabled the selective syncing option, and the file you are trying to sync isn't selected in that list. So, in that case, you need to follow some steps as mentioned below:
Open the Dropbox on your Windows 10 PC and hover to the avatar located on the right side of the screen.
Now, click on the Preferences followed by Sync.
After that, select the Selective Syncing option.
Now, you need to deselect or uncheck the boxes for all files present there in the next window. That's it. Now, you can check. This time most probably, the not syncing issue gets resolved.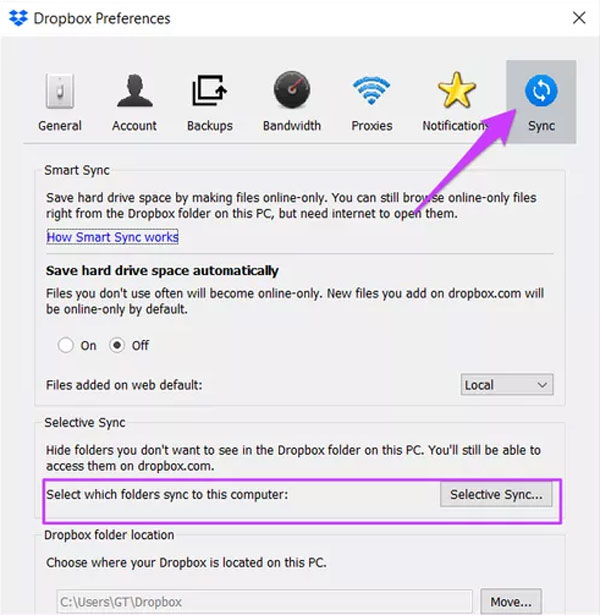 Check your Firewall Settings
This is a basic checking you should carry out. In most cases FireWall by Windows blocks external applications for safety purposes. So, check if DropBox is blocked by it. If that is the case, then unblock the application and now try uploading your files to DropBox. It should work now.
Also, check if your Anti-Virus program has blocked the application. t may do so if you have installed an application from an untrusted source or the site from which you have downloaded the .exe file also brought along some malware.
Clear Cache Files
This is also an effective fix that many players reported helps them to fix the Dropbox not syncing issue. So, you may also give it a shot. Hence, to clear cache files, follow these steps:
Go to your C drive's Program Files. Then, locate the Dropbox.
After that, simply locate and open the .dropbox.cache folder.
Then, press Ctrl + A to select and then delete them all.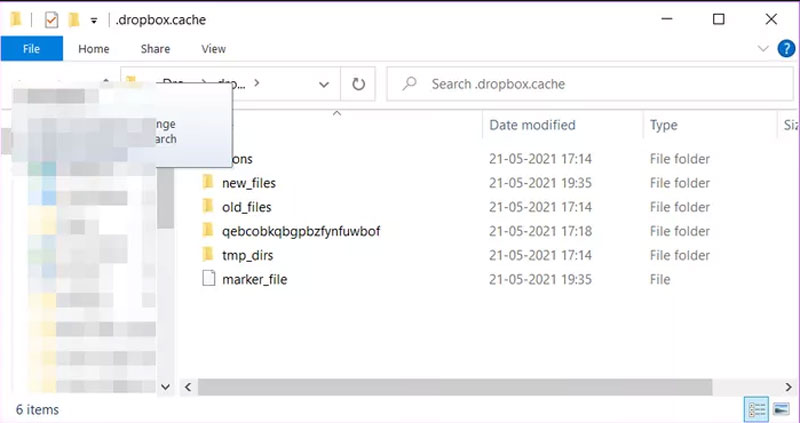 You can also delete the cache file using the Run prompt application. First, open the Run box and type %HOMEPATH%. Then, click on the Dropbox followed by .dropbox.cache.
Re-install DropBox
Well, if everything else did not work, then you can try reinstalling the DropBox application. Stay assured that uninstalling DropBox will not remove or delete the files you have stored in the cloud storage.
Go to Control panel > Uninstall a Program (under Programs and Features)

From the list of applications highlight on DropBox.
Double Click on it > Click on Uninstall
So, that was all about some basic troubleshooting techniques to fix the DropBox not syncing issue with Windows 10 PC. We hope that this guide was useful to you.