Here we will guide on how to fix the error 0x80070103 on Windows 8 or Windows 10. Windows 8 or Windows 10 operating system is designed for regular update and better security feature for your PC compared to older or previous windows operating system versions.
But in some rare cases, it may encounter windows update error in the windows PC. This error may due to the lack of windows operating system's environment essential program which is necessary to run the Windows operating system in the right order or due to 3rd party programs.
What is Windows Update Error 0x80070103?
Windows Update Error 0x80070103 is a common error that occurs when you are trying to update your Windows operating system. This error usually occurs when you are trying to install a device driver that is already installed on your system or when you are trying to install a device driver that is not compatible with your system.
The error message associated with 0x80070103 may read "Some updates were not installed. Failed: 1 update. Error(s) found: Code 80070103 Windows Update encountered an unknown error."
Reason for Windows Update Error 0x80070103?
Some Windows users have encountered the windows update error with the 0x80070103 error code. This error code can be found in the windows update screen.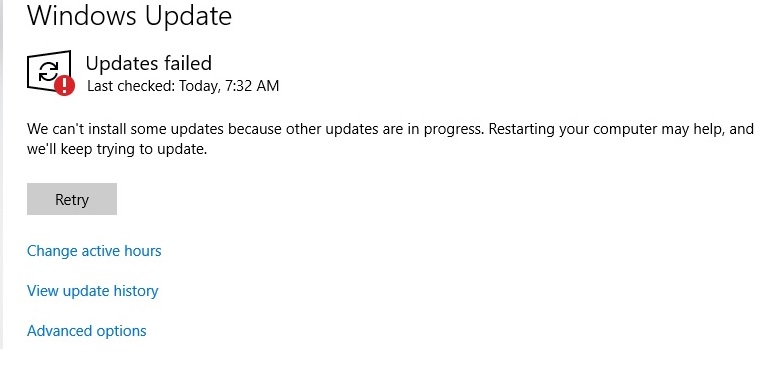 The reason behind this issue is due to the various factor which is encountered by the users are as follows
Change in the hardware driver or graphics adapter which the windows try to install the driver for one or more time.
Antivirus/security software or 3rd party utility program which is using the windows driver which might trigger this error.
How to fix the 0x80070103 error?
If you're encountered by the 0x800070103 error, follow the following steps to resolve it by yourself. There are several methods to resolve this windows update error and they are well explained below.
1: Windows Update Troubleshooter
Windows are bundled with troubleshooter which is used to resolve the issue automatically and in most of the cases the windows identify the issue and try to resolve by itself.
The window update built-in troubleshooter will first scan your system and then resolve or fix the particular file or data which is responsible for windows update error. And it always users option to repair or fix the particular error. For windows update troubleshooter follow the following steps.
You can open Windows update troubleshooter in run command by pressing Windows key + R and then type ms-settings:troubleshoot in the dialogue box.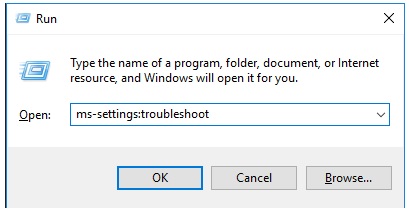 Then press enter and to go to the Troubleshooting tab. Click Windows update and click Run the troubleshooter under Window Update tab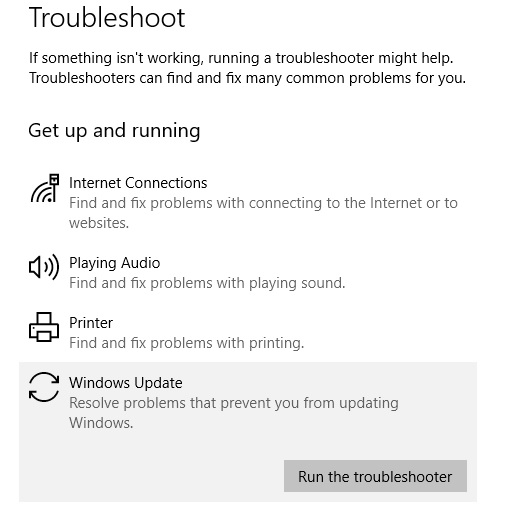 Then a new window will open which will scan your system, wait until the scan is completed and click on Apply this fix if there is any error found by windows update troubleshooter. If there is no error or problem then leave this process and follow another method.
Then follow the on-screen windows troubleshooter strategy until the end and reboot your PC after completing windows update troubleshooting.
Now update your PC and see if the error 0x80070103 error still persists or else try another method.
2. Update/Uninstall the driver
Windows Update error 0x80070103 mostly happens when is try to install a driver which is already installed in your computer or a downgrade compatibility rating than an already installed driver in your PC. Follow the steps to overcome this error
Open Device Manager, and search for the device or driver(which has a problem or error).
Then open the particular driver properties by double-clicking it.
Go to the Driver tab and click Update Driver. Then restart your PC and check the error if it still persists, then goes for the following steps
If you still have the error, then Right Click on the driver or device and click Uninstall device in the Device Manager.
Restart Windows and then the driver will be reinstalled by itself and the issues will be resolved.
Make sure that your Windows files are not damaged( You can check and repair your Windows files using chkdsk command in Command Prompt).