This pandemic has forced people to stay indoors, and as a result, there has been a considerable increase in the number of users for online streaming services. One such streaming service is our beloved Netflix service. But unfortunately, some Netflix users do not have a pleasant viewing experience all the time. Some of these users are encountering errors, and they are unaware of what is causing it. One such error is the Netflix error M7121-1331-P7. It is one of the many issues that are reported by many users worldwide.
Whenever a Netflix subscriber clicks on content, they expect to see it streaming, but instead, they are facing this issue. Are you also one of those subscribers who is encountering the Netflix error M7121-1331-P7? If you are one of them, then you are in the right place. We have compiled all that we can on this unique Netflix error and have prepared several fixes that any such troubled user can try to fix the issue. So basically, in this guide, we will take a look at what this error is and also what we can do to fix it.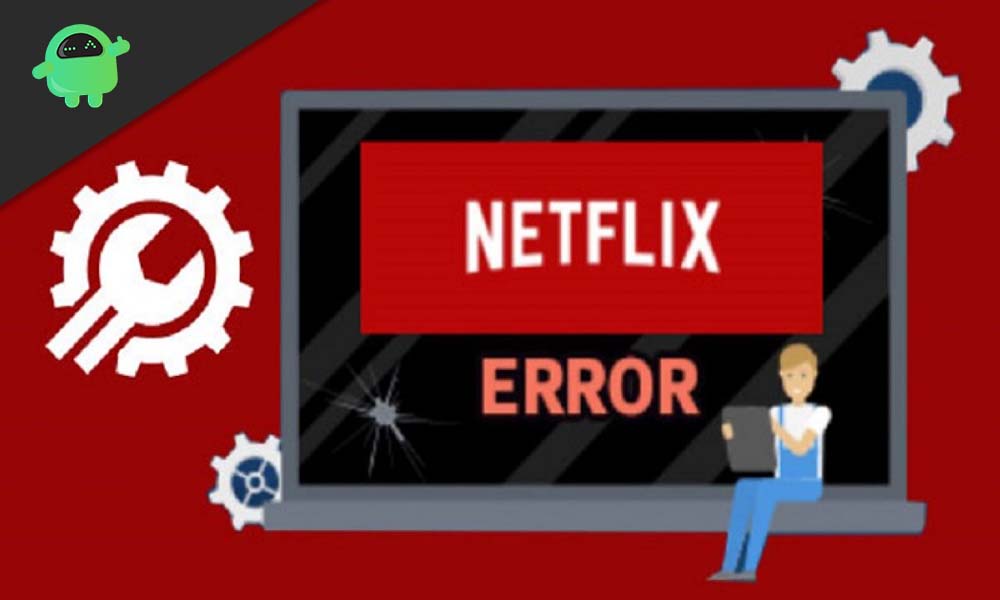 What is Netflix error code M7121-1331-P7?
According to Netflix's website, the M7121-1331-P7 error is mainly the result of an unsupported browser issue. Netflix has a limited number of browsers on which they support streaming, and if you any other browser, then the chances are that you will see this error. Now, as far as supported browsers are concerned, we have Google Chrome, Internet Explorer, Edge, Mozilla Firefox, Opera, and Safari. These are the only browsers on which you can stream Netflix content. Anything other than this will result in error M7121-1331-P7.
Sometimes though, this error might pop up even you are streaming using the supported browsers. If that is the case, then try the fixes mentioned below.
How to fix Netflix error M7121-1331-P7?
Now we present before you the best fixes that will help you solve this error.
Wait a while:
You are streaming Netflix for a few days or months, and suddenly one day, you might see this error pop up. Now it is quite uncommon, but rarely Netflix's servers might get cramped up. Especially in this pandemic scenario with the increased number of streamers worldwide, you might have an issue streaming Netflix, and this error might pop up. So it is wise just to see if it clears up on its own.
If it doesn't, then try the following fixes.
Change your browser:
Now, if you are using a supported browser, like Google Chrome, and you suddenly see this error, then try a different supported browser. You can download and install Firefox or any other such supported browser and log in to Netflix in that browser. Once you do log in, try opening up any Netflix and see if this error pops up again. The chances are that it won't.
If for some reason, this fix doesn't work for you, then the next fix should do the job.
Update your browser:
Sometimes simply updating your browser will do the trick for you.
Google Chrome:
Open Google Chrome and click on the three-dot button option on the top right corner of the screen.
Go to Help, and from there, click on About Google Chrome.
A new window will open up where the browser will automatically start looking for the latest version. If it finds the newest version, then it will install it in the background.
After the installation, just simply close all your chrome browser windows and open the browser again.
Firefox:
Open the Firefox browser and click on the three dash icon on the top right corner of the screen.
Click on the help option, and there you will see the option About Firefox. Click on it.
Now automatically, Firefox will start scanning for a newer version, and when it finds out, it will install it automatically.
After the installation, just simply relaunch your browser.
Opera:
Open the Opera browser and click on the Menu button on the top left corner of the screen.
Next, click on Update and Recovery.
Then the browser will scan for a newer version, and when it finds one, it will install it automatically.
After the installation is complete, click on the Relaunch now button.
Updating your browser should do the job for you.
Disable all the Google Chrome extensions:
Sometimes google chrome users face this issue even after trying all these above fixes. It might be due to the buggy extensions you have on your browser. So to fix, you can try disabling all the Google Chrome extensions altogether.
Open Google Chrome and click on the three-dot button option on the top right corner of the screen.
Click on Settings, and in the next window, click on Advanced.
Scroll and look for the option Reset And Clean up. Under it, you will find Restore settings to their original defaults. Click on it.
Click on Reset settings again to confirm your action. It will disable all your extensions.
If even this doesn't work out for you, then try the final fix mentioned below.
Reinstall the browser:
It should be the last resort that you try if none of the above fixes work.
Click on the windows search bar and type Run. Open Run once it shows up in the results.
In the Run dialog box, enter "appwiz.cpl" and hit the enter button.
You will see a list of applications here. From the list, click on the browser you are having the issue and click on the option to Uninstall.
After uninstalling that browser, open up another browser you have on your system.
Go to the uninstalled browser's homepage and install it again using the online installer.
After successfully reinstalling, try streaming Netflix again, and it should work for you.
We hope, one of these fixes helped you with your Netflix error M7121-1331-P7. Further, if you liked our guide, why not go and check our best iPhone Tips and Tricks, PC tips and tricks, Games and Android Tips and Tricks. You can also subscribe to our very own YouTube Channel and participate in the $150 giveaway contest. Likewise, if you have any queries or feedback, do comment down below with your name and e-mail ID.