iTunes is a media player, media library, iPhone device management utility tool, client app for iTunes store, iOS software updater tool, and more. You can say that it's an advanced fully-featured PC suite for iPhone devices. The tool is available for Windows and Mac that's developed and released by Apple itself. However, sometimes your iTunes application may fail to connect a secure link to iTunes Store due to the corrupted file or app. So, if you're also facing the same issue, you can check out the guide on How to Fix Secure Link to iTunes Store failed Error.
It's also worth mentioning that while installing iTunes app on your PC/Laptop, there are a couple of supportive applications that also get installed like Bonjour, QuickTime, etc. Therefore, corrupted Bonjour or QuickTime app or even the corrupted iTunes app itself can cause issues with the server connectivity. Even performing the default diagnostic process may not work for most of the affected users. Here we've shared a couple of possible solutions that should work for you.
How to Fix Secure Link to iTunes Store failed Error
So, without wasting any more time let's jump into it.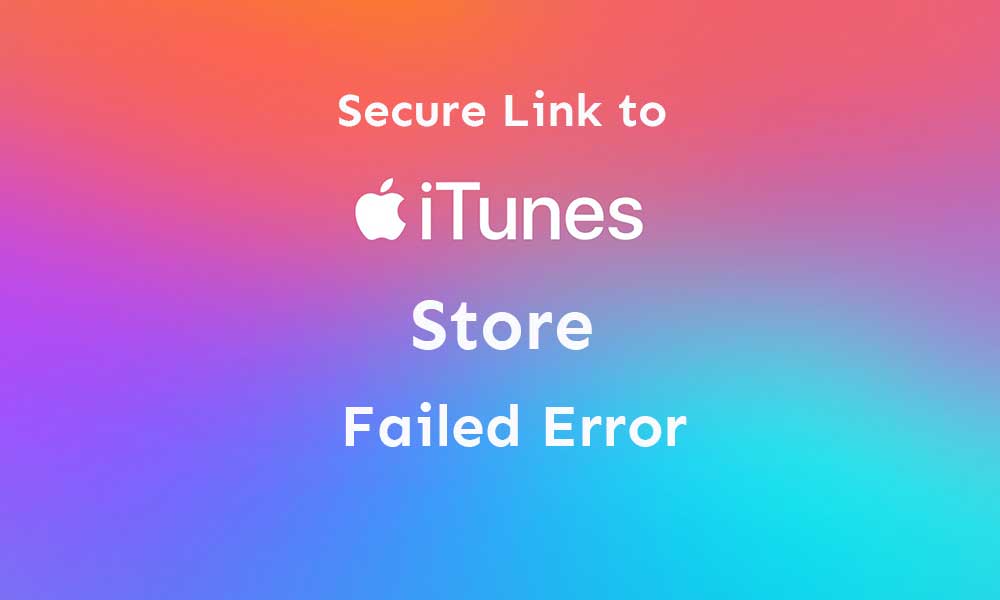 1. Restart your iTunes & iPhone
Simply restarting any of the applications and devices or the computer can mostly fix plenty of issues or errors. So, first of all, just reboot your iTunes app as well as the connected iPhone. If not fixed, then try to restart your connected PC/Laptop as well.
2. Check Apple System Status
Simply head over to Apple's System Status Page to check whether there are any server related issues appearing the connectivity problem or not.
A green dot means the server is up and running well.
Now, if you can see that the iTunes system status is down then you should have to wait for a couple of hours before checking again.
However, if the server status is available then follow the below steps.
3. Check Internet Connectivity
It's really important to check whether your PC/Laptop is connected to a Wi-Fi or wired network or not. If not, then make sure to connect the internet first.
If in case, your internet connection is active then you should check the network configuration on your PC/Laptop.
Make sure that any Antivirus program or Firewall program isn't blocking the iTunes application. If you feel that there is an issue with the Antivirus or Firewall program, then either you can disable both of them or you can set an exception / exclude the iTunes.exe file from the Antivirus or Firewall app.
Once done, restart your computer and try running the iTunes app again.
4. Update iTunes
It's also worth mentioning that Apple releases software updates to the iOS, iPadOS, watchOS, macOS, tvOS, etc quite frequently including the iTunes app. So, if in case, there is a new software update available for your iTunes app, simply download and install the update to fix the Secure Link to iTunes Store failed Error.
5. Check Date & Time
Whether you're using iTunes on your PC for iPhone or iPad or any other Apple device, make sure to check the date & time on your Apple device.
For iPhone, iPad, iPod touch: Open the Settings app. Tap General, then tap Date & Time.
That's it, guys. We hope you've found this guide useful. Feel free to ask in the comment below for further queries.