Forza Horizon users have been facing peculiar issues where the game stutters a lot, and lags, or freezes constantly. This issue is incredibly frustrating, and you're not the only gamer experiencing this issue. Hundreds of other Forza Horizon 4 players have reported similar issues in various online forums and are demanding a quick solution for the same.
The issue of Forza Horizon 4 stuttering, lags, or freezing constantly can be due to multiple factors, either from the game settings or other factors such as your machine, drivers, or internet connectivity. To run the game, you need to have a heavy hardware configuration which might also be the cause of stuttering or lagging issues.
Although developers of FH 4 have acknowledged the issue and already have released several game patch updates for the same. But if you still are facing a similar problem, then here are some troubleshooting methods to check the same.
Fix: Forza Horizon 4 Stuttering, Lags, or Freezing Constantly
Unfortunately, the game has been reported many times due to stuttering or freezing issues which are quite common in the gaming industry.
There are numerous game optimization techniques and other troubleshooting fixes that can help you to solve the problem and we will be discussing them today.
Method 1: Check game requirements
In most cases, the issue behind a game's lagging problems is heavy hardware requirements. Big games such as Forza Horizon do require heavy PC resources such as RAM and GPU power, which sometimes your PC doesn't match, and you face an inevitable poor gaming experience. Down below are the minimum PC specs for the game to run efficiently without any stuttering issues.
Processor: Intel i3-4170 @ 3.7Ghz OR Intel i5 750 @ 2.67Ghz.
Memory: 8 GB RAM.
Graphics: NVidia 650TI OR AMD R7 250x.
DirectX: Version 12.
Network: Broadband Internet connection.
Storage: 80 GB available SSD or PCIe space.
Games on HHD are comparably slow in nature. If you have the required budget, then we recommend you to install an SSD for a faster and lag-free gaming experience.
Method 2: Install the latest game patch
Since the issue has been discussed in various online gaming forums, developers have acknowledged the same and are working hard to release several game patches. So please make sure to check for any in-game updates and install them to fix the issue.
Method 3: Disable Fullscreen Optimizations
Many games have their own version of fullscreen optimization to give you better gameplay. But Windows default fullscreen optimizer can sometimes create unwanted issues and cause freezing or stuttering issues. Here's how you can disable it:
Locate to the game directory and right-click on the game.exe file.
Select Properties > Click on the Compatibility tab.

Checkmark the 'Disable Full-Screen Optimizations' box.
Now, click on the 'Change high DPI setting button.

Checkmark the 'Override high DPI scaling behavior' > Select 'Application' from the drop-down menu. Click on Apply and then OK to save changes.
Method 4: Try Disabling Overlay Apps
Steam and other game providers come with game overlay features that help players to play the game in a smooth manner. Although these in-game overlay apps are always running in the background whenever you launch the game client, it's quite possible to have issues with the GPU processes or system resources.
Also read: How to Turn off In-Game Overlay in Discord [Disable Method]
Here's how you can disable overall apps in Steam:
Open the Steam client > Go to Library.
Now, right-click on Game Title > Select Properties.

Head over to the General section > Here, just uncheck the Enable Steam Overlay checkbox.
Method 5: Set High Priority in Task Manager
Windows task manager automatically assigns system resources to yoru apps and games to run effectively. For many users on the latest Windows 11 build, the task manager is not assigning proper resources to the game causing Forza Horizon 4 stuttering, lags, or freezing constantly issues. Here's how you can manually set the priority for FH 4 to high:
Right-click on the Start Menu > Select Task Manager.
Click on the Processes tab > Right-click on The Forza Horizon game task.
Select Set Priority to High and close Task Manager.
Restart the game and see if the issue is resolved.
Method 6: Play in offline mode
Many users have reported that the game only causes stuttering or lagging issues when the game is connected to the internet. This can be due to the game progress sync process and slow internet. A slow internet connection can cause game lagging issues as well.
So until you are playing in online multiplayer mode, we recommend you to disconnect from the internet and then play Forza Horizon 4 game.
Method 7: Clear standby RAM before playing
If the issue of the game lagging and freezing issues are not solved yet, then it might be due to a memory leak or RAM issues with your PC. Ideally, your operating system should clear all standby RAM before launching a new game, if not done so, there will not be enough resources available to run the game. Here's how you can easily clear standby RAM from your PC:
Download RAMMap from here and run the program.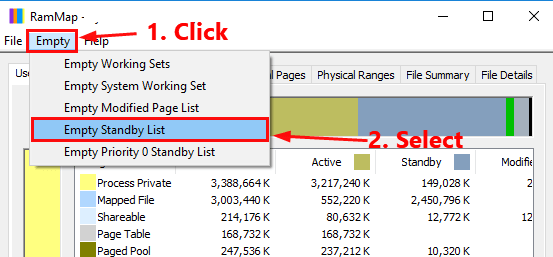 Open RAMMap & click Empty and select Empty Standby List to clear your standby memory.
Now try to run the game and see if the issue persists.
Method 8: Disable Microphone Option
There is a known bug in the game where when you enable your microphone to talk to other players, the game will start stuttering or lagging. Developers are aware of the issue and are currently working on providing a fix soon. However, you can disable the microphone to avoid any lagging issues with the game.
Here's how you can disable the microphone option in Forza Horizon 4 game: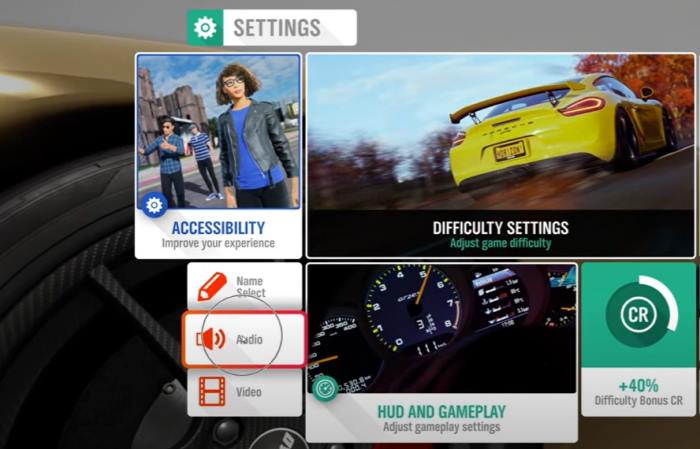 First, open the game settings and navigate to audio settings page.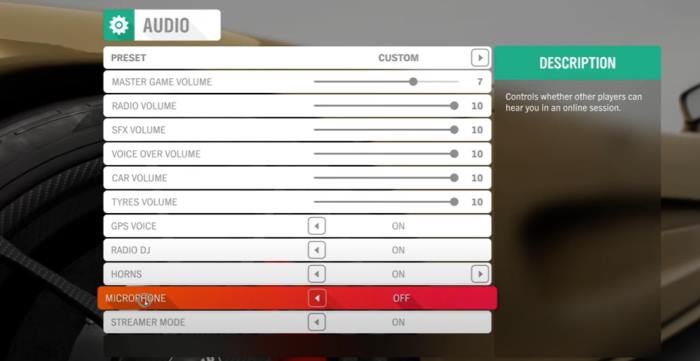 Here scroll down and make sure the microphone option is turned off.
Method 9: Configure game texture settings
In many cases, you will face game stuttering or lagging issues due to poor game configuration. We recommend you to go to settings and lower graphic settings to avoid any game lag issues.
Down below is a video guide by Digital Foundry which will help you to configure your game texture & graphics settings.
Method 10: Install C++ redistributable files
Many games are built on old C++ legacy code for which your PC needs to have C++ redistributable files installed. Please install them by following the guide below:
Go to

Microsoft's official website

to download Visual C++Redistributal for Visual Studio 2015.
Now navigate to the download folder, click on vc_redistx64.exe to install, and click on Next.
After that, agree on the terms and conditions and click on install.



Now follow the on-screen instruction to install the Visual C++ Runtime Library.

Check for the issue again and if it's still the same, uninstall the Visual C++ Runtime Library and install the latest version in your system.
Method 11: Verify Integrity of Game Files
Any big game title such as Forza Horizon 4 comes with hundred of interdepended game files which work together to give you a good gaming experience. If any of these files are corrupted or damaged in some sense, then your game will start lagging or may even crash. So you can verify the game file integrity as follows:
Verify Game Files on Steam:
Launch Steam > Click on Library.
Right-click on Forza Horizon 4 from the list of installed games.
Now, click on Properties > Go to Local Files.

Click on Verify Integrity of Game Files.
Once the process is completed, restart the game and see if the lagging or stuttering issue persists.
You'll have to wait for the process until it gets completed.
Once done, restart your computer.
Verify Game Files on Epic:
Method 12: Reinstall DirectX (Latest)
Microsoft DirectX is responsible for handling tasks rated to games, video, rendering, programming, and media playback. But if your DirectX is not updated to the latest version, then you might face issues with your game such as Forza Horizon 4 stuttering, lags, or freezing constantly.
We have a complete guide on How to Reinstall DirectX on a Windows PC which you can refer to fix the game issue.
Method 13: Update GPU drivers
Games run on graphic cards which are further operated by graphic drivers or GPU drivers. Its important that your computer's GPU drivers are up to date as Forza Horizon 4 is a heavy game and requires the latest GPU drivers to run. Here's how you can update your current GPU drivers easily.
Right-click on the Start Menu to open up the Quick Access Menu.
Click on Device Manager from the list.
Now, double-click on the Display adapters category to expand the list.

Then right-click on the dedicated graphics card name. Select Update driver > Choose Search automatically for drivers.
An update will automatically download and install the latest version if available. Once done, make sure to reboot your computer to change the effects.
Method 14: Reinstall Forza Horizon 4
If none of the above methods work for you, then the problem is most likely to be within your game itself. Dont worry, as reinstalling the game will fix the issue. First, uninstall the game and install it again from the authorized Steam or Epic store.
Conclusion
This brings us to the end of this guide for fixing Forza Horizon 4 stuttering, lags, or freezing constantly. Please keep an eye on game updates as a developer does release several patches which address such game shuttering or lagging issues.
We also recommend you disable or close any background applications while you play the game to give you a smooth gaming experience. If none of the above methods works, then you may also try reinstalling the game and see if it helps.