Nobody wants to lose their hard-earned money easily, especially when it comes to buying a smartphone. So in this article, we will explain whether the Galaxy S23 and S23 Plus are waterproof or not. For years, Samsung Galaxy Phones have been a promising smartphone on the market. Galaxy phones have been evolving on a daily basis, bringing a redesigned user interface as well as new features with excellent stability. Galaxy is a versatile brand, as we all know, but are their phones fully waterproof? Continue reading this article, and we will get into that.
Everyone is afraid of water when it comes to their smartphone. They don't want their smartphones to come into contact with water, as it will be a total mess for them. So it's good to know whether your smartphones are waterproof or not. Many Galaxy S23 and S23 Plus users are confused about their devices being waterproof. Well, if you are also wondering whether the S23 and S23 Plus devices are waterproof or not, You have come to the right place.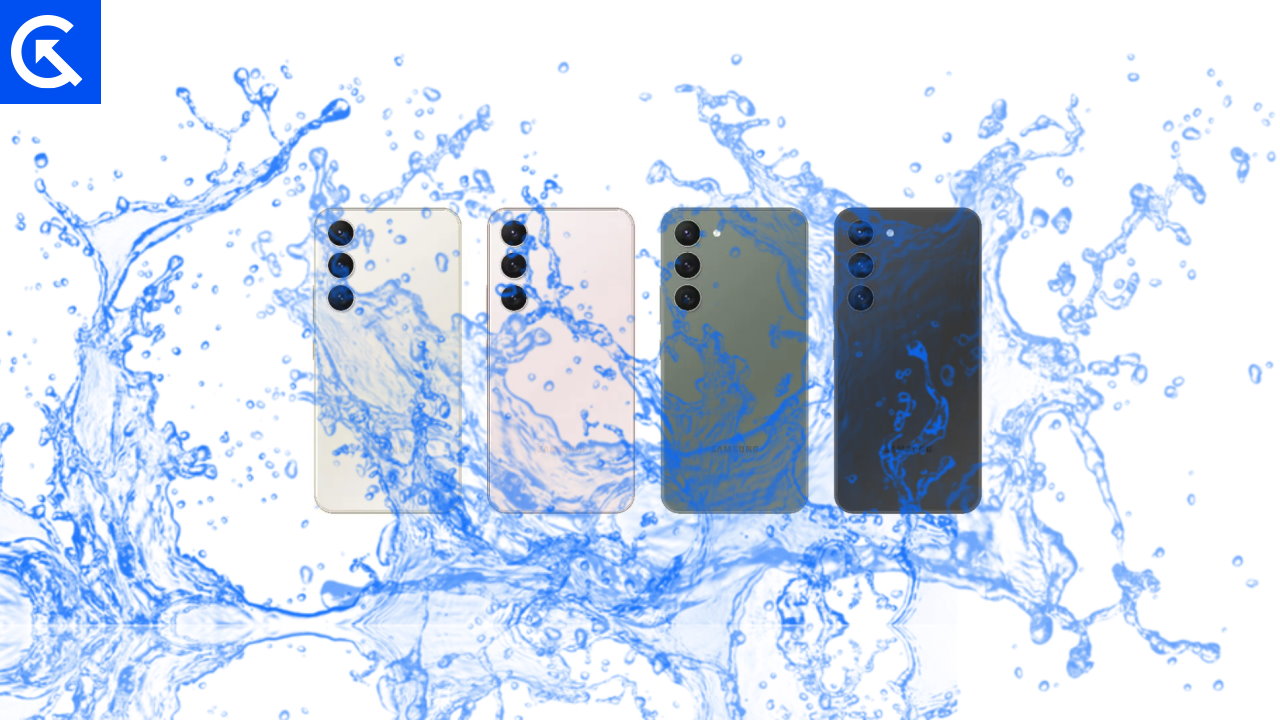 Is the Galaxy S23 and S23 Plus Waterproof?
The Galaxy S23 , S23 plus and also the devices in this range are pretty much waterproof and can defend against the encounter of water to some really good extent. All Galaxy S23 and S23 plus smartphones have an IP68 water resistance rating.
So this IP68 water resistance rating do make smartphones fully waterproof. Well , this rating doesn't make smartphones fully waterproof but water resistant. The number in IP68 refers to how effective it is at providing protection. In terms of water and dust protection, IP68 is the highest you can get now in a smartphone (competition with other products in the same range). This IP68 rating protects your device in such a way that you do not need a smartphone case or flip cover to protect it.
When you see the rating "IP68," the first number, which is 6, represents protection against dust and particles. Six is the highest rating you can get for a smartphone for now. Whereas the second number, which is 8, refers to the protection from water or water splashes. According to Samsung, 8 is the highest rating you can get for your smartphone for now.
In short, the S23 and S23 Plus can resist normal water up to a depth of 1.5 meters, and that too for a duration of almost 30 minutes. If your phone comes into contact with liquids other than water, it may malfunction, according to Samsung. Try to clean it with fresh water and dry it using a clean, soft cloth that won't hamper the device. Do not boot up the device until you are sure it's completely dried off.
Also Read: How to Unlock Bootloader on Samsung Galaxy S23, S23+ and S23 Ultra
Conclusion
With this water resistance rating, the Galaxy S23 and S23 Plus top the list among the smartphones present in the market. as they offer good resistance against the water. The phone is also very durable when it comes to the screen, as it is covered with Gorilla Glass Victus 2, and Samsung uses aluminium for the internal framework of the device. So you don't have to be concerned; it's waterproof on one side and tough and durable on the other.