The Goblin Statue that you encounter within the very beginning of the game will leave you puzzled. When you first see this statue, you will sense something odd with it. You might try to interact with it but for some reason, you're not able to interact. It's too early for you to assume there's nothing you can do with the Goblin statue. Maybe there is something to it that you can do, maybe not.
Your first encounter with the goblin statue in Trials of Mana won't be a pleasant one. But don't give up just yet. Everything has a purpose, so does the strange goblin statue in Trials of Mana. If you're here searching what to do with this statue, then you're in the exact spot. In this guide today, we'll help you understand how to use the goblin statue. So without any further ado, let's how to use Goblin Statue in Trials of Mana.
Goblin Statue In Trials Of Mana: How to Use?
There is, unfortunately, no hidden task that you can do with the goblin statue the first time you see it in the game. However, there will come a time when you'll find this statue useful. This is when you actually progress further into the game, where you will unlock a special Mallet. In contrast, the game will take you back to Rabite Forest with the objective to meet an illusive people that have been hidden in the forest for many years. Progressing through, you are required to meet up with the goblin statue again to use the Mallet you received before.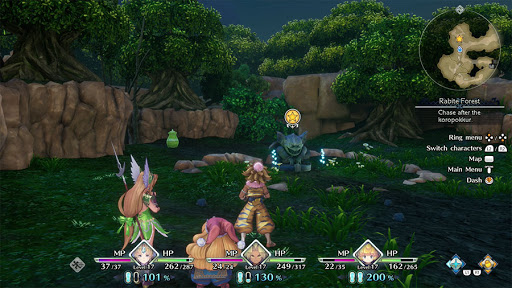 Summing up our guide, you don't really have anything to do with the Goblin Statue the first time you see it in the game. That effectively means there are not hidden puzzles or secrets with this statue. But as you progress further in the story, you'll get a Mallet, after with the game will send you back to this statue to use the Mallet on. That's pretty much it. Just progress through the game and you'll eventually get to interact with the strange Goblin Statue. Winding up, we hope this guide has been of valuable assistance to you. Please let us know by commenting down below if you have any further queries regarding the same.
Also, check out our iPhone Tips and Tricks, PC tips and tricks, and Android Tips and Tricks if you've got queries for it or want help. Thank you!