Do you remember those days, when we used to connect and transfer files to our Samsung devices via USB using Samsung Kies? But sadly, it supported devices running Android 4.2 or lower. When it comes to transferring data between your Mac and your Android device, it's a lot of hassle because of the whole alliance of macOS with iPhones. There are only a handful of options available out there for connecting Android devices to macOS and, not even one of them is the one-stop solution for all your worries. One such app is the Android file transfer, the app is Freely available, Lightweight, easy to use, and all that good stuff but it is far from perfect like you need to manually transfer data with a maximum file size of up to 4GB with no complete backup option.
If you are using a Samsung device, you might be using Samsung Smart Switch to transfer files and, you know it has a limited set of features plus it can not perform a selective transfer of data. So if you are out there looking for a perfect one-stop solution for Connecting Android devices to Mac or doing a file transfer on Samsung devices, Dr.Fone is the app for you.
Dr.Fone is an all-in-one phone manager, loaded with a tonne of features. It lets your transfer data from Android to Mac or Windows and vice versa with exceptionally fast transfer speeds and a great UI and unlike other file transfer and phone manager apps, it is fairly easy to use with support for more than 6000+ Android devices. We say its a phone manager and not a file transfer app because it has lots of other features that a file transfer app would not give you. Dr.Fone has this toolkit which lets you remove phone lock, repair system files, recover lost data from all scenarios, and more. When it comes to recovering data, Dr.Fone can recover lost data which not only includes files, photos, and videos but it can also retrieve contacts, messages, call logs, and more. It is the 1st Android data recovery software in the world.
It is one of the best phone managers out there with a tonne of features and no limitations. Here's everything that makes Dr.Fone better than every other File transfer app in the market:
Seamless Transfer Experience:

You can transfer files, photos, videos, etc. to your Android from mac. Dr.Fone even works with Samsung devices, so you don't need to worry about file transfer between Samsung to mac.

No File Size Limitations: Unlike other file transfer apps like the Android file transfer which limits the user by allowing only transferring files which are less than 4GB, Dr.Fone allows the user to transfer files without any size limitations.
Backup your Device:

While other apps just let you transfer files between your device and your Mac/PC, Dr.Fone takes it to the next level and even allows you to take a complete backup of your phone using which you can restore your phone anytime.

Data Recovery:

It happens a lot when you accidentally delete an important picture or file and now you have no option but to mourn about it for the rest of your life but Dr.Fone comes with a dedicated iOS/Android recovery tool to help you find and recover your lost data. Plus you can freely select the items you want to recover.

More Than Just a File Transfer App:

Dr.Fone is not just a file transfer app, it a complete phone manager with features like phone transfer, system repair, data eraser, WhatsApp transfer, virtual location, and a lot of other thoughtful features.
Now you'll ask what's the catch? cause nothing great comes without a trade-off, the thing is there is no trade-off. Dr.Fone is hands down the best smartphone manager out there in the market. Now there is no need to pull out the SD Card of your device and wait for hours just to make a file transfer happen which you can do within minutes using Dr.Fone. Here's a quick guide on how to connect Android Phone to Mac and transfer files like photos, videos, music, etc. to your Android Device from a Mac:
1. Install the Dr.Fone app on your Mac and launch it. (Dr.Fone is also available for Windows)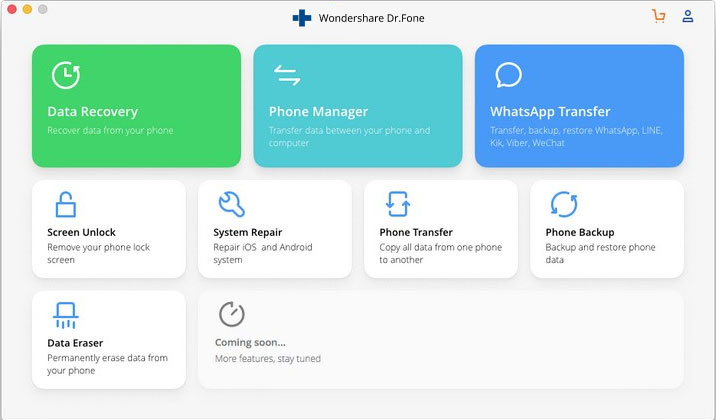 2. Now connect your Android/Samsung device to your Mac via USB.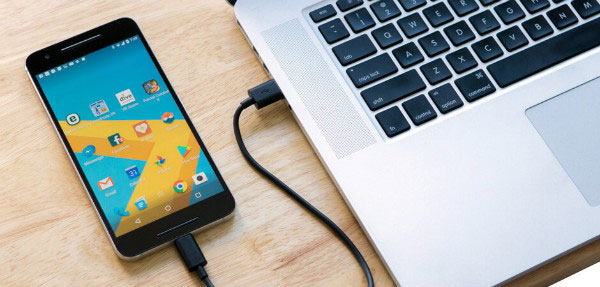 3. After your device gets detected you will be able to see your Android device on the Dr.Fone interface.
4. Now in the top bar, you will see different options click on the type of data you want to transfer like photos, videos, music, etc.

5. Let's say you wanna transfer videos, click on the videos/images tab.
6. You'll see a list of videos/images on your device. Select the ones which you wanna transfer to your Mac.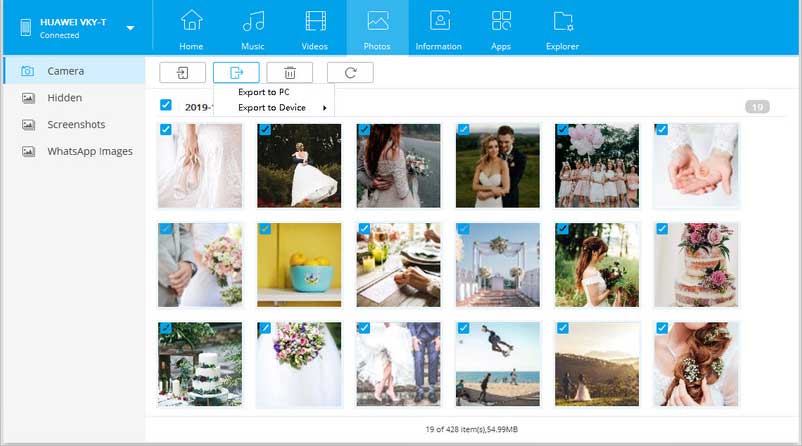 7. Now click on the 'Export to PC' button and wait for the transfer to complete.
8. And you have successfully transferred files from your Android device to your Mac.
You know whats's the best part about using Dr.Fone? It does not require a lot of computing power to work seamlessly, all you need is a Mac Running 10.15 (macOS Catalina), 10.14 (macOS Mojave), Mac OS X 10.13 (High Sierra), 10.12(macOS Sierra), 10.11(El Capitan), 10.10 (Yosemite), 10.9 (Mavericks), or 10.8 or a PC running Windows 10/8.1/8/7/Vista/XP with a 1GHz CPU, 256 MB or more of RAM (1024MB Recommended) and around 200 MB of free space on the storage drive. It works on Android devices running Android 2.0 to the latest.
You can try Dr.Fone for free but you'll not get all the great features it has to offer, for that you can buy the Dr.Fone full Android toolkit's lifetime license for as low as $49.95 which includes all the modules for Android device(Data Recovery, System Repair, etc.) but if you only need to transfer data between your Android phone and your Mac you can go with the Phone manager Module which will cost you around $29.95 with a 7-day money-back guarantee.