If you are an iPhone user then, you understand the importance of the Control Center. It is that place from where you can control almost everything like music volume, brightness, toggle quick settings, etc. Control Center is so important for an iPhone that it can even work when your device is locked. But, here lies the problem. For starters, it can accidentally activate any of the settings or trigger unwanted actions, etc. And if you are looking for ways to avoid all such fuss then, you are at the right place as in this post, we will be guiding you on how to disable the iPhone control center when your device is locked.
Moreover, this can be a big issue if someone steals your phone and disables the mobile data connection. This will cut off your hopes for finding your phone because finding my phone requires the device to have an active data connection. And if you could disable the lock screen from getting activated when your device is locked could prevent such mishappenings. So, without any further ado, let us get straight into the article itself: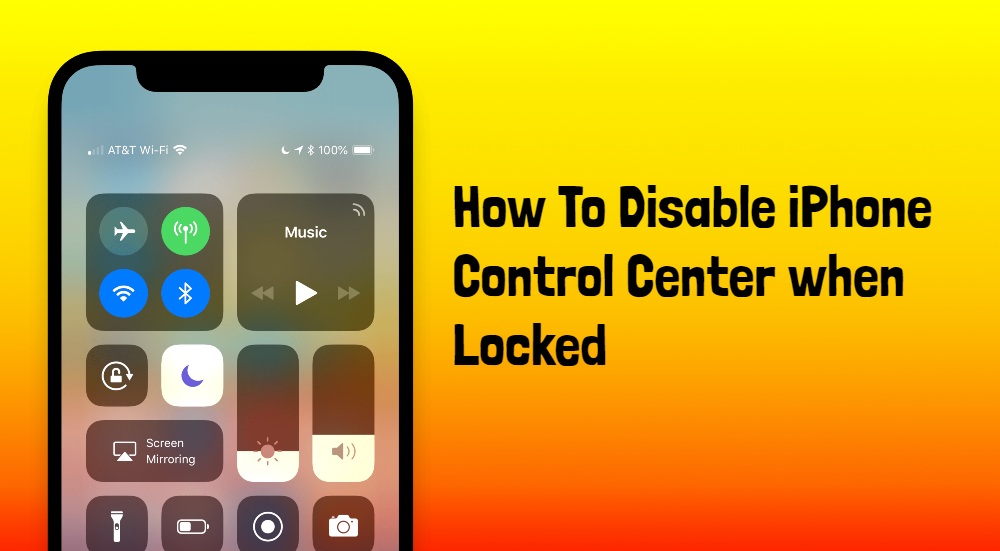 How To Disable iPhone Control Center when Locked
You can disable the Control Center on your iPhone running iOS 11 or higher just by tweaking a few options under the Settings menu. To do that, follow the below guide:
Go to Settings option on your iPhone or iPad.
Then head to Touch ID & Passcode or Face ID & Passcode.

You are now required to enter the passcode to proceed further.
Scroll down in the Allow Access When Locked section.

Turn off the toggle beside Control Center to disable it from triggering even if your device is locked.
That's It!
Once you are done with the above step, your iPhone or iPad will no longer show you the control center when your device is locked. Thus this will help prevent you from triggering unwanted actions and also lets you safeguard your phone from unwanted actions if your device gets stolen. Note that you will still be able to access the control center but for that, you are required to unlock the phone. This also gives your device a dose of additional security.
So, there you have it from my side in this post. I hope you guys liked it and were able to disable the Control Center on your iPhone or iPad. Let us know in the comments below if you come across any issues while following any of the above-mentioned steps. Until the next post…Cheers!