iOS 16 had its first public version launched on 11th July 2022. Since then, it's been quite a journey to the complete public version launch. We can see some incredible game-changing enhancements with the all-new iOS 16. All those personalized lock-screen, focus filters, and everything give it an astonishing shape. However, one feature that specifically caught the user's attention is the Always On Display functionality. A functionality that has been there for Android phones for quite some time now can finally be seen in an iOS device after a long wait.
Always On-Display is a function that simply makes the wallpaper on your lock screen darker and tinted than a regular screen. In simpler terms, it is more like a photo filter that could be applied to any wallpaper the user wishes to keep. And this darker version of wallpaper always remains on until you get your screen into work. The AOD feature was first introduced in the Apple Watch Series 5 and all its later versions. Fortunately, it now seems like it has made its way to iPhones too along with the launch of iOS 16.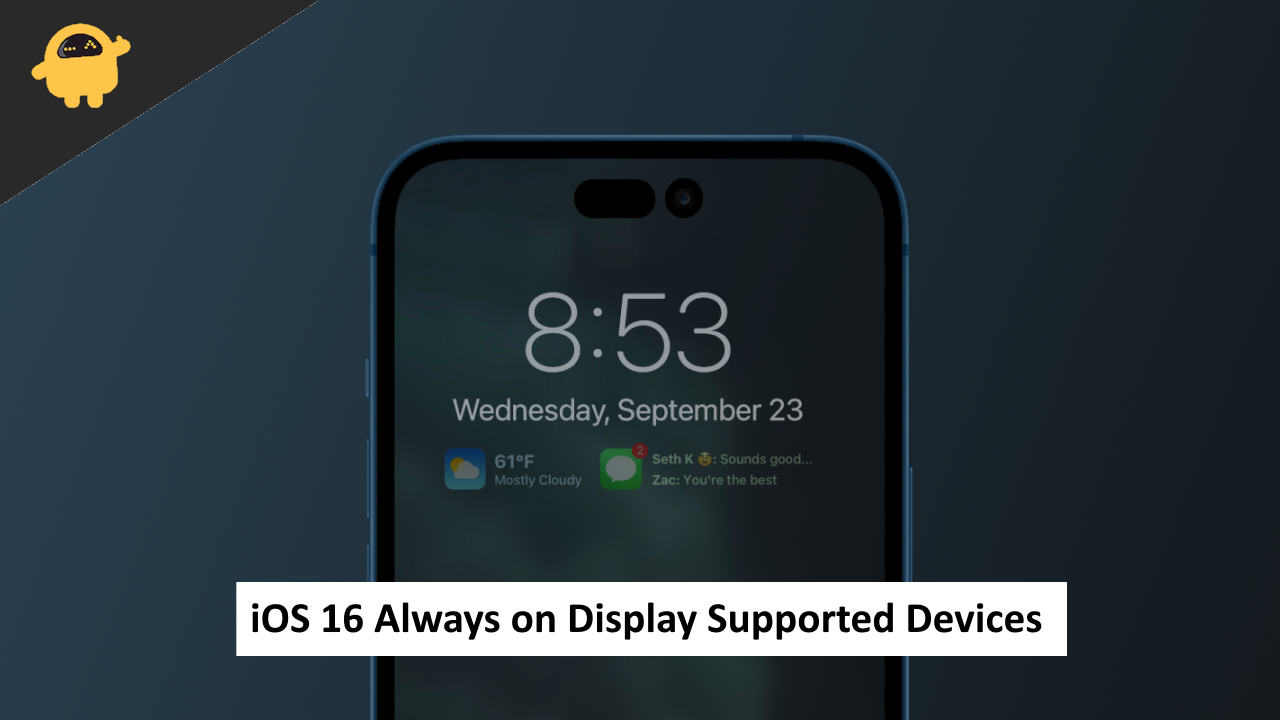 iOS 16 Always on Display Supported Devices
The always-on-display feature was first introduced on the Apple Watch Series 5 back in 2019. However, with the release of iOS 16, it has finally come to iPhones as well. As of now, the functionality is only available on the iPhone 14 Pro models, i.e., iPhone 14 Pro and Pro Max.
The higher-end iPhone 14 models come with OLED LTPO ProMotion displays. The refresh rates of these screens can vary from as low as 1Hz to a maximum of 120Hz. Since the refresh rates can fall such low, iPhone 14 Pro models are able to show a much darker version of the wallpaper with considering battery optimization. The best part is it displays all essential information like weather, time, and recent notification on your display without even having to tap on it. Moreover, it works on any wallpaper and not just with Apple's own backgrounds.
Will the Always On-Display Feature Come to Other iPhones?
With the release of the Always On-Display feature on iPhones for the first time, it is quite exciting to know whether it will enroll in the other iPhone models too. Although the AOD came with the launch of iOS 16, it isn't actually a feature of iOS 16 itself. Perhaps, it is a specific functionality of iPhone 14 Pro and iPhone 14 Pro Max only. But does this release indicates that the previous and the next iPhone models are going to carry on the feature?
Well, since we have already seen it on the iPhone 14 Pro models, there are high chances that the future iPhone too would cling to it. If not the regular models, the higher-end models must definitely carry it on. However, the AOD functionality is only limited to the iPhone 14 Pro models only. and not even on iPhone 14. Considering that, it is highly unlikely that we can the Always On-Display functionality on the previous iPhone models. Moreover, there has neither been any official announcement that shows any intention that Apple is even planning to introduce this functionality to the previous models of iPhone.
Even though, we could say that iPhone 13 Pro and iPhone 13 Pro Max has the highest possibility. This is because both these devices offer advanced ProMotion Displays that have a refresh range from 10Hz to 120Hz. Although compared to the lowest 1HZ refresh rate in iPhone 14 Pro models, 10Hz would eventually consume more power. Yet these devices hold the highest chance of getting an Always On-Display functionality sometime in the future.
Conclusion
In the end, all we can say is that the iOS 16 Always Display-On functionality is supported only on iPhone 14 Pro and Pro Max for now. Besides that, you will also receive this feature in Apple Watch Series 5 and all later versions. Otherwise, there is no news about the Always Display-On functionality being made available on the earlier iPhone versions. However, as we mentioned above, iPhone 13 Pro and Pro Max do have a higher chance of getting this feature. Rest, let us know your thoughts; should the AOD functionality come in more iPhone devices? And which device do you think will receive this feature next?