A small but noteworthy new feature has been added to iOS 16's on-screen keyboard. Using the new haptic feedback option in Settings, you can now text with haptic feedback for the first time. Apple is now bringing this popular feature to iOS natively, something that has been available in third-party keyboards for years.
You'll now notice a slight vibration on the keyboard as you press. This extends the existing feature of making clicking sounds as you type on your iPhone. Although this feature is very amazing, but there are some errors that started bothering users.
Recently, many users reported that the iOS 16 haptic keyboard feature is not working on their devices. Nevertheless, the reason behind this is still unknown. But, we have found some fixes that will help you resolve the haptic keyboard not working issue. Therefore, let's check out those fixes.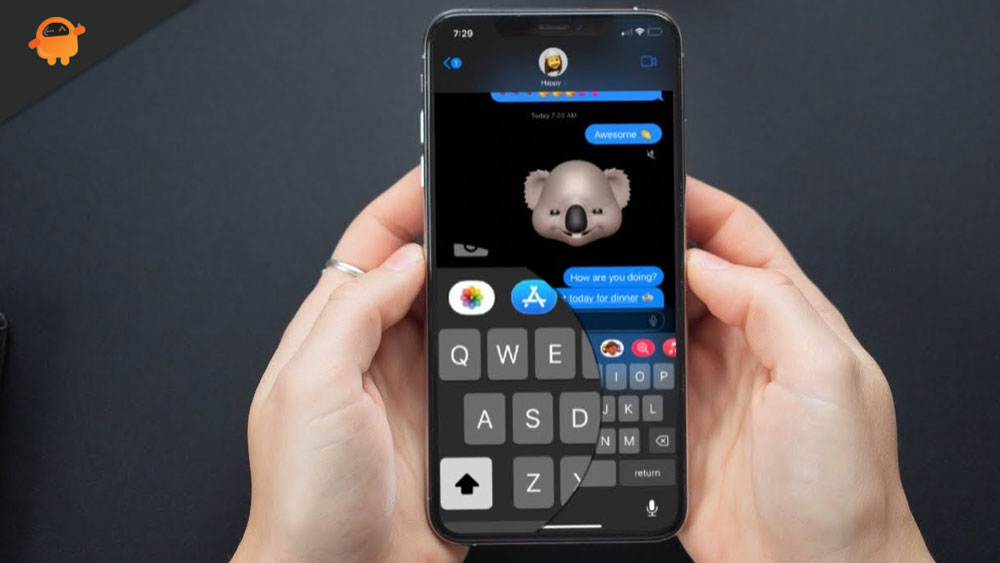 Why is my iPhone's haptic not working?
It is possible that your iPhone's haptic is not working for several reasons. In case you are still experiencing trouble, you might want to try formatting your iPhone. In case you have difficulty formatting your iPhone, you may need to take it to an Apple service center since there might be a problem with the haptic engine in your iPhone.
Fix: iOS 16 Haptic Keyboard Not Working
Listed below are a several fixes that will help you resolve the iOS 16 Haptic keyboard not working error. Therefore, if you are getting this error, make sure to read this guide until the end:
Fix 1: Restart your iPhone
It is also worth considering restarting your iPhone. It may surprise you, but a simple reboot has helped us solve a large number of common iOS problems. The result is that giving it a shot is always worth it.
By holding the volume up/down and side buttons simultaneously, you will be able to adjust the volume. When you've finished, drag the power off slider to turn your device off. Keep holding the side button until the Apple logo appears.
Fix 2: Re-enable Haptic Keyboard Feedback Feature
To fix this problem, we're using an old-fashioned method. Try enabling and disabling the haptic keyboard in iOS 16 if you are experiencing a malfunction. There is a good chance that this fix will be able to resolve the problem. The haptic keyboard feedback feature can be turned off/on in iOS 16 as follows:
Initially, open the Settings app and click Sounds & Haptics.

Click the Keyboard Feedback option again and enable the toggle.
If the above fix doesn't solve the issue, we suggest you try the next step below to fix the haptic keyboard feedback problem on iOS 16.
Fix 3: Reset All Settings
It may also be possible to fix the problem by resetting all the iPhone's settings. We recommend giving this method a try this time, as it has previously fixed keyboard-related issues. Here are the guidelines you need to follow in order to reset all settings:
If you reset all settings on your iPhone, you will lose your WiFi passwords and Bluetooth device preferences. After this step, you will need to reconnect your WiFi and Bluetooth devices. It is therefore recommended that readers save their passwords beforehand.
On the Settings app, tap on General.

Then choose the option Reset iPhone under Transfer or Reset iPhone.

To reset all settings, choose Reset all settings, enter the passcode when prompted, and then tap on Confirm.
Fix 4: Use Apple Keyboard
It is not possible to get haptic feedback on all keyboards. With iOS 16, only the Apple Keyboard will be able to provide haptic feedback. In this case, the Apple Keyboard should be your first choice if you use multiple keyboards on your iPhone.
The Apple Keyboard is accessible by touching and holding the Globe icon at the bottom-left corner of the current keyboard until the Next keyboard menu appears. After that, you should feel a vibration when you start typing.
Fix 5: Hard Reset iPhone
The following steps should be followed if resetting all settings doesn't work to fix the iOS 16 haptic keyboard bug. If you have iOS 16 and are experiencing this glitch, you may be able to fix it with a hard reset or force restart. If you want to hard reset your iPhone, follow these steps:
Initially, using the volume up and down buttons, press and release them simultaneously.

When you see the Apple logo on the screen, immediately press and hold the power button.
Fix 6: Turn on Vibration in Accessibility
iPhone users can completely turn off Vibration by using Apple's system-wide setting. It is unlikely that the keyboard haptics will work on an iPhone if its vibration settings are disabled.
Firstly, you can enable the feature by going to Settings > Accessibility > Touch.
Select Vibration and turn it on.
Fix 7: Update to Stable iOS If running iOS 16 Beta
When you're running the iOS 16 beta, it's time to drop the beta if you like to test features before they're released to the general public. Most people know that beta updates are unreliable and can cause errors such as the inability to haptically feedback the keyboard.
You can turn on VPN & Device Management by opening the Settings app, going to General, and then tapping VPN & Device Management.

Here in this section, you will find a profile for iOS 16. Your iPhone will be wiped clean when you click remove after installing iOS 16.

You can now switch to a stable version of iOS 16 by checking for software updates in the Settings app.
Should I update to iOS 16?
While the features in iOS 16 are fun and all, it may be a better idea to wait until iOS 16.1 comes out in October, along with iPadOS 16.1 and maybe macOS Ventura, to see if they are any good. In addition, there are more features and a more stable interface. Sometimes it is a good idea to wait out the first release of iOS 16, even if you are eager to switch. If Apple releases iOS 16.0.1 bug fixes within a week or two, you'll be happy.
Also Read: How to fix iOS 16 Battery Percentage Not Showing / Missing?
So, that's how to fix the iOS 16 haptic keyboard feature that is not working issue. We hope that this guide has helped you. Meanwhile, for more info, comment below and let us know.