Samsung has just launched its latest smartphone range of Samsung Galaxy S10. With the launch of Galaxy S10, Samsung also announced Galaxy S10E as well. Since the Galaxy S10E is the cheapest option available in the S10 range, many customers want to buy this device. However, before buying the device for sure, they want to confirm whether the new Samsung Galaxy S10E is waterproof or not. To test that, we are going to perform Samsung Galaxy S10E waterproof test.
Whenever a customer wants to buy a new device, he/she looks for official IP68 waterproof ratings. A waterproof smartphone can handle accidental water splash, can take underwater photos and much more. So it is obvious that more and more customers want to adopt a waterproof smartphone. It's good news that Samsung Galaxy S10E is officially waterproof with IP68 certification. However, to test these certifications, we are going to perform Samsung Galaxy S10E waterproof test.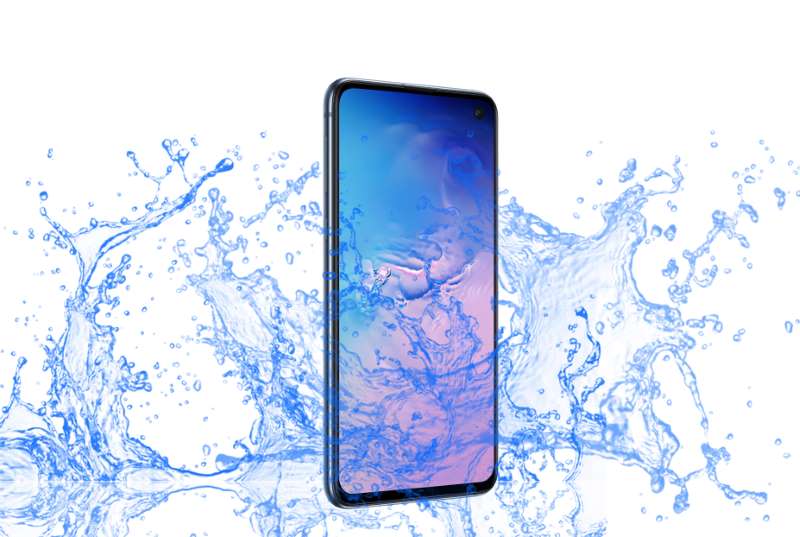 Is Samsung Galaxy S10E Waterproof device?
The smartphone market is booming up and new smartphones are being launched by companies every week. However, most of these smartphones don't come with official IP68 waterproof rating so customers don't buy them. But that isn't the case with Samsung Galaxy S10E. It is having official waterproof ratings and can withstand water up to 30 minutes in a depth of 1.5 meters. Before we start with our Samsung Galaxy S10E waterproof test, let's get to know device specifications first.
Device Specifications:
| | |
| --- | --- |
| Device Name | Samsung Galaxy S10E |
| Screen | 5.80-inch display & pixel density of 522 pixels per inch |
| Processor | 1.9GHz octa-core Samsung Exynos 9820 processor |
| RAM/ROM | 6 GB RAM / 128 GB ROM |
| Battery | 3100 mAh |
| IP67/68 waterproof ratings | IP 68 water & dust resistant |
Samsung Galaxy S10E Waterproof test
There are a couple of tests we can perform to find whether how long Galaxy S10E will survive under water. Usually, a waterproof smartphone can hold up to 30 minutes while submerged into water. However, we will test this to its mark in our Samsung Galaxy S10E waterproof test.
warning
This test is purely based on individual/team observation. This test will only give an idea whether a device is waterproof or not. So users are advised not to try this at home, as it might damage your device.
Samsung Galaxy S10E

Quick Immersion Test
In this test, we are going to put the device in water for 30 seconds. After that, we will test whether the device has got any damage or not.
After performing the quick immersion test we didn't find any signs of damage on the device. Since the device is IP68 certified, it's great that the device can withstand underwater for 30 seconds. You don't need to worry about little drops or accidental water/coffee splash while using this phone.
Samsung Galaxy S10E Shower test
In this test, we are going to suspend the device in an artificial shower/rain environment. Later one we will see if the device is ideal to use in rainy conditions or showering conditions.
After testing Samsung Galaxy S10E in artificial rain condition, we came to know that there are no complications in the device. Also, the speaker works fine in such conditions. Which means you can listen to music or talk with your loved ones while taking a shower.
Samsung Galaxy S10E

Water Immersion Test
In this test, we are going to immerse the device with a bucket full of water for 30 minutes and will see whether it survives this or not.
After water immersion test, we came to now that the device holds perfectly fine under such conditions. This means that you can also do underwater photography with this device. But make sure not to keep this device for long. As it is only designed to withstand water for 30 minutes only.
Samsung Galaxy S10E DustProof Test
In this test, we will keep the device in a sandy environment with lots of grain and sand particles with a running fan around it. This situation mimics dust storms and will check how the device holds in such conditions.
After the dustproof test, no dust was found in the internal parts fo the device. This shows that indeed Samsung Galaxy S10E is dustproof.
Conclusion: Can Samsung Galaxy S10E survive under water?
Samsung Galaxy S10E is an amazing device with waterproof and dustproof capabilities. So you don't have to worry about getting your device damaged by water. You can use this device underwater to take beautiful shots or can talk with your loved ones while it's raining.