Hoglins were introduced as a part of the new mobs in the much-hyped Minecraft update, the Nether update. Considered as one of the biggest updates in the franchise's history, it has bought with it a lot of cool new game content and features.
Alongside, Piglins, the Hoglins are a new species of enemy mobs in Minecraft. Today this guide will help the players to tame a Hoglin in Minecraft. So let's get started.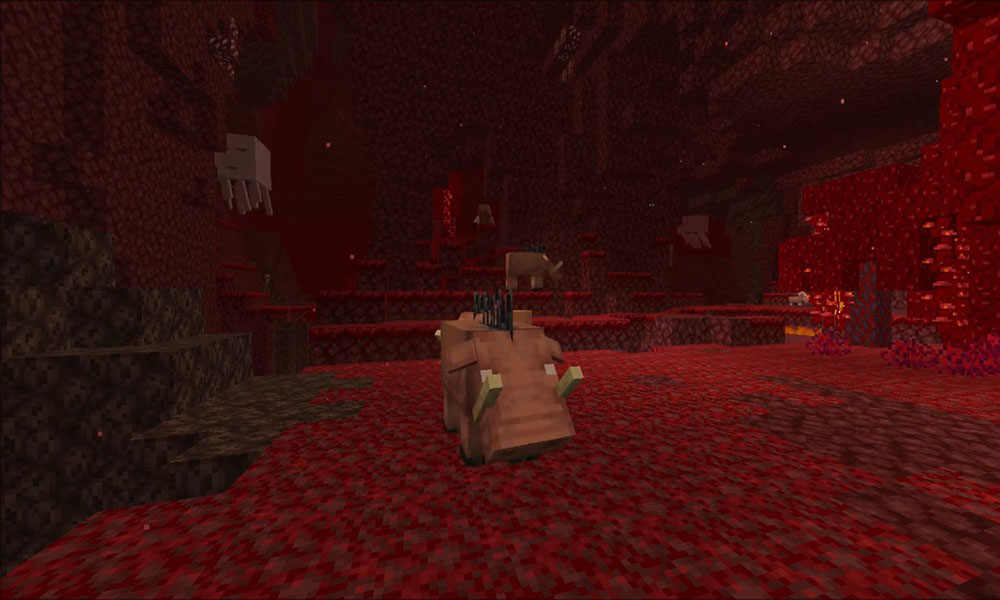 How to Tame a Hoglin in Minecraft
Hoglins are the 4th edition of mobs to be inspired by pigs in Minecraft. They are also one of the only mobs that can be bred, tamed, and even provide resourceful meat. Usually, Hoglins spawn in small groups, ranging up to 4 in a single pack and are only found inside the Crimson Biome forest.
Now, when we say they can be "tamed," we don't want to give off the impression that they can be tamed like other animals. For example, in Minecraft, Wolves can be tamed by giving it a bone. The same principle sort of applies here. But given their wild nature, Hoglins can't be 'tamed' as such. Rather, players will be able to co-exist beside them and bring them up in controlled environments. It is important to know that encountering Hoglins in Minecraft should not be taken lightly. Players are recommended to prepare themselves for an attack by Hoglins, as they will immediately charge.
Hoglins are infamous for knocking over players, so make sure that they are safely tied up somewhere and probably fenced. You don't want to fall in lava, do you?
Additional Hints
Keeping hoglins fenced up is an alternative for players who do not wish to gather fresh beef through them. For those of you who do, fear not, the Hoglins will respawn frequently. To get on the good side of Hoglins, it is best for players to get their hands on some Crimson Fungus.
Crimson Fungus are one of the favorite resources of Hoglins, so having some on hand is always a good thing. To find some of this fungus, head over to the Crimson Forest and keep an eye out for those red mushrooms.
This concludes our guide on how to tame Hoglins in Minecraft. We hope you find this guide helpful. You can check out our other Wallpapers, Windows Guides, Gaming Guides, Social Media, iPhone Tricks, and Android Tricks for more guides. Subscribing to our YouTube Channel will help you win the $150 giveaway contest. If you have any doubts or feedback, comment down below with your name along with the e-mail ID, and we will reply shortly. Thank you.