Microsoft Windows 10 ships with an amazing browser – Microsoft Edge. Many customers are switching to Microsoft edge because of its blazing fast technology and reliability and security. But with this gradual change, many users don't understand the new features. Jut like the new multiple user Profile feature in the Microsoft Edge browser. This feature enables you to use multiple user logins for the ae browser. So you can see sync history, devices, password, etc. And on top of that, you can use multiple users to use different browsing accounts n the same PC without logging out and log in again n again.
The new feature is a hit and is attractive to users to switch to the new Microsoft Edge browser. In case you are not familiar with the feature, it's like an account vault where you can log in and save accounts. So you can use the data such as password, history cookies, etc. in those accounts. Today in this post, we will guide you on how to use the new Multiple user profiles feature in Microsoft Edge. And other new cool features about it.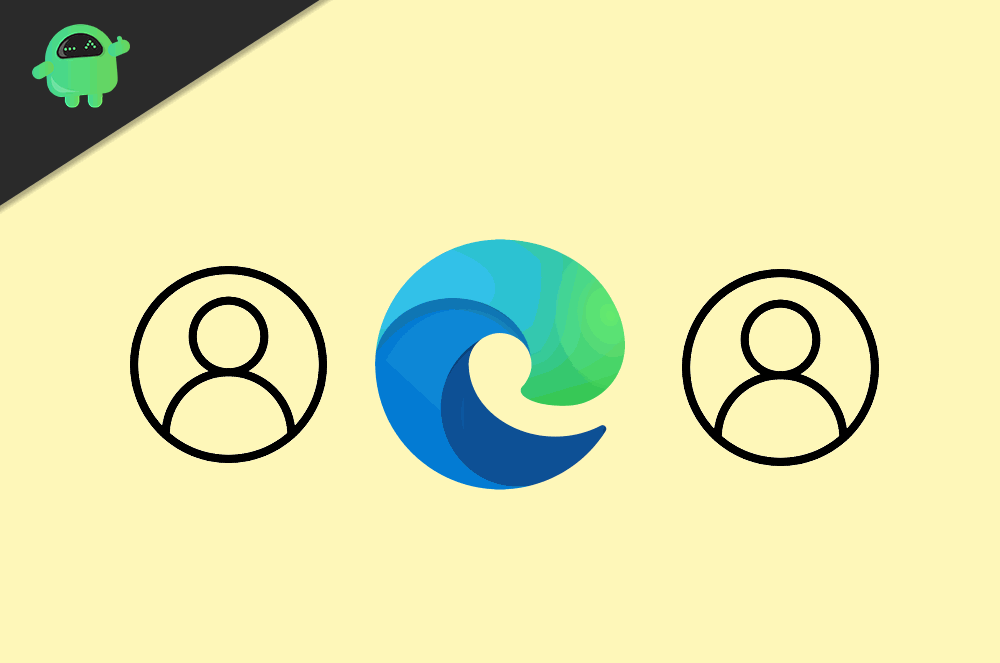 What is Microsoft Edge and the new Multiple User Profiles Feature
Microsoft Edge is the official and default browser of Windows 10. It is the replacement of the old browser of Windows, Internet Explorer. It is a lightweight browser that introduces us to many new features. Built based on the modern web standard, that means it loads up the page faster and gives you a smooth experience. Unlike the previous browser, it has dropped Active-X support and all other bloats. Some of the features are:
The browser has its personal assistant from a popular video game, Halo. However, in Windows, its called Cortana.
Edge allows you to write and draw on the Web Pages via an annotation tool called Inking.
Multiple users account for better user tracking and sync of user data among all devices.
It allows you Private Browsing, and the securities such as Microsoft password manager and asymmetric cryptography makes your browsing experience more secure and private.
Edge supports add-ons from both Firefox and Google Chrome browser.
Simpler features of modern-day browser like fast rendering, integration with social media sites, autofill form, and password manager are all available.
The interface is very clean and simple. However, the browser is much more than it looks. It can reduce resource consumption to optimize low-power devices. Hence, a faster and smoother experience.
How to use the Multiple User Profiles in Microsoft Edge?
The feature of profile in the browser is common nowadays; Mostly, all browsers have this feature. Having multiple profiles is very convenient; you can make different profiles with different bookmarks of websites depending on your mood or for some other reason with just some simple clicks. To know how to create a new profile, and how to switch between profiles, follow the guide below.
Creating a New Profile in Microsoft Edge
You will have a default profile as Profile 1 with no personalization after you install Microsoft Edge.
Step 1) To create a new profile, click on the user profile icon at the top-right corner in the Edge browser and click on the Add Profile button and again click the Add button.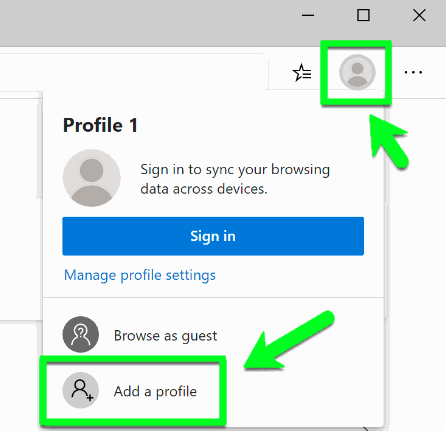 Step 2) A new window will open with the new profile named Profile 2. The new profile will be blank so you can rename it. If you want, you can sign in to your Microsoft account or with the Work and School account.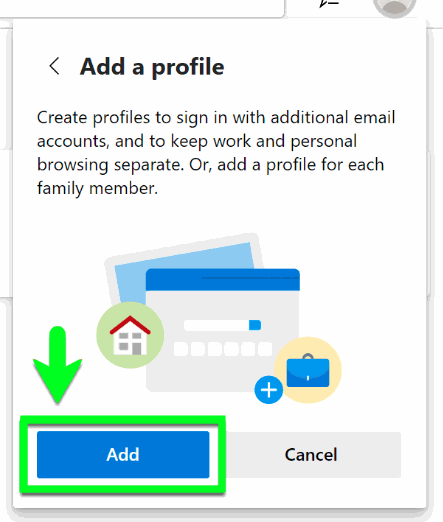 After creating a new profile, you can personalize, add some bookmarks and favorites if you are signed in with other accounts than ts better.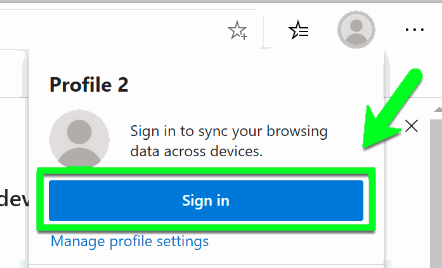 You now have a personalized profile, and similarly, you can create more.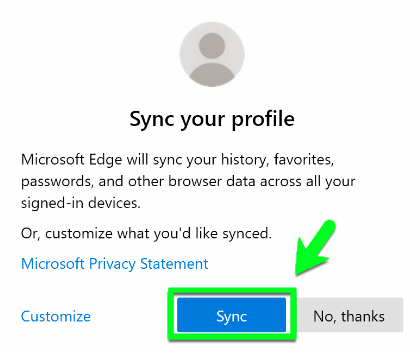 To make each profile more personalized and quick to access, make sure you sync your accounts.
Switch between Profiles in Microsoft Edge
It is very simple and convenient to switch between profiles in Microsoft Edge. If you have profiles for work ( includes all the bookmarks and personalized settings for research purpose) and home ( for relaxation), it is very simple just by two clicks. To know how to switch between profiles, follow the steps mentioned below.
Step 1) Click on the user profile icon on the top-right corner in the Edge.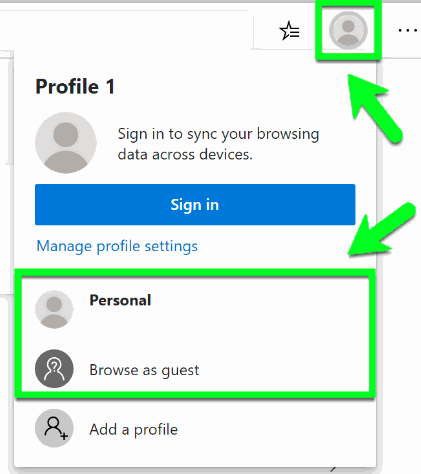 Step 2) Now, you will see all your profiles in the drop-down menu select your desired profile, and a new window will open.
Managing your Microsoft Edge Profiles
If all of your profiles are not named, it might be a quite hassle to figure out which one is for what. To know how to manage your profile, follow the instructions mentioned below.
Step 1) Click on the user profile icon and then click on the Manage Profile Settings under the Sign In button highlighted in blue.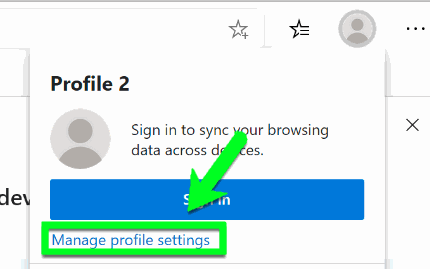 Step 2) A new window will appear of your Profile Settings, Click on the Manage button to select another profile or if you wanna rename the name or to change the icon then click on the three dots left of Sign in button and select Edit.

Type your profile name and select the icon, then click on the Update button.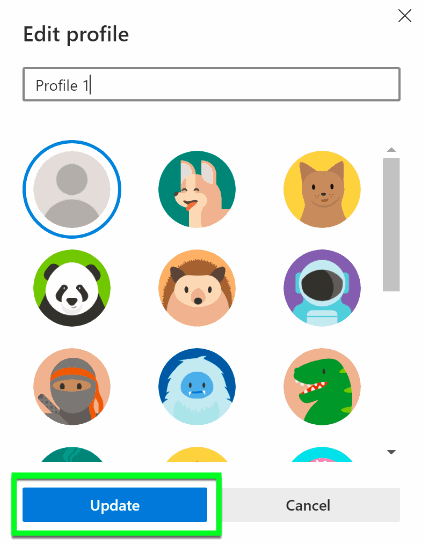 Step 3) You will also want to remove the profiles that you don't use, it is very simple to remove profiles. Just click on the Remove button, and this will permanently delete your profile. However, your settings might remain synced if you were Sign In via Microsoft account.
Conclusion
Microsft Edge is getting more and more powerful day by day. The new user profiles feature something which gives it the potential to be the next great browser. It is pretty obvious that Microsoft is going to include the Microsoft Edge browser in its latest windows build. So if you haven't tried the new Microsoft Edge, then do give it a try and see if you like it.