Ninjala is a game for Nintendo Switch users, Nintendo switch is another popular gaming console best for playing retro games. Developed by GungHo OlineEntertainment, Ninjala is a free-to-play multiplayer game which was released on 24 June 2020. The game is pretty basic, typical like every other Battle Royale game. However, people who are playing Ninjala recently reported an issue that they are facing while trying to launch. An Ninjala Launch Error code G-3-99 shows up while booting up the game.
The cause of the error is too many players, like most of the multiplayer games nowadays. If there are too many players connected to the server, other users will face the issue, and they will be unable to connect to the server. The game is yet to develop, the game simply couldn't handle so many users at the same time and spitting out error codes.
The Ninjala Launch Error G-3-99 code turned into a social media meme, due to the overload of players in the servers, many players cant log in to the server no matter how hard they try. This is a major flaw in a well-developed game. Thus it deserves to turn into a meme comparing with the Diablo III 37 error code.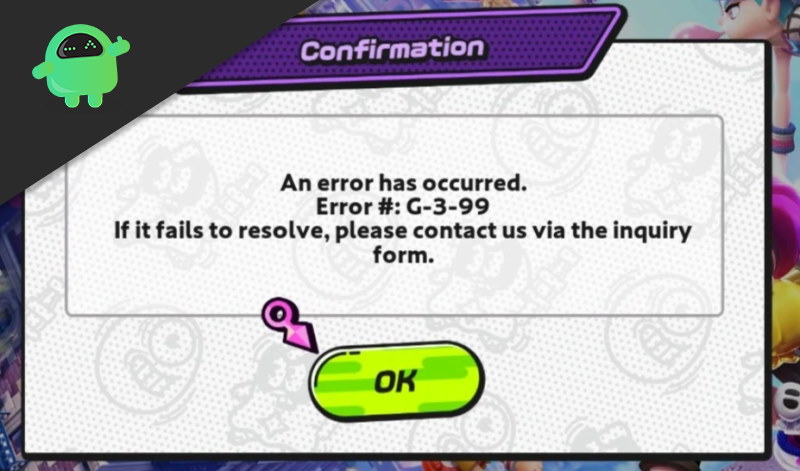 Ninjala Launch Error# G-3-99: What is it? Is there a fix?
The developers have apologized to the players on Twitter for such a major error. They have confirmed that due to network instability, it's difficult to connect to the game environment. However, you can play the story pack and train, but you will have to change your settings to Airplane mode.
The tweets also mentioned that the error also occurs while trying to play or access Room Battles. Therefore, it is not recommended to play in a Room battle, the issue is supposed to be fixed by the developers soon. The tweets were running wild on twitters, however, after a few hours, Ninjala has claimed that they have fixed the issue.
So if you are are trying to access the game now, you won't face any issue. The error has already been resolved via Ninjala's Developers. However, if in case you confront the error, then just wait for some time. Ninjala will fix the issue eventually, and you can be notified by following Ninjala on Twitter.
Since this was a huge flaw, Ninjala is offering 100 JALA and 10 x Ippon GUM(Flame) weapon skins to all the players to make up for the Ninjala Launch Error G-3-99. It's unfortunate that after the game was launched, it faced a major problem. However, that is resolved now, and new payers won't get any error, nor will they have to fix anything.