Everyone has an expectation of the possibilities that Virtual Reality can bring forth. Oculus VR headsets are one the best VR headsets that are available on the market. Oculus has launched their latest generation Oculus Quest 2 headset with much more advanced features. One proper Oculus Quest 2 system is made up of different parts and engineered to provide an overall better user experience.
Few, among the various works that this device can do, are playing games, working, studying, and engaging in numerous life-imitating and imaginative simulations. Oculus Quest 2 is an improved version of the original headset which was made available in the market in 2020.
Apart from all these, there are also some advantages associated with this device. This Oculus Quest VR headset costs much less than most other headsets with these extraordinary features. Not only the buying cost is less but also the device will save you money by offering the user free games to play on it. Multiplayer games are also available so that one can play with their friends too for free of cost.
However, several issues regarding the WiFi connectivity were reported with this device. If you are also one of them who is facing any connectivity issues, you need to worry. We have provided the solutions to some common problems that the users are facing with the current version of the Oculus.
Why is Oculus Quest 2 Not Connecting to WiFi?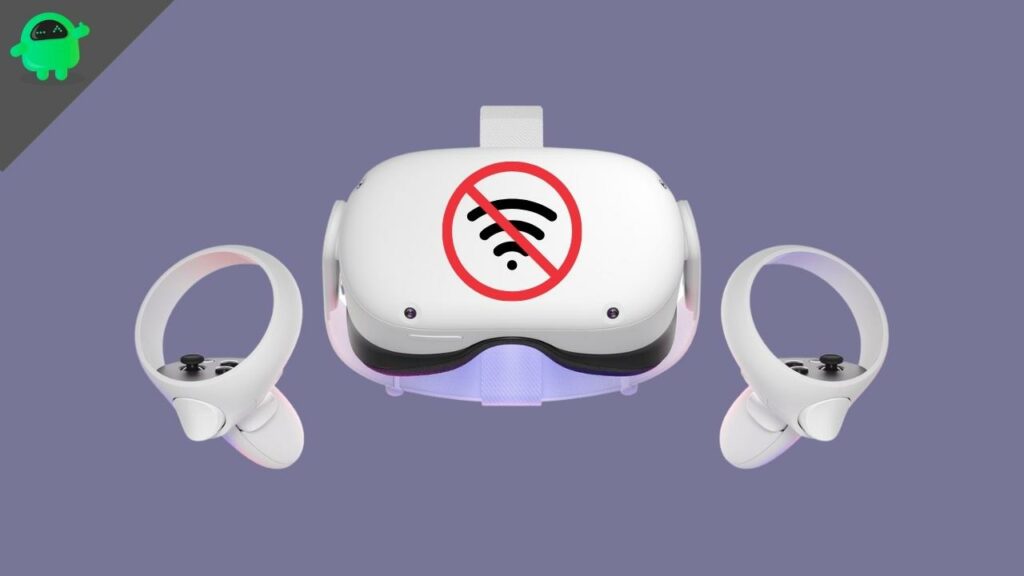 Generally, Oculus Quest 2 is a standalone device, which can work without any support from any other device or connection. But when it comes to streaming content or updating or getting access to new games, it is heavily reliant upon a working internet connection. So, having a working internet connection is a must for all users. The followings are the reasons behind why Oculus Quest 2 is not connecting to WiFi and it is advised to go through the solutions so that you can fix things on your own.
1. Captive Portal Pages
Whenever the user needs to connect to a WiFi network in hotels, airports, coffee shops or other business networks, a web page shows up for making the connection, called Captive Portals. You have to log in to these portals with your credentials. However, as there is no browser available in Oculus Quest 2, issues might arise if the WiFi network has one of these pages.
2. Network Connection Issues
Slow internet speed or weak signals are of two major issues behind WiFi connection failure on the Quest 2. There can be several reasons for the connection issue that can be fixed with simple tweaks and troubleshooting.
3. Incorrect Password
Sometimes our silly mistakes like putting incorrect passwords are the reasons why problems like Oculus Quest 2 not connecting to WiFi seem to happen. Sometimes special characters in our passwords are also a reason for some devices to not connect to the WiFi.
4. Incorrect WiFi Frequency
Users may use 5 GHz frequency over 2.4 GHz frequency which is not supported by the Oculus at all. So, choosing the correct frequency is important as it might affect other smart devices too.
Till now we have talked about the possible reasons behind these issues. Now it's time to talk about the solutions to it.
How to Fix Oculus Quest 2 Not Connecting to WiFi?
Following are the solutions to the problems that the users are facing:
1. Fix for the Captive Portal issue
As the Oculus Quest 2 do not support Web Pages, you have to bypass the captive portal in public WiFi networks in some other way. Our phones can be a great help in this situation. With Android 11 and above, Google has allowed devices to share the WiFi network with tethering. Taking the help of this, you will first connect the WiFi to your phone and authenticate yourself in the captive portal. After that, you will have to turn on personal hotspot sharing and join that particular hotspot with your Oculus. This will surely fix the issue of the captive portal, which is quite common nowadays.
2. Tweak your Router or Modem
If the previous method did not work out for you, you can try changing the WiFi connection. You can either switch to some better network available nearby and enjoy your game or you can use your mobile data via a personal hotspot and have a great experience. However, you can also try restarting your router and checking if it helps or not.
3. Change your WiFi Band and Password
As we have mentioned earlier, the 5 GHz band is not supported on Oculus Quest 2. To overcome this issue, you have to go to your router settings and change the WiFi band to either 2.4 GHz only or enable both bands. Also, you should only connect to the 2.4 GHz band on your Oculus to avoid any possible errors.
On the other hand, try not to use some of the special characters in your password that can affect the connection between your router and your VR headset.
4. Reboot your Oculus headset
Reboot your device if the above trick did not work out for you. Rebooting helps to cure the problem most of the time very efficiently as it refreshes all the components of a device which eventually helps in reconnecting to the WiFi.
5. Reset your Oculus Quest 2
Other than rebooting, a factory reset is also a good option. The WiFi network connection issue can be easily solved by factory resetting your device. Sometimes a bug present in your headset can cause these types of issues with many types of devices.
Conclusion
Facing issues while using your headset is obviously not a desirable thing for anyone. It can be frustrating and time-consuming as well. Hope users will be relieved from the problem in Oculus Quest 2 by applying the solutions mentioned above. After all, smooth and seamless performance is all that we expect from any device when we buy it.