The new Oppo A53 and A53S are the latest budget segment variant, and rumors are spreading about both of these devices being splash-resistant and waterproof protection. Oppo is the king of budget smartphones as they keep launching a great smartphone in the budget segment. Launching a waterproof smartphone comes at its cost, and most budget smartphones skip in this department. But are the new Oppo A53 and A53S waterproof smartphones? Let us find out.
Many budget smartphones are now coming with at least splashproof and accidental water damage support. So it gives hope for customers to believe that the new Oppo A53 and A53S would come with some sort of waterproof protection. However, Oppo does not have a positive record of launching devices with any sort of water protection yet.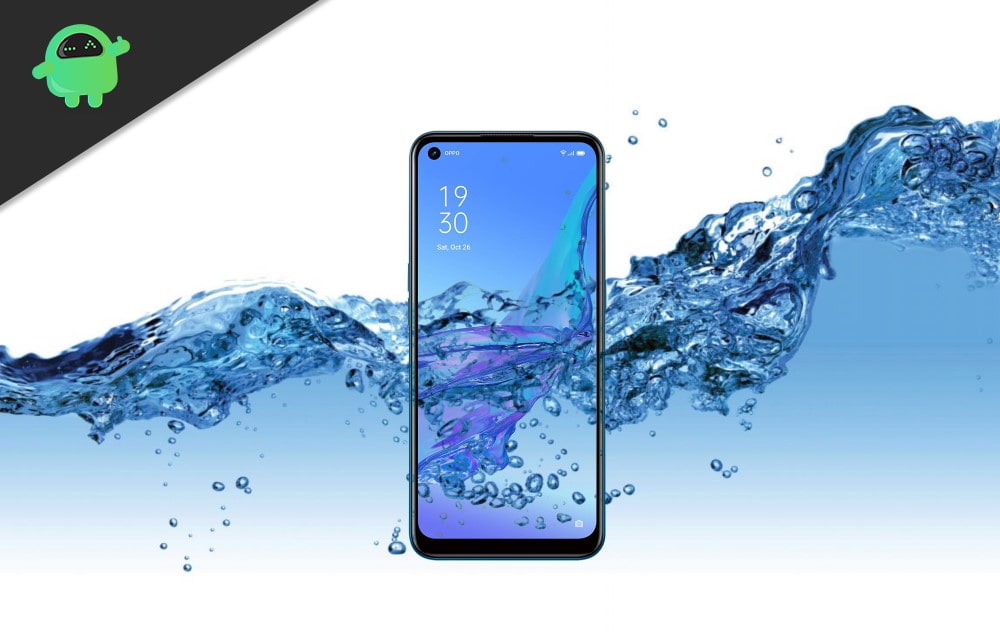 Oppo A53 and A53S Waterproof Test
Today we will test Oppo A53 and A53S for waterproof tests and see whether these devices are ready for real life water damage or not. We will also see if both of these devices are ready for the day to day usage, like talking in the rain or going near bath pools, lakes, etc.
Oppo A53 Device Specifications
Released on 25 August 2020, Oppo A53 has a body dimension of 163.9 x 75.1 x 8.4mm and weighs around 186g. It supports Dual Nano SIM cards and has an IPS LCD display with a 90Hz refresh rate. Even more, the screen size is about 6.5 inches, capable of 720 x 1600px ad protected by Corning Gorilla Glass.
However, the device runs on Qualcomm SM4520 Snapdragon 460 chipset with an Octa-Core CPU and an Adreno 610 GPU. There is a dedicated memory slot for the microSDXC card. A53 comes with 64GB/128GB of internal storage and 4GB/6Gb of RAM.
The main camera has triple cameras of 13MP, 2MP, and 2MP with LED flash, HDR, and panorama support. A53 front camera has a single camera of 16MP with HDR support. There are a Loudspeaker and a 3.5mm jack support too. Even more, the smartphone has all the usual communications features like WLAN, Bluetooth, GPS, etc. The fingerprint sensor is located at the rear end of the smartphone. However, there is no NFC support. It comes with a 5000mAh Li-Po battery, capable of fast charging 18W.
Is Oppo A53 Waterproof – Waterproof Test
The build of the A53 is pretty slick, and it tends to look like a waterproof smartphone. However, there is no IP rating available for Oppo A53. Thus, we can conclude that A53 is not a waterproof smartphone. However, due to its design and Gorilla Glass 3 protection, it can resist a few drops of water and a little time underneath.
Oppo A53S Device Specifications
Released on October 17, 2020, the specifications of oppo A53S is exactly as similar as A53. However, there is a minute difference, 53S only comes with one variant of 128GB internal storage and 4GB RAM. Besides that, all other specifications are similar to A53S, and the size is the same, the display, battery, etc.
There is one more minute difference between A53S and A53S is that A53S comes with only two color variants, Electric Black and Fancy Blue. At the same time, A53 comes with three color models, Fairy White, Electric Black, and Fancy Blue. The Fingerprint sensor and cameras in A53s are exactly located as to where it was located at A53. Therefore, basically, you can say that A53S is the same as A53 but with only one variant of 128GB/4GB RAM and two-color models.
Is Oppo A53S Waterproof – Waterproof Test
Similarly, as Oppo A53, there is no IP rating available for A53S either. Therefore, it will be safe to conclude that Oppo A53S is not a waterproof device. However, it is possible that due to the build of the smartphone, it can survive a few drops and splash of water. But we don't recommend you to test it since your phone might get damaged.
Conclusion
This test is purely based on individual/team observation. This test will only give an idea of whether a device is waterproof or not. So users are advised not to try this at home, as it might damage your device.
From the waterproof test for Oppo A53 and Oppo A53S, we can see that both of these mid-range smartphones fail to satisfy the needs of a proper waterproof smartphone. Both of these devices failed and get water damage easily, so we recommend users to take special care of their devices.