It is a well-known fact that Chromebooks and games are not very good friends. But, with the new Linux Support, many desktop games can now be installed and played on the Chrome OS. Linux supports the Steam gaming platform officially. Steam is a popular gaming platform. As such, you can now enjoy games using the same.
You do not have to install Crouton or switch to the Developer Mode when you decide to play games. The new Linux support is quite easy to implement and can be installed by any novice user. This guide will help you to play Steam games from your Chromebook with the Linux support.
Below we have jotted down some steps for installing and playing Steam games from your Chromebook. A few Steam games have been tested in Chromebooks.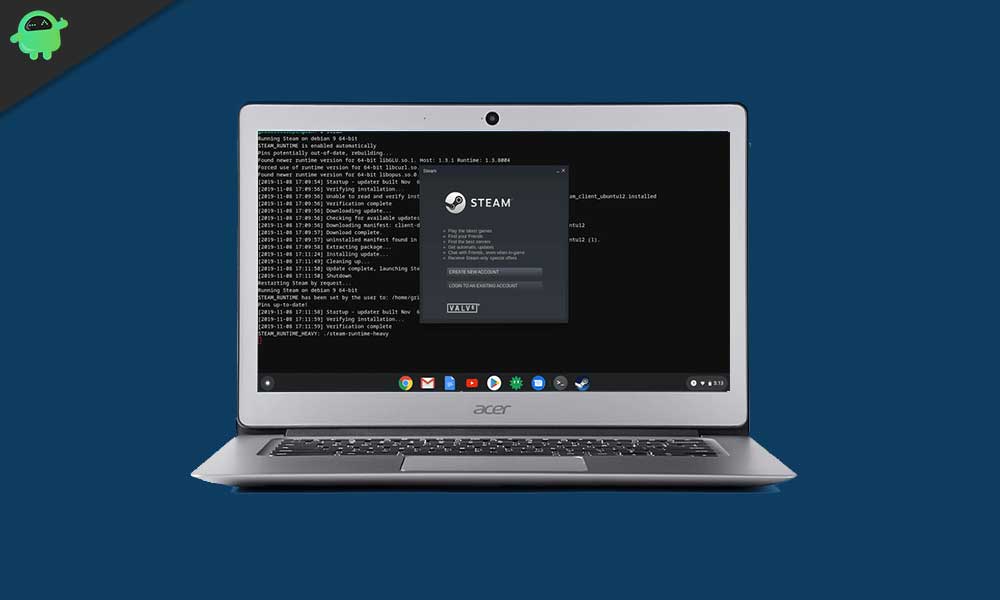 Steps to Install and Play Steam Games on Chrome OS
The first step is setting a Linux environment on your Chromebook. This step will take some time. After you are done with the installation process, you need to enable the GPU acceleration for Linux in Chromebooks. This setting will improve your graphics and smoothen the gameplay experience.
After that, you need to fire up the Linux Terminal and execute some command, one after the other. These commands will create a directory and will install the Steam, which will work on your Chromebook.

echo 'deb http://httpredir.debian.org/debian/ jessie main contrib non-free' | sudo tee -a /etc/apt/sources.list
sudo dpkg –add-architecture i386
sudo apt update

Next, you need to run the following command to install the Steam. Enter 'Y" when prompted during the installation.

sudo apt install steam

Next, choose the 'I Agree' option and press the 'OK' button. After that, the installation will be finished, and a window will be opened, which will ask for your Steam login.
Sign in to Steam with your credentials and log in. You will find all your games here.
You can install and play some less intensive games such as Squad, Tank Force, or Stardew. During the testing, the Counter-Strike: Global Offensive failed the test.
We hope this guide helps you to install Steam on Chrome OS with Linux support. If you liked this, do remember to check our other Windows Guides, Gaming Guides, Social Media, iPhone Guides, and Android Guides to read more. If you have any doubts or feedback, comment down with your name along with the email ID, and we will reply shortly. Also, subscribe to our YouTube Channel for awesome videos related to Android and Gaming. Thank you.