PUBG (PlayerUnknown's Battlegrounds) is a battle royale video game that has led this genre to the next level with popularity among action-shooter video game fans across the globe. However, the game has its fair share of issues or bugs that we can't deny. Meanwhile, some PUBG players are encountering an Error that says Detection of an Unauthorized Device while trying to launch the game. Now, it's quite unexpected to have this kind of error whatsoever.
So, whenever PUBG players are trying to get into the game, the particular error message appears "Your client will now close due to the detection of an unauthorized device. Mouse macros and devices used to gain an unfair advantage are strictly prohibited." It's worth mentioning that there may be several possible reasons behind such an issue. If you're also facing the same issue then don't worry. Here we've shared some possible workarounds to fix it.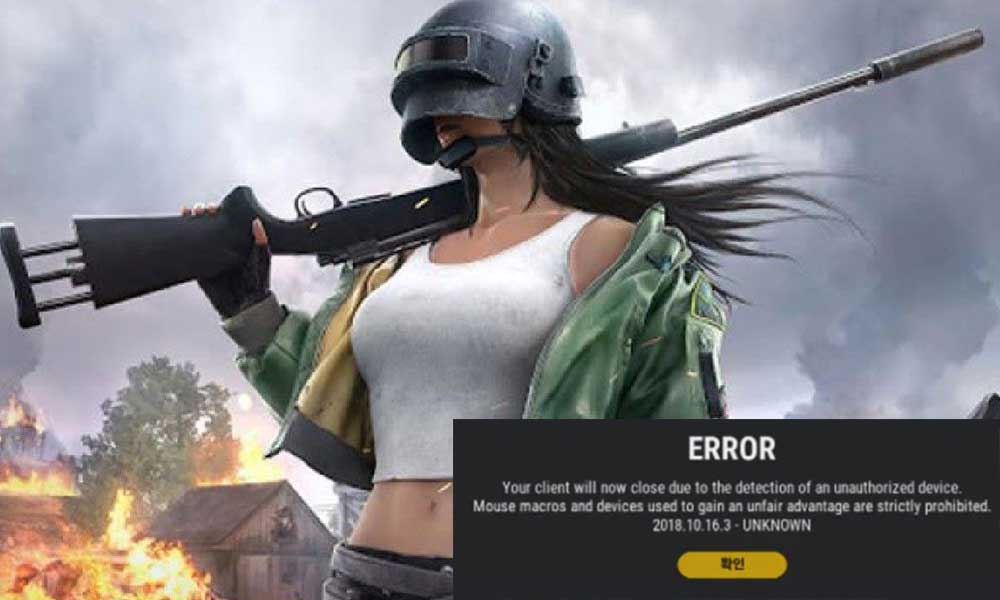 It seems that either you're using a mouse macro or any other macro device while playing the PUBG game. Otherwise, it may also be possible that the game system is detecting the prohibited devices falsely even if you're not using them. So, without wasting any more time, let's jump into the guide below.
1. Disconnect Macro Devices
The first thing you can do is to simply disconnect any type of macro device such as mouse or keyboard that you're currently using. It's worth mentioning that PUBG is strict to keep the playing level fair enough so using a macro device might gonna permanently ban your account. Once disconnected, make sure to reboot the system to change effects and then try launching PUBG again to check if the problem has been fixed or not.
2. Create a Support Ticket
If you've already removed the macro device and the PUBG game still occurs the issue with the 'Your client will now close due to the detection of an unauthorized device' error means you should contact PUBG support for further help. If you're not using any macro devices only then submit a ticket for support from this link.
Make sure you're connected to the internet and visit the link using your default browser. Now, head over to the support page and select Language from the top-left corner then click on Submit a ticket. Then select the PUBG Steam Support from the drop-down menu and wait for the page to redirect. Then fill the remaining fields with the respective information including your primary email ID and Steam ID with PUBG Nickname.
Don't forget to select Launching Issues under the Issues category which is important to indicate your concern. Once all required information is filled in, make sure to click on the Submit button and wait until you get a response.
3. Perform a Clean Boot
Some reports are coming out that performing a clean boot on the system can fix multiple issues with the game launching or PUBG Error Detection of an Unauthorized Device whatsoever. To do this:
Press Windows + R keys to open the Run dialog box.
Now, type msconfig and hit Enter to open the System Configuration window.
Go to the Services tab > Enable the Hide all Microsoft services checkbox.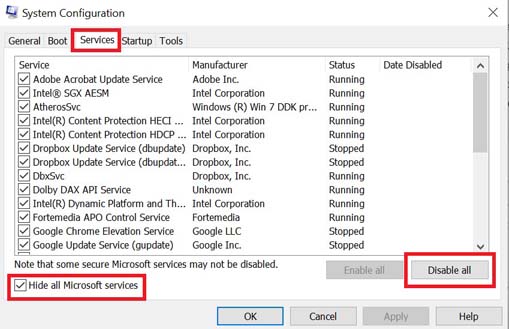 Click on Disable all > Click on Apply and then OK to save changes.
Now, click on the Startup tab > Click on Open Task Manager.
Under the Startup tab from the Task Manager interface, click on the particular tasks which are enabled for startup boot > Click on Disable.
Make sure to select the high-impact startup programs and disable them one by one.
Once all is done, restart your PC to apply changes.
Finally, check whether the game is still having the same issue or not.
That's it, guys. We assume this guide was helpful to you. For further queries, you can comment below.