Tom Clancy's franchise has around 40 game titles by Ubisoft and the 'Rainbow Six Siege' title is one of them. It's an online multiplayer tactical shooting genre video game that has been released back in 2015. Just like the Call of Duty lineup, Tom Clancy's has a separate fanbase though it has several bugs or errors too. Plenty of players are experiencing issues with the Rainbow Six Siege Error Code 3-0x0001000B: Connection Error. If you're one of them, check this guide to fix it.
Just like other online multiplayer video games, Tom Clancy's Rainbow Six Siege is also prone to errors and occasional crashes on the PC platform. It's more confusing that the errors only come with a code that means there is no reason mentioned in the error message which troubles players to find out proper solutions in most cases. The error code 3-0x0001000B basically prevents players from joining online matches whatsoever.
Also Read: Is Rainbow Six Siege Cross-Play Between PC, PlayStation, and Xbox?
The error message says that "Rainbow Six Siege server connection error (Servers are unreachable. Please try again later.) For more information, contact http://support.ubisoft.com. Rainbow Six Siege error code: [3-0x0001000B]." Well, as per the error message, it seems that the game servers are having some issues. Alternatively, it can also possible that you've internet-related issues that's why the game can't connect to the servers easily.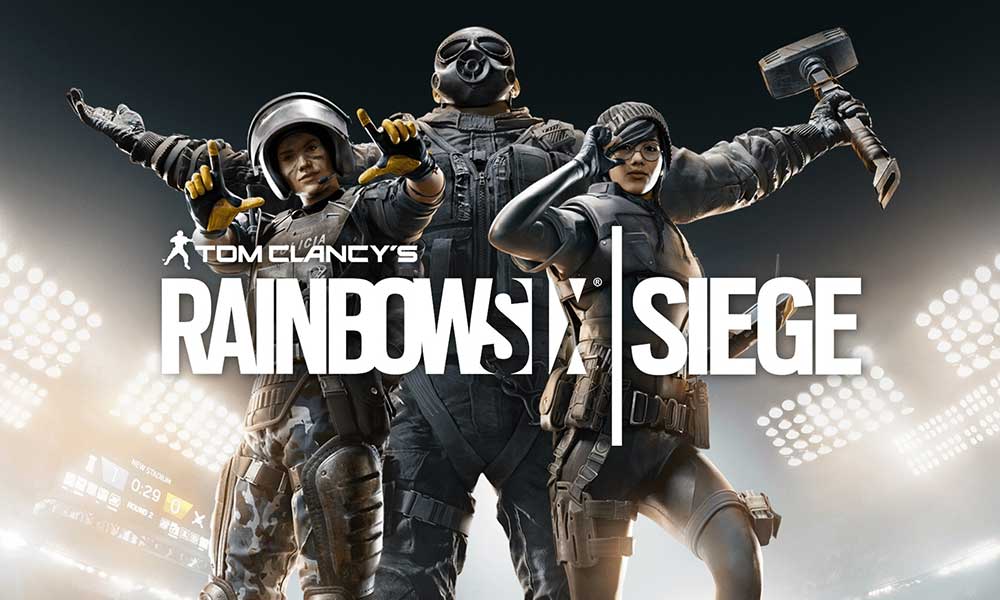 Fix: Rainbow Six Siege Error Code 3-0x0001000B: Connection Error
Well, according to the Ubisoft Support team, Rainbow Six error code 3-0x0001000B mostly appears whenever there is a problem connecting to the Ubisoft servers. As mentioned, it may be either server downtime/outages or maintenance or the network issue at your end.
We've shared a couple of possible workarounds that should help you out. So, without wasting any more time, let's jump into the methods below.
1. Verify and Repair Game Files
Verifying and repairing the corrupted or missing game files can be crucial in most scenarios. It not only fixes the possible issues of your installed game files but also helps you to easily launch and keep playing your favorite games without any issues. The best part is that you can perform the game file repairing process automatically using a game client like Steam or Uplay launcher. To do so:
For Uplay Client:
Open the Ubisoft Connect App on your PC/Laptop.
Now, log in to your account > Click on Games.
Hover over the Rainbow Six Siege game tile > Click on the arrow icon to expand the drop-down list.
Here choose Verify files > If prompted, select Repair.
Wait for the process to get completed.
Ubisoft Connect will automatically restore all missing or corrupted game files (if any).
Once done, close all running programs, restart the computer to apply changes.
For Steam Client:
Launch the Steam client > Make sure that you're logged in to your account.
Now, click on Library > Right-click on the Rainbow Six Siege game title from the left pane.
Select Manage > Choose Properties.
Go to the Local Files tab > Click on Verify integrity of game files.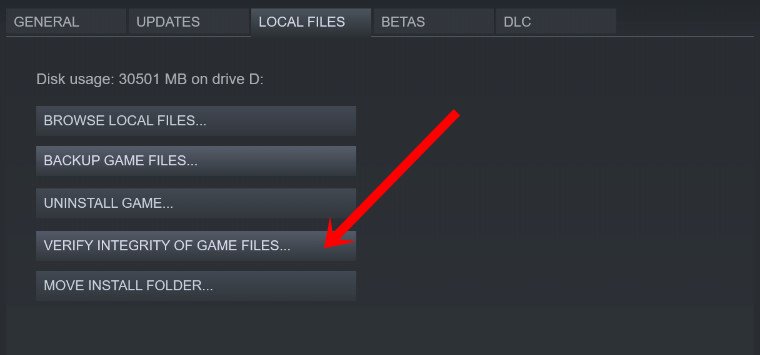 Wait for the process to complete and Steam will automatically verify/repair the missing/corrupted game files.
Once done, restart your computer to apply changes.
2. Check Server Status
It seems that maybe there are issues with the game servers at the moment. So, we'll recommend you to check for the server status of the game to ensure whether the server is having a downtime/outage issue or not. To do so:
At the time of writing this article, we can see that there is a huge server connectivity issue for the Rainbow Six Siege game, and players are getting affected hugely.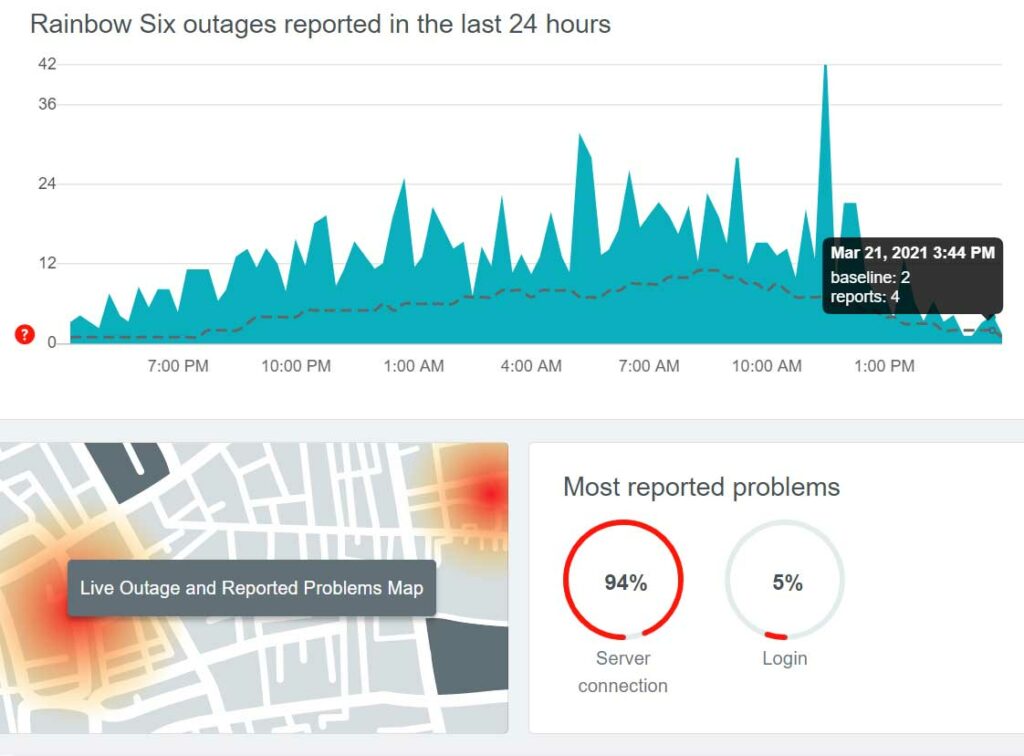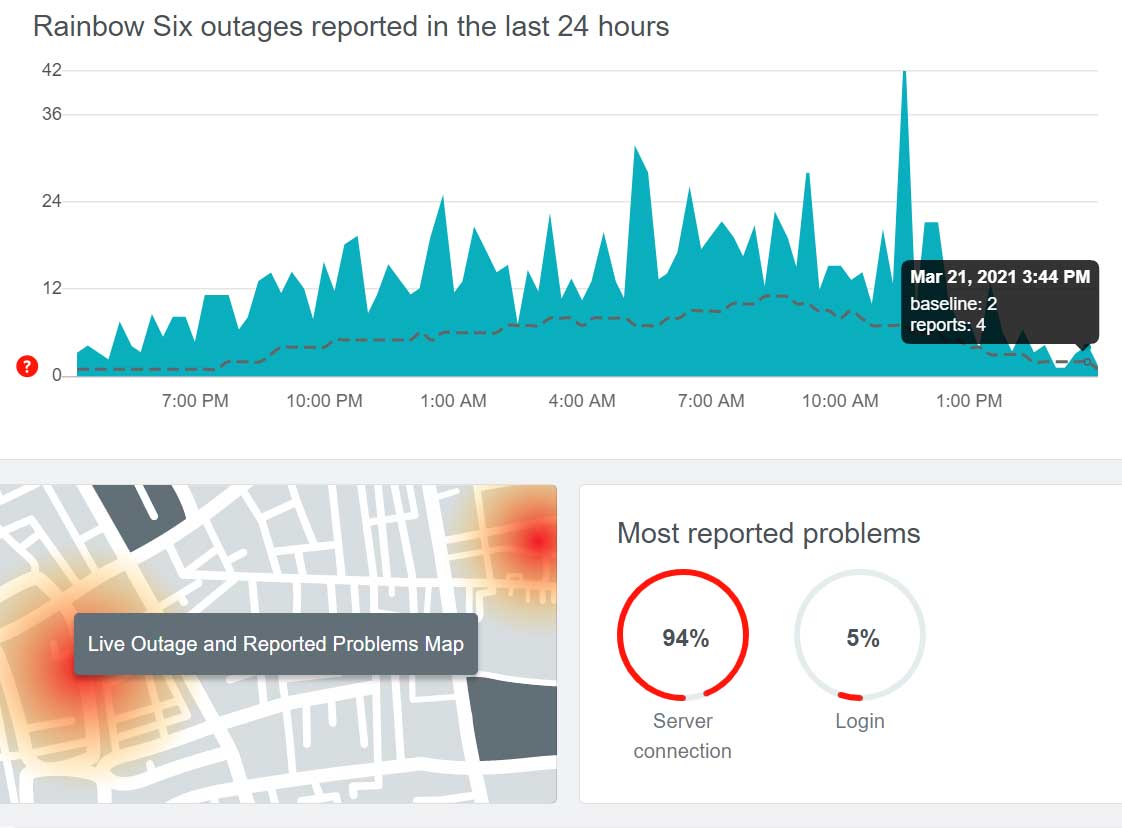 3. Power Cycle Your Wi-Fi Router
Well, performing a power cycle to your Wi-Fi router is always come in handy if you're facing multiple issues with the network connectivity to the servers. That means sometimes your Wi-Fi router can also trigger several networking issues like temporary glitches, cache data, etc. All can be resolved by a proper power cycle.
First, switch off your router and wait until the LED indicators turned off.
Now, unplug the power cable from your router > Wait for around 30 seconds.
Plug the power cable back in > Turn on the router.
4. Use a VPN
You can also additionally use a VPN (Virtual Private Network) on your computer to try using a different server location to connect your game. It can also possible that somehow the game servers are busy or overloaded in your region. Although the online gameplay can become laggy due to the higher ping ratio, you can at least understand whether your game is running well in a different location or not.
5. Update Networking Driver
A networking driver is useful to run network-related ongoing connections on your Windows computer. That means it should be updated to the latest version to keep things smoother. It's not always necessary that the problem is happening at your router or ISP. An outdated networking driver can also cause damage. To update it:
Press Windows + X keys to open the Quick Access Menu.
Now, click on Device Manager > Double-click on Network adapters.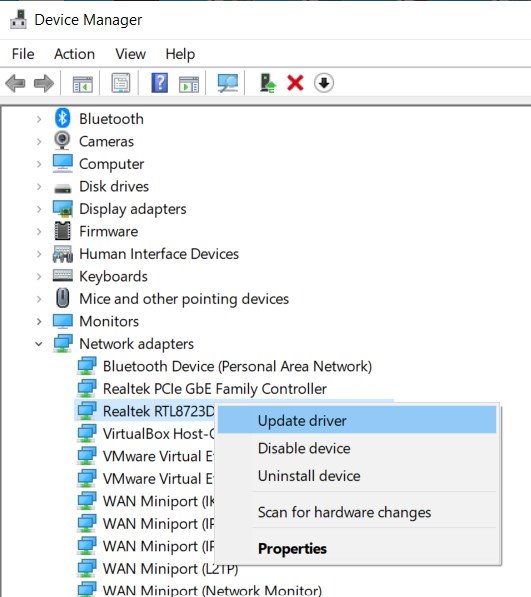 Right-click on the active network adapter > Select Update driver.
Choose Search automatically for drivers. If there is an update available, it'll automatically download and install the update.
Once done, make sure to restart your computer to apply changes.
6. Update Windows OS Build
Updating Windows OS build is as necessary as updating apps or games. So, if you haven't updated your Windows software for a while, make sure to update it to the latest version. Sometimes it can possible that there are a couple of pending updates available. So, install all the pending updated one by one and restart the computer to apply changes.
Press Windows + I keys to open Windows Settings.
Click on Update & Security > Click on Check for Updates from the Windows Update section.

If there is an update available or already pending update, click on Download and Install.
Wait for the process to complete and restart the computer.
You can do the same for all the pending updates one by one.
Finally, you should be able to fix the Rainbow Six Siege Error Code 3-0x0001000B: Connection Error.
7. Update the Game
Maybe the problem is happening at your game's end because it becomes outdated. Make sure to update it to the latest version to fix multiple bugs and errors automatically.
Open Uplay on your computer > Log in to your account.
Click on the Menu icon > Go to Settings.
Click on Downloads from the left pane > Check the 'Enable automatic game updates' checkbox to enable it.
Make sure to restart the Uplay client to check whether the installed games are automatically installing the updates or not. Otherwise, you can go to the Rainbow Six Siege game page on the Uplay client and check for updates.
8. Tweak a Config File
Another useful method can be tweaking the configuration file of the game where if you change the default game server manually then it should work properly. To do that:
Open File Explorer (This PC) > Click on Documents.
Open the My Games folder > Double-click on the Rainbow Six – Siege folder to open it.
Do the same for the folder named "7564b1ec-0856-4f93-8aef-71232c035d75".
Right-click on the 'GameSettings' file > Select 'Open with'.
Choose Notepad to edit the file > Scroll down to the bottom of the file.
Find a 'Server' setting which set to 'default' value.
Change the value to a three-letter code that'll represent a server.
Choose a valid server according to your preference.
Once done, press Ctrl + S to save changes.
Close the file and try running the game again to check for the issue.
9. Use Google DNS Addresses
Using the Google DNS address can fix multiple networking-related issues because it's widely used and open for all. Whereas your personal DNS address based on your ISP can experience several blockages or ongoing connectivity problems.
Click on the Wi-Fi (Internet) icon from the TaskBar.
Select Network & Internet settings > Click on Change adapter options.
Right-click on the active networking adapter that you're using.
Select Properties > Double-click on Internet Protocol Version 4 (TCP/IPv4).
Click to select 'Use the following DNS server addresses'.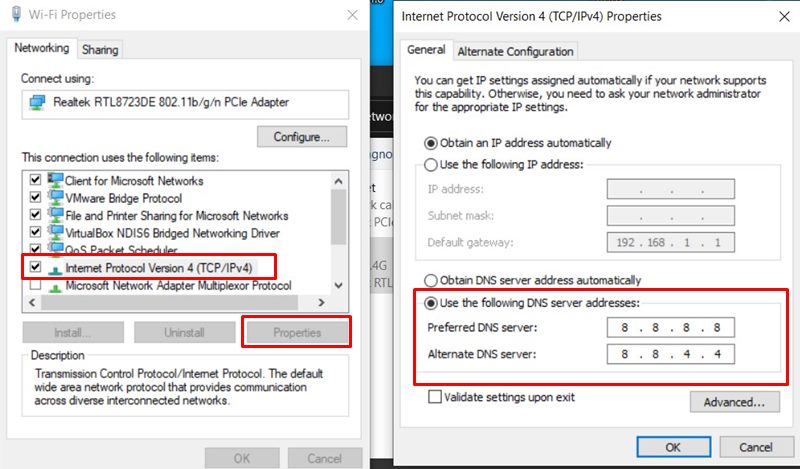 Now, input 8.8.8.8 for Preferred DNS server > 8.8.4.4 for Alternate DNS server.
Click on OK to save changes.
Finally, you can try checking if the Rainbow Six Siege Error Code 3-0x0001000B: Connection Error has been fixed or not.
10. Use Port Forwarding for Rainbow Six Siege
Additionally, you'll need to add a few port forwards for your Rainbow Six Siege game servers to run the game properly from your end.
Open a web browser on your computer > Visit the router's admin panel.
Log in to your account > Go to Advanced and select Port Forwarding.
Make sure to add the following ports manually one by one on your router.
TCP: 80, 443, 14000, 14008, 14020, 14021, 14022, 14023 and 14024.
UDP: 3074 and 6015
Once done, restart your router & computer > Start playing your game.
That's it, guys. We assume this guide was helpful to you. For further queries, you can comment below.