Realme, a renowned smartphone brand known for manufacturing great budget and mid-range phones. It has released some stunning smartphones previously that comes with high-end specs and quality hardware. Hence, just like the earlier ones, Realme has recently announced for another launch this September. The new launch will consist of two budget-friendly devices, the Realme 7 and 7 Pro. Both the devices will be made available in the market under a budget of Rs. 20,000.
Apart from that, both these devices are expected to come with a great battery backup, remarkable camera quality, specs, and more. However, realme fans are expecting more from these two smartphones. And there are people discussing the 7 Series to come with a waterproof IP rating.
Although this statement is not fully confirmed, so today, we will conduct a waterproof test on Realme 7 and 7 pro to find out their true potential. This test will involve three parameters: dustproof, splash-proof, and waterproof. Additionally, we will also discuss all the specs of these devices in brief to give you an overall idea about its complete abilities.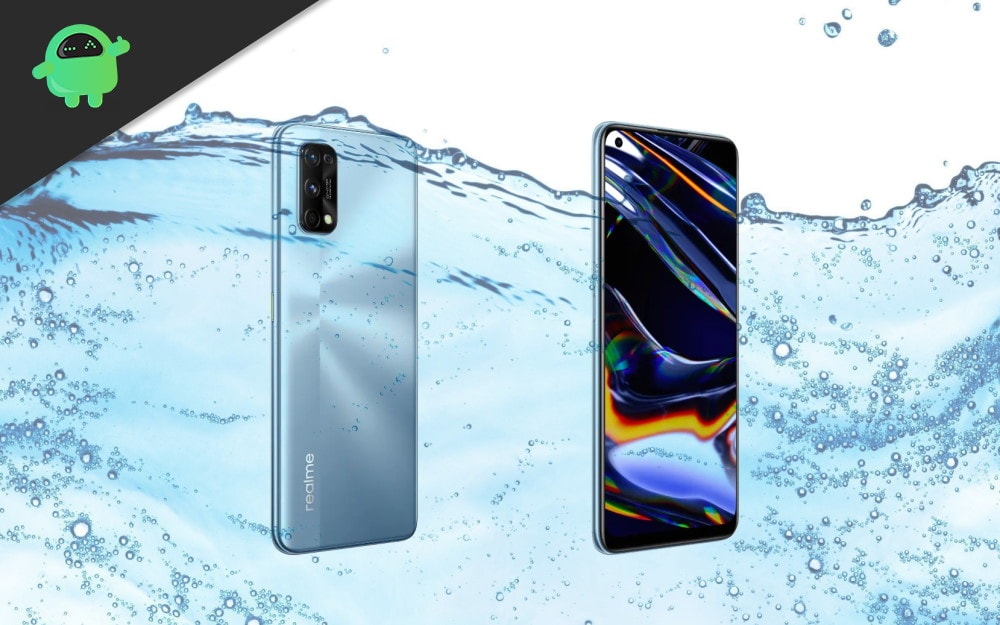 Is Realme 7 and 7 Pro Waterproof phone?
Waterproof smartphones have considerably experienced an increase in demand in the market. There is no doubt that over the past few years, there has been a huge change in the taste of the consumers. And not to mention, waterproof devices have brought a revolution in the market of smartphones. They not only allow you to experience the underwater fun but also come with advanced features and protection.
The extra layer that you can see with a waterproof smartphone protects it from most of the rigorous elements. Moreover, it gives you the freedom to enjoy taking underwater selfies, shoot the perfect videos, and more.
Well, talking about the Realme 7 and 7 Pro, there is yet no official statement being made, which says that any of these devices are waterproof. Hence, in order to give a confirmed result, we will hold a waterproof test for both smartphones.
Realme 7 Specification
The Realme 7 comes with stunning looks. It is available in two unique color variants: Mist Blue and Mist White. While the phones look pretty comfortable in the hands, it comes with a matte finish at the back.
Apart from that, it features a 6.5 inches IPS LCD display along with corning Gorilla Glass 3 protection. The device is powered by MediaTek Helio G95 and runs on Android 10, Realme UI. In addition, you also get a Mali-G76 MC4 GPU, which lets you experience some rough gaming.
Besides, one of its highlighted parts is the quad-camera section. It features a 64MP main camera + 8MP ultrawide + 2MP macro + 2MP depth sensors. On the other hand, the front camera features a 16MP main-selfie camera with full HDR support.
This device is available with two different storage options: 64GB + 6GB RAM, and 128GB + 8GB RAM. Plus, you also get a dedicated card slot for both models, which seems highly impressive. Another considerable thing you get with the Realme 7 is the 5000 mAh non-removable battery with a 30 Watt fast charging support.
Realme 7 Pro Specification
Just like the Realme 7, the 7 Pro also comes in two different colors: Mirror Blue and Mirror Silver. It features a 6.4 inches Super AMOLED display with corning Gorilla Glass 3+ protection. The device comes with a Qualcomm Snapdragon 720G chipset and runs on Android 10.
Additionally, you get to see an Adreno 618 GPU that increases the performance of your device to the next level. Although it is only available with a 128GB internal storage, yet you get two different variations with a 6GB and 8GB RAM. A dedicated card slot is available with up to 256GB expandable storage capacity.
The rear camera is the same as the Realme 7 that comes with a 64MP main camera + 8MP ultrawide + 2MP macro and 2MP depth sensors. However, the Realme 7 Pro has done a better job with its front camera, where you get to see a 32MP selfie camera that can capture crisp and clear shots. Unlike Realme 7, this one features a 4500 mAh battery with 65 Watt fast charging support.
Realme 7 & 7 Pro Waterproof Test
Since the Realme 7 and 7 Pro haven't received any waterproof IP rating, it is difficult to comment on their complete potential without a practical test. So, in this article, we will see the actual result that we obtain after conducting a fair water test on both the devices. We will check for the water and dust resistant capability of these devices and if they could survive the worst or not.
Disclaimer
The waterproof test results are purely based on individual/team observation. These tests will only give an idea of whether a device is waterproof or not. We recommend users not to try this test at home, as it might damage your device.
So, here we are with our results for both the devices. After performing similar tests on the Realme 7 and 7 Pro, we received a negative answer from both of them. None of the devices were able to survive the water test and ended up malfunctioning.
The devices stopped working, the power button and the volume rocker are not responding. In addition, the display also feels unresponsive, and neither the I/O ports seem to work properly.
This simply indicates that the Realme 7 & 7 Pro are neither waterproof nor water-resistant. They failed to survive in extreme environments, which means they are made for normal use and don't come with extra abilities.
Conclusion
So, the final result after conducting the waterproof test on Realme 7 & 7 Pro comes out to be negative. Although the news is quite heartbreaking, it was an expected one as the waterproof IP rating is generally seen with higher range devices.
And the Realme 7 series contains budget phones that come under an affordable market price. However, if you are looking for a good budget-friendly camera phone with high-quality performance, the Realme 7 series phone just nails it.