In this tutorial, we will list out all the Rocket League Error Codes and what does each of them signify. This vehicular soccer video game has set its foot into the unchartered territory where you wouldn't find a lot of games. And that seems to have worked out wonders in its case. In this, you have been offered rocket-powered vehicles using which you have to put in the ball to the opponent's net and score goals. In the end, the player with maximum goals takes away the trophy.
While it may sound quite easy on paper, but trust us, the entire gameplay is quite intriguing and interesting at the same time. Offering both the single-player and multiplayer modes, there isn't much one could have asked for. However, during the course of the game, you might end up getting an error code or two. In which case, this guide will come in handy. Today, we will discuss all the Rocket League Error Codes and the reasons as to why they might have occurred in the first place. Furthermore, we will also list out handy tips to effectively deal with these errors. Follow along.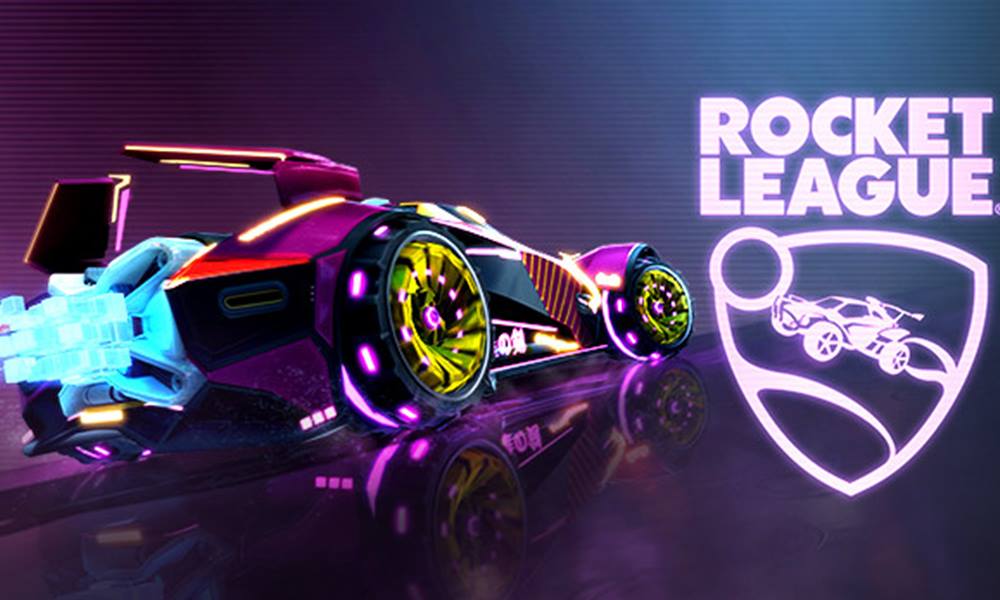 All List of Rocket League Error Codes
All the Rocket League errors fall under three domains: Authentication Errors, Connection to Game Server Errors, and Matchmaking Errors. Let's check out all these three errors and the different types of codes that it beholds.
Authentication Errors
All the errors having codes in the thirties falls in this category. These types of errors usually show up when there are some issues while logging in to your account. In that case, we would request you to sign in to your respective platform accounts (Steam, Xbox Live, PlayStation Network, or Nintendo Switch Online account). Once that is done, restart the game, and the error will be fixed. On that note, here are all the Rocket League Authentication Errors and their codes:
30 – Failed to kickoff authentication (Error: 30)
31 – Duplicate UID (Error: 31)
32 – Invalid UID (Error: 32)
Connection to Game Server Errors
Next up, this category holds all the errors that are in the forties. The fix for the same is quite easy, all you have to do is restart your console and the game should be up and running again. Here are all the Rocket League Connection to Game Server Errors and its codes: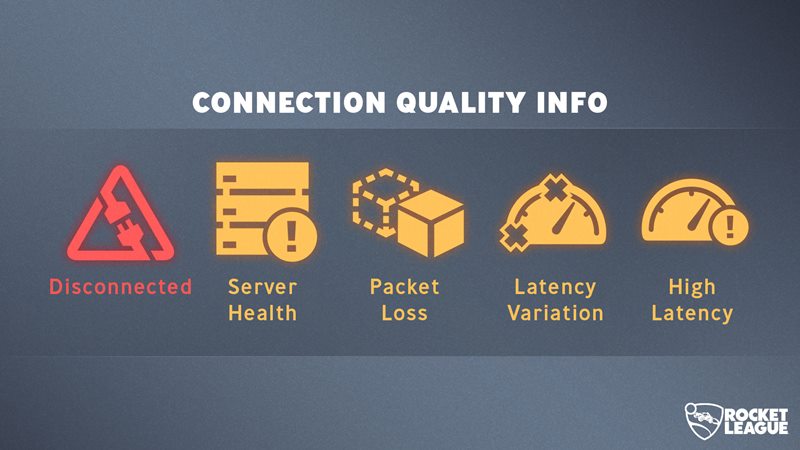 40 – No Download. Content mismatch (Package `~) (Error: 40)
41 – Invalid URL. Content mismatch (Error: 41)
42 – Connection Failed. Your connection to the game has been lost. (Error: 42)
43 – Pending. Pending connect to '`~' failed; `~ (Error: 43)
44 – Authentication Failed. Authentication Failed (Error: 44)
45 – Maxed Out Message. The server is full (Error: 45)
Rocket League Matchmaking Error Codes
Finally, all the errors whose codes belong to the fifties to the nineties range fall in this category. The reason for this could be two-fold- either due to the remote server or the version of the game that you are running. In some rare cases, the issue could be a combination of both. With that said, here are all the Rocket League Matchmaking Errors and their associated codes. The fix for these errors has been mentioned in italics, just beneath the respective error messages.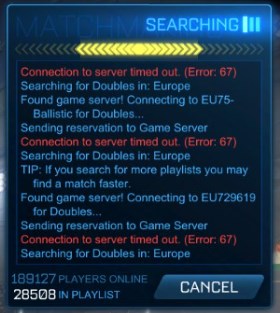 50 – Manual timeout in Online Game Matchmaking
51 – Server Options Mismatch. Server settings no longer match your settings (Error: 51)
Please make sure to update and restart your game.
52 – Server Full. Server is full (Error: 52)"
Similar to Error 45
53 – Login Timeout=Login to server timed out (Error: 53)
54 – No Online Service. Server is unable to connect to online service (Error: 54)
55 – No servers were found in Online Game Matchmaking
56 – Server Shutdown. Server shutdown for maintenance (Error: 56)
Servers may occasionally be taken down for maintenance. Check our Twitter for announcements.
57 – Server Restarting. Server restarting (Error: 57)
Servers restart after maintenance or errors causing an unexpected shutdown.
58 – No Reservation. No reservation found (Error: 58)
59 – Reservation Timed Out. Reservation timed out (Error: 59)
62 – Reservation Not Responding. Game server failed to respond. (Error: 62)
63 – Reservation Full. =Game server is full. (Error: 63)
64 – Not All Players Joined. Not all players connected. (Error: 64)
65 – Failed Connection To Game Server. Timed out when joining game server (Error: 65)
66 – Playlists Have Changed. Playlists have changed, restarting matchmaking… (Error: 66)
If you queued for a playlist but the match tries to play a different playlist, Rocket League reports this error. Please restart your game and make sure you have the latest update.
67 – Beacon Timed Out. Connection to server timed out. (Error: 67)
68 – Start Search Fail. Unable to contact matchmaking server, trying again… (Error: 68)
Unexpected error during matchmaking, the process will be restarted automatically.
69 – Party Team Reservation Full. Party leader's team is full. (Error: 69)
The party you're trying to join is already full. You can join if someone else leaves the party.
70 – No Friend Join Private Match. Must be in the same party to join a friend in a private match. (Error: 70)
Your friend needs to add you to their party before you are able to join their private match.
71 – Connection Timeout. Your connection to the game timed out (Error: 71)
72 – Security Key Acquisition Failed. Unable to connect to Game Server. (Error: 72)
82 – Security Key Verification Failed. Unable to connect to Game Server. (Error: 82)
83 – Canceled. Canceled by user. (Error: 83)
84 – Privilege Disabled. Player's privilege is disabled. (Error: 84)
85 – Match Ended. The ranked match has concluded. (Error: 85)
If you have been disconnected or are backfilling a casual match, the match may end before you are fully connected.
86 – Wrong Playlist. Server is playing a different playlist. (Error: 86)
Similar to Error 66. Matchmaking will be restarted automatically.
87 – Crossplay Disabled. Cross-network play is not permitted for some players on this server. (Error: 87)
Please make sure that all people in your party have cross-network play either enabled.
88 – Start Search Fail. Unable to contact server. Please try again later… (Error: 88)
89 – Already Joining Game. Already trying to join another game, try again later… (Error: 89)
90 – Time out. Unable to find a game server. Please try again later… (Error: 90)
With this, we conclude the guide on all the Rocket League Error Codes. These error codes come under three distinct sections, and each of them has been described in depth. Furthermore, we have also mentioned some handy tips to effectively deal with these errors. If you still have any queries, do let us know in the comments section below. Rounding off, here are some iPhone Tips and Tricks, PC tips and tricks, and Android Tips and Trick that you should check out as well.