The most popular video conferencing app today is 'Zoom.' Increased demand for video conferencing and online classes due to the global epidemic has kicked the promotion of 'Zoom.' Most people working from home seek to have video conferencing, and Zoom makes it easy for them to connect. Zoom hosts almost 10 million daily users in December, and now it surged to 200 million.
Many of the Zoom users are leaving the platform without any security, which might lead them available for getting hacked. Fishers are also active nowadays, and if you are using an unsecured Zoom conference, then you might get some trouble. Here are the tips to secure Zoom Video Conferences and chats discussed below.
Why Zoom needs security?
The popularity of Zoom rises rapidly, and the developers were not expecting fast growth in traffic on their server. The team is although working on multiple security features as they come to light. You might hack by Zoom Bombers if you are not following some security tips on Zoom Conferencing.
Zoom faces multiples fishing activities on the portal, and it is challenging to find an unwanted threat due to significant traffic on the serve. So it is essential to use the Zoom conference in a secured atmosphere. However, just like with every service, code updates will not address every complaint, but some issues are very much worth keeping in mind. So, here are some tips to secure your Zoom Conference.
Secure Your Zoom Video Conference or Chat:
There are few things to perform in settings if you are going to host a conference on Zoom. The below-mentioned tips might help you to secure everyone at your meeting.
Protecting account: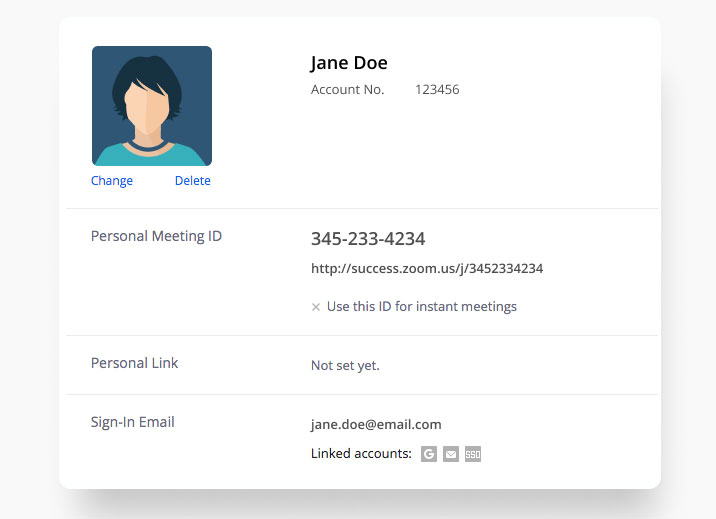 You must have a protected account for not getting involved in any fishing. You need to secure your account with unique and strong passwords. There is also a 'two-factor authentication' method from which you can protect your account. You need to find both the potions while creating your account. This setting is an essential step to keep you out of the Zoom bombing.
Zoom bombing is a federal cybercrime reported widely. You might protect your account for preventing you from hackers. This security is somehow different from the meeting password. So do not confuse between account password and the meeting password. A meeting password needs to be unique for each meeting, but the account password you can manage once.
Register your e-mail address with Zoom:
If you have registered on Zoom by verifying your e-mail address, then it also provides you a unique security feature as you will have authentication through your e-mail. Zoom causes the service to consider e-mails of the same domain, which makes it more reliable and protective.
For registering on Zoom, use your work e-mail. Sharing your contact details with your invitees should not be a real concern. If you don't have a work e-mail, you can also use a burner account with a well-known public domain to keep your contact details private.
Even if you are hosting a public meeting, try to ignore sharing the relationship publicly. Sharing the link in public might get insecure all the attendees in the conference as someone could get into anyone's screen. Zoom-Bombers using this trick get the target hacked effectively.
A multiple zoom bombing attacks have reported in the USA, and it is now a federal crime. So, avoid publicly posting links of Zoom meetings. If, for some reason, you still want to, make sure you don't enable the Use Personal Meeting ID option.
Protect your meeting:
You must set up a unique password for your sessions if you want a secured conference over Zoom. This protection will lead to connecting only genuine persons on the board. Do not share the meeting details publically and let your invitees not to join through the link. Ask them to participate through meeting ID and password directly.
Do not make confusion between meeting passwords and account passwords. The account password protects your account, and you do not need to change it every time. The meeting password is what you have to change for every meeting. Protect yourself and others in the meeting by establishing a strong meeting password each time. Do not start a conference without a password.
Enable Waiting Room:
This setting is also instrumental if you want to have a protected conference. Enabling waiting rooms by default makes you host the meeting very effectively. You can manage the number of persons who wish to join in. All the invitees must require your permission to get into the meeting even if they have a meeting ID and password.
You can lock the meeting after each participant gets in. Locking will not allow any other user to get into the session. External users might kick away once you close your conference. That gives you the ability to control who joins your meeting, even if someone who supposed to participate somehow got the password for it. It also lets you kick an unwanted person out of the meeting.
Limiting screen-sharing features:
Zoom offers a screen sharing option which enables the participants to show their screen to others. You have to limit the screen sharing feature if you do not want everyone to get the details about what you are sharing on-screen. If you are a host, then you can easily limit this feature. You need to shut off video sharing options for those to whom you do not want to share the screen.
You can also share a lone screen in which only the participant can view your display, and none of the participants will able to share their screen. It will provide you the protection from screen fishing, and you can also prevent data sharing by optimizing the sharing options. You can get all these options before and after you start a meeting. You can change any choice between ongoing sessions.
Stick to the Web client:
Prefer your meetings through a web client. Instead of installing the application, this process is much secure. If you still need to download the Zoom application, then you might check into a setting to restrict downloads on the device. Make sure that you have limited the number of devices on which Zoom is installing. Prefer to define 'the number of the devices' as 'one.' Choose a method with next to no personal information. It is quite a safer mode to get into a meeting through Zoom.
All of the stuff gaining access through video conferences due to a global epidemic. You have to be more concerned about the unwanted access to your data. Zoom Bombing has increased cybercrime as everyone gets into having work from home. Your Zoom meeting must be much secure for everyone who joins.
You can enjoy the conference hosting and attending in a secured atmosphere if you follow the settings as mentioned above. These settings will provide you a better interface that is also secured. These settings will also lead you to save from Zoom Bombing and unwanted threats. If you have any queries or feedback, please write down the comment below. Likewise, check out our iPhone Tips and Tricks, PC tips and tricks, and Android Tips and Tricks for more such tips and tricks. Thank You.