Sony believes in making some quality smartphones and they have proved t so far. This year Sony has launched their premium model Sony Xperia XZ3 in August 2018. With great features and security, the device indeed comes with official IP68 waterproof ratings. Since Sony makes most of its smartphones as waterproof, this was no exception. However, to test its limit to the extreme, we at Getdroidtips will test Sony Xperia XZ3 for waterproof and dustproof capabilities. So without a further due, let's get started.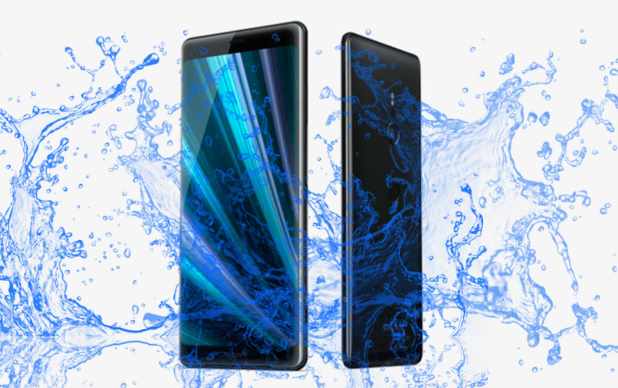 Before we start with our Sony Xperia XZ3 waterproof test, let's get to know some of its specifications. The device comes with an impressive 6-inch display with a resolution of 1440 by 2880 pixels. The device is powered by an octa-core processor coupled with 4GB of RAM. The base model for Sony Xperia XZ3 comes with 64GB of onboard storage which you can expand up to 512GB using an external card. Talking about the camera department, it is rocking a single lens system with a 19MP sensor rear and 13MP selfie shooting cameras.
Sony Xperia XZ3 Waterproof device: Well, Here is our test
Sony has made this device utterly beautiful taking care of all the expects a smartphone user should have. Take a look at the official taser released for Sony Xperia XZ3 by Sony itself.
[su_youtube url="https://www.youtube.com/watch?v=543sZ5sf5Zo"]
In this test, we are going to check whether this device is waterproof or not. Since there are official IP68 waterproof ratings available for the device. So we know that the device is indeed waterproof. But our tests will help us confirm it.
The waterproof test comprises of different types of test which includes water. So we are going to take a couple of tests to figure out whether this device is waterproof or not. So let's start!
Splash Proof Test
In Splash proof test, we will test the device to withstand an accidental water splash. This will tell us whether the device survives in such condition.
Also read: Huawei Nova 3 Waterproof Test
So when we subject Sony Xperia XZ3 to artificial water splash, the device seems to work fine. there are no complications at all.
Rainwater test
In this test, we are going to suspend the device in artificial rain environment. This also mimics the showering conditions as well.
Also read: Is Oppo F9 waterproof and Dust Resistant?
After testing the Sony Xperia XZ3 in artificial rain condition, we observed that the device does not show any signs of damage. So users can use this device in rainy conditions without any problem.
Washing Test
In this test, we are going to wash Sony Xperia XZ3 with running tap water for 1 minute and check whether it survives or not. This will help us verify that this device is waterproof or not.
After performing the washing test, the device seems to be working. There are no signs of water damage to any component of the device.
I/O Ports Water Test
In this test, we try to check whether the water will go inside Sony Xperia XZ3 or not.
| | |
| --- | --- |
| Power & volume rocker buttons | Works |
| Any other I/O port damage | None |
| Charging Point | Works |
| Touchscreen | No damage |
| Earpiece & Mic | Works |
| Speaker | Working fine |
Dustproof Test
In this test, we will keep the device in a sandy environment with lots of grain and sand particles with a running fan around it. This situation mimics dust storms and will check how the device holds in such conditions.
Also read: Is Oppo Realme 2 Waterproof device? Water and Dust Resistant Test
After the dustproof test, no dust was found in the internal parts fo the device. This shows that indeed Sony Xperia XZ3 is dustproof.
Final results
| | |
| --- | --- |
| Official IP ratings (waterproof ratings) | IP68 |
| Splashproof test | Passed |
| Rainwater test | Passed |
| Washing test | Passed |
| Dustproof test | Passed |