If you're a PC gamer and love newly released online games whether it can be single-player or multiplayer, then it may not be possible that you haven't heard about Steam yet. Steam is one of the popular and best PC gaming platforms to purchase games and play via its client as well. But PC games and their clients are prone to errors or bugs whatsoever that can easily ruin your gaming experience. Meanwhile, some of the users are complaining that the Steam client is not Downloading Games which is really frustrating. If you're also one of the victims, make sure to check this troubleshooting guide.
Talking about the game downloads from the Steam client is one of the most crucial things for a PC gamer. Without downloading games from the online storefront via a game launcher, PC gamers won't be able to get those games at a reasonable price from other sources. It's also because some of the games are exclusive to the Steam platform and PC gamers prefer to download or play games on the Steam client due to its user interface, and some other useful functions.
Fix: Steam Not Downloading Games Error
Well, the primary problem for the affected Steam users is that they can't play Steam games until they're updated to the latest version. Whenever a new update appears for the installed games on your Steam library, Steam starts downloading the game patch update automatically. Now, if the client is unable to download the game update, you won't be able to play it which is quite pathetic.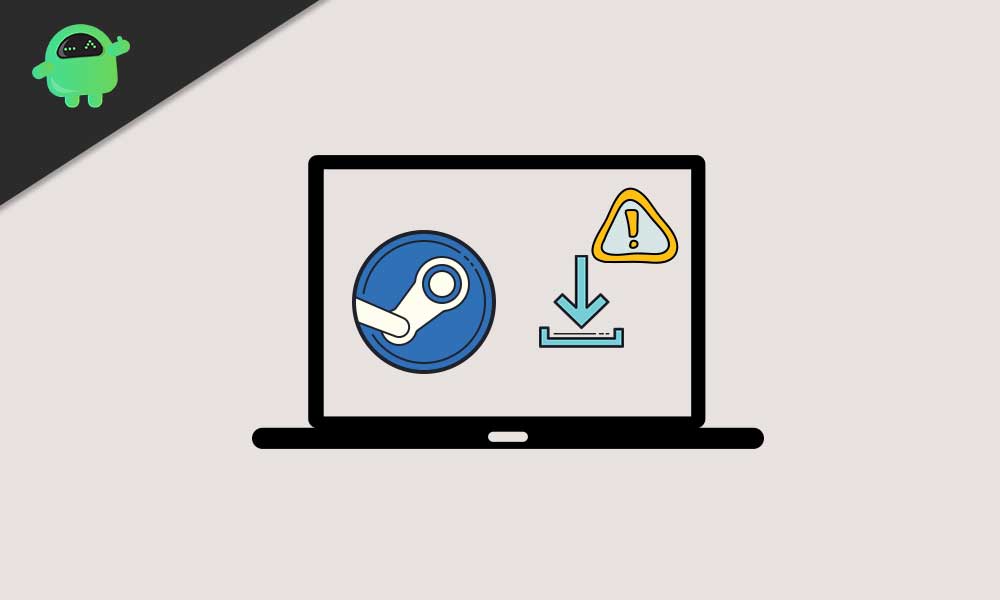 Meanwhile, this particular error or bug doesn't send any notice to the users which is another mess. Eventually, the download queue of the game doesn't progress at all and just shows the 'Starting' text. So, without wasting any more time, let's get into the steps below.
1. Change Download Region
It's highly recommended to change the download region server at first. This should help most of the affected Steam users. Make sure to choose the nearest server according to your location. To do that:
Launch the Steam client > Click on Steam from the top-left corner.
Go to Settings > A new smaller window will appear.
Click on the Downloads section from the left pane.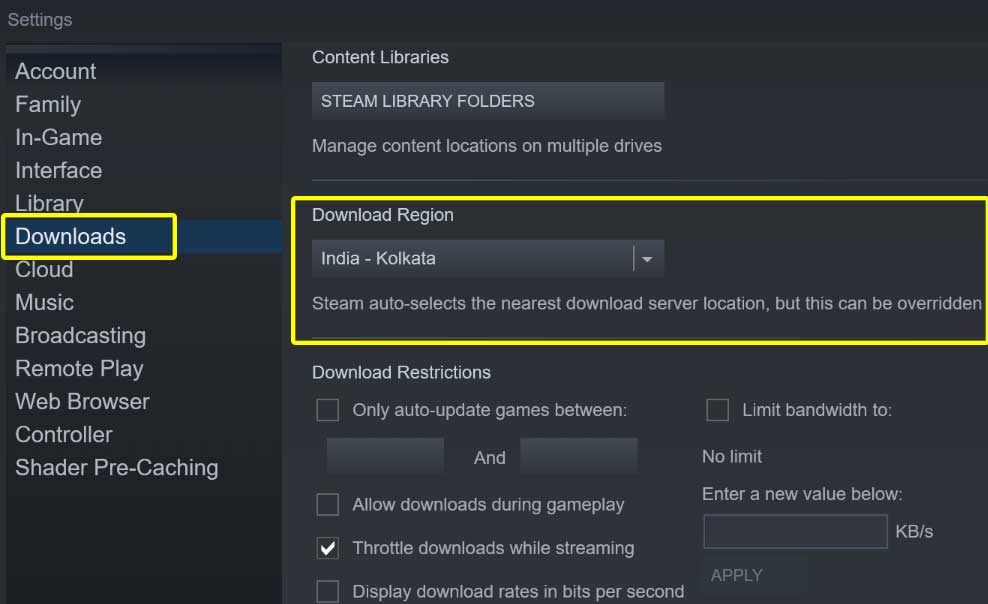 Now, click on the Download Region drop-down box.
Select your preferred region according to your nearest location.
Once done, click on OK from the bottom of the window.
Finally, try downloading the game or update again.
If this method doesn't help you, follow the next method.
2. Remove Steam Config Files
Try clearing Steam configuration files that may get corrupted or missing due to some unfortunate reasons. To do that:
Press Windows + R keys to open up the Run dialog box.
Now, type the following command and hit Enter to execute it:
steam://flushconfig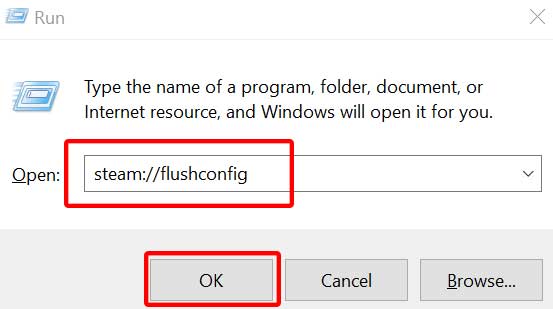 It'll refresh or delete Steam's core config files that can cause several issues with the game downloading or installing.
Once done, you'll get a successful message.
Finally, try running the Steam client and check whether it's not downloading games or not.
Must Read: How to Fix SteamOS Error 4294956486 (Windows and macOS)
3. Cross-check Internet Connection
Still, the problem persists? It seems that there is some issue with your internet connection. You should check your network connection before following any further method. Try running any other game downloads from another gaming launcher such as Origin or Epic Games Launcher (if possible). This will ensure that whether there is any problem occurring at your end or server-end.
Meanwhile, if you're not sure whether your internet connection is actually able to download games or join online matches from the client then make sure to switch to the Wi-Fi from the Wired (ethernet) connection or vice-versa. You can also try using a mobile hotspot temporarily to check if the problem has been fixed or not. If there is an issue with your internet, contact your ISP for further assistance.
4. Disable Defender or Third-Party Antivirus
Well, it's needless to say that even if you're necessarily not using any antivirus program on your Windows 10 system, the Windows Defender Firewall protection is always running in the background & trying to protect your PC/Laptop from getting affected by any suspicious virus or malware. Therefore, you'll need to turn off the Windows Security from the Windows Settings menu.
Meanwhile, if you're already using any third-party antivirus program on your Windows 10 computer, then that can prevent your Steam client or the game files to run from the server. That means in both scenarios, you have to disable the real-time protection from the respective program settings.
Now, if you're not using any third-party antivirus then follow the below steps:
Click on the Start Menu > Choose the Settings menu (gear icon).
Select Update & Security > Click on Windows Security from the left pane.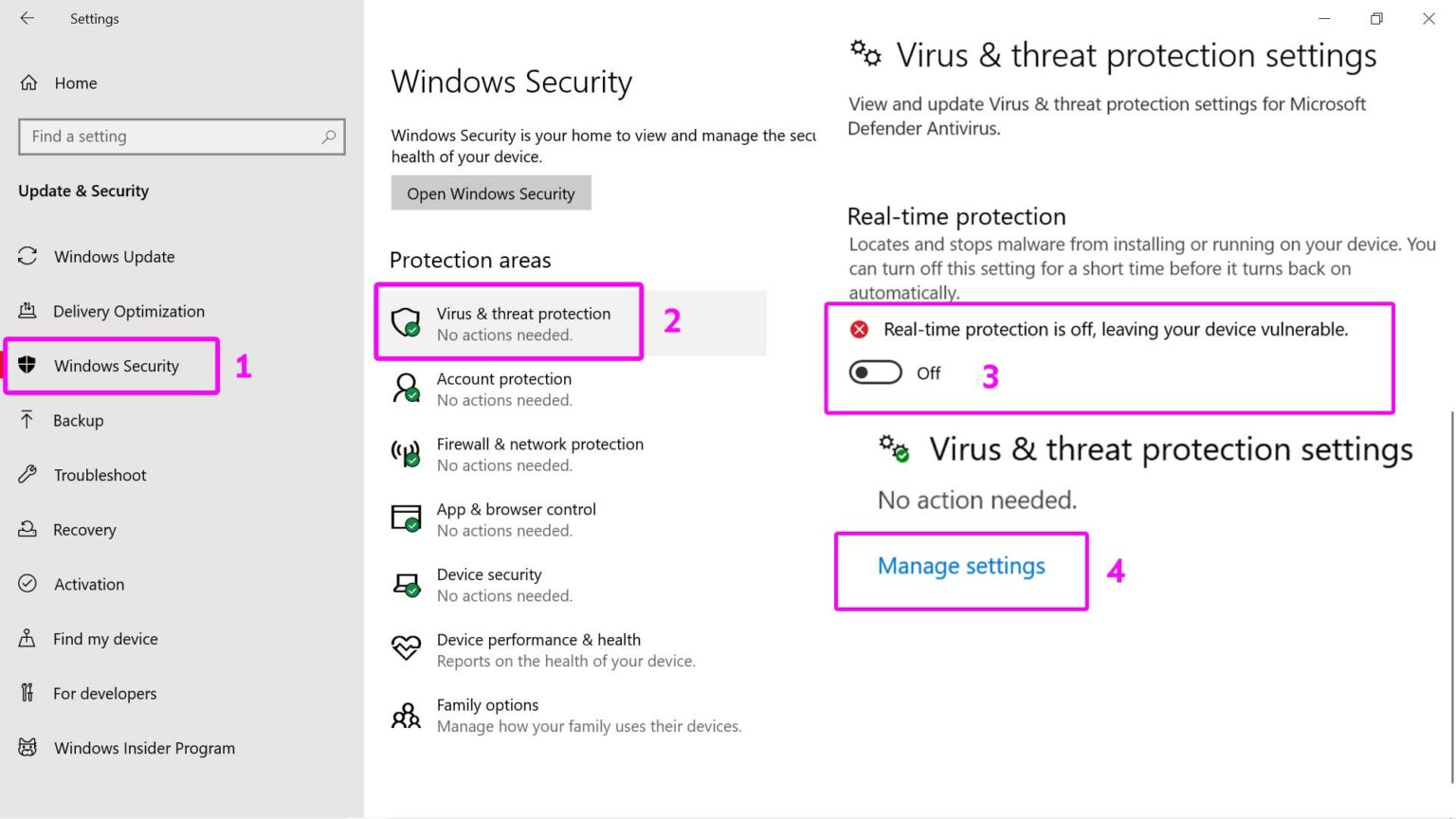 Next, select Virus & threat protection from the right pane window.
Go to Manage settings under the Virus & threat protection settings.
Now, click on the Real-time protection toggle to disable it.
If prompted by UAC (User Account Control), click on Yes to confirm the task.
Finally, launch the Steam client and check whether it's not able to downloading games or not.
That's it, guys. We assume you've found this guide pretty helpful. For additional queries, you can comment below.