Gamers are enjoying a resurgence in the gaming industry today, thanks to the invention of all sorts of gaming gadgets. In this criteria, Thrustmaster is totally changing the gaming experience for the gamers. So yes, if you are a sim racer, then with their wheel control, you can experience the game like you are in the metaverse.
This PlayStation-licensed device works on both PS4 and PC. But, Thrustmaster has recently tested and approved the game compatibility for PS5 games, so it works with them. However, unfortunately, people recently complained that their PC, PS4, or PS5 would not turn on or work with the Thrustmaster T300RS.
So we are here with this guide. You will find some workarounds in this guide that will help you fix the T300RS not turning on or no power issue. So now, let's get straight to it.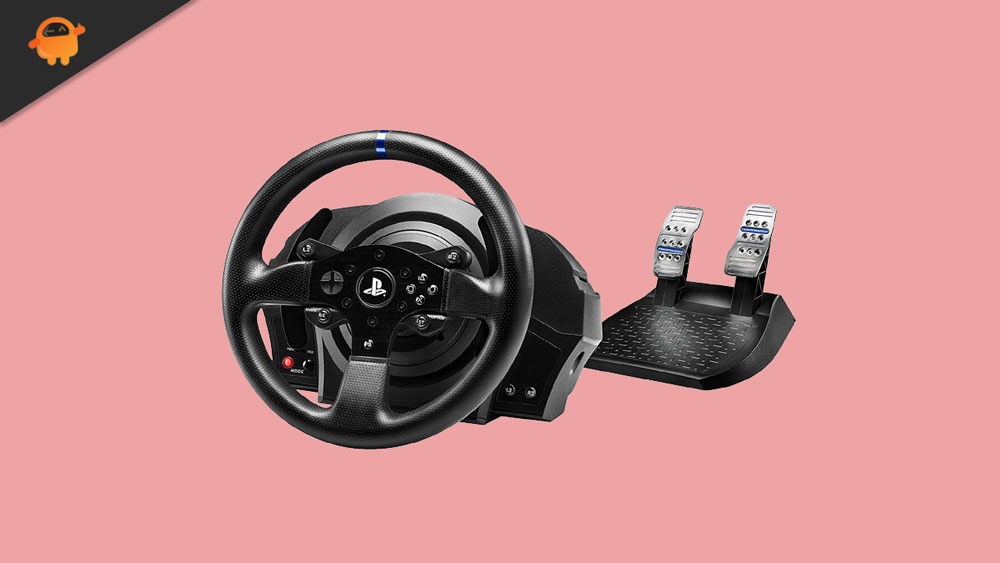 How to Fix Thrustmast T300RS Not Turning On or No Power
These are a few tricks you can use to get rid of Thrustmaster T300RS not turning on or having no power issues. Therefore, in case you are also encountering the same issue, make sure to follow these fixes:
Fix 1: Reboot Your Device
In most cases, a simple restart will fix any problems you are having with your console, PC, or any other device. When you reboot your device, all of your saved data will continue to exist instead of a factory reset.
In addition, if random and unimportant stored files clog your device memory, you may be able to clear them out by restarting your device. In contrast, I found that once I rebooted my system, it became faster and more efficient, and my Thrustmaster T300RS again started working properly.
So, before attempting any other action, make sure you perform this step, as many users have reported solving the problem and their T300RS starting up again properly.
Fix 2: Update The Wheel Firmware (For PC Only)
You may have outdated Wheel firmware, which could be causing this type of error. It is therefore imperative to check whether there are any firmware updates available. Therefore, make sure to update it, and you will see that the T300RS is not turning on error gets resolved. Let me explain:
On your browser, open the

official page of Thrustmaster

and select the

SUPPORT

tab.

Once the

SUPPORT

page is opened, click the

Download

button.

Now, choose the

Thrustmaster T300RS

from the

Racing Wheels

tab.

In order to update the

Thrustmaster T300RS drivers

and

firmware,

you will need to select the

Drivers

option. You're done. Download and install it now.
Fix 3: Setup Correctly
In order to use your wheel on your PC, you should make sure your wheel is set up to the correct mode. You will not be able to play it if it is set to PS4 mode. Therefore, you must switch it to PS3. The T300RS will start working once you do the same thing for the PS4 and PS5.
Despite this, if you still are unable to get it to work with your PC, PS4, or PS5, don't get panic, as we have more options for you. So, please use them and let us know if these methods help you.
Fix 4: Check The Port
If you're encountering this error, it may be because the port you are using is not functioning properly. Therefore, we recommend changing the port to see if the T300RS will turn on again. We've found that this issue gets fixed after trying different ports is the solution in many cases. So make sure to check out this method and let us know if it helps.
Fix 5: Use Bootloader Shortcut
To solve the error, the first thing you should do is switch to the PS4 or PS5. Then, with the L3 and R3 keys, bring your Thrustmaster T300RS racing wheel into bootloader mode while plugging it into your Windows PC. Next, connect the wheel to your device and switch back to the PS3. Then, repeat the following steps:
First, navigate to the

Start

menu. Select the

Thrustmaster

.

After that, tap the

FFB Racing Wheel

and select

Control Panel

. The wheel would become

Thrustmaster T300RS

instead of

Thrustmaster FFB

Racing Wheel

. You will notice that the issue has gone away now.
Fix 6: Turn off The Real-Time Protection
An antivirus program's primary role is to detect, resolve, and prevent malware from running on a device. However, there is a possibility that your PC's antivirus software may prevent the Wheel driver from being installed, making it unable to make a connection to your PC.
Therefore, it is recommended that you turn off real-time protection on your PC. Once the drivers have been installed, reattach your T300RS wheel and wait until the driver installation process is complete on your PC.
Once that is complete, you will see that the issue has been resolved. If you are not sure how to disable the real-time protection, simply follow these steps:
From the

Start

screen, search for

Windows Security

.

Launch the

Windows Security

app and select

Virus & Threat Protection

.

After selecting

Virus & Threat Protection

, click

Manage Settings

.

There you have it. Switch off the

Real-time protection.
Fix 7: Update Your System OS
Your system's outdated OS also sometimes might be the reason why your Thrustmaster T300RS is not turning on, or there is no power. To keep your system OS updated, regularly check for system OS updates using these steps:
For Sony PS4:
Go to the

Notification

section, and use the

Options

button to delete all the existing updates.

To do so, tap the

delete

button and open the

Settings

page.

Scroll down to

System Software Update

and click it.
For Sony PS5:
First, go to

Settings > System.

Next, select

System Software Update

and follow the onscreen instructions.

Finally, hit the

Update System Software

.
For Windows PC:
Initially, select the

Settings

option from the

Start

menu.

After that, click on

Update & Security

and

Check For Updates

.
Fix 8: Power Cycle Your Wheel
In case none of the methods worked, we recommend you to try power cycling your T300RS as chances are there that due to some random glitches, your wheel is unable to turn on properly and is stuck while booting. So, in that situation, power cycling is the best choice.
Therefore, you must turn off the power switch and plug out all the cables to do so. Then, wait for some time and plug in all the cables. Now, boot it up to check whether it is now turning on properly or not.
Fix 9: Contact To Support Team
Haven't you had any luck yet? So, if you are still not able to use your T300RS on your PS4, PS5, or PC as it is still not turning on, then your wheel probably has an internal issue. You should then seek help from the Thrustmaster support team in that case. Regardless, they will try to fix the issue or point you to a local service center.
From Author's Desk
Now you know the solution to the Thrustmaster T300RS is not turning on or has no power issue. Thank you for reading; we hope this article was helpful to you. However, if you need more information about the issue, feel free to let us know.