The G7+ ThinQ is the successor to last year's flagship LG G6 smartphone. As we know, LG is making it tough to Unlock Bootloader without the support of LG developer website. Recently LG has added LG G7 ThinQ to list of Unlocking Bootloader. Therefore if you are someone who wants to root or flash custom ROM or kernel, then it's your time. Now you can Unlock The Bootloader on LG G7 ThinQ. Yes, Unlocking Bootloader on LMG710 is official. In this guide, we will guide you on How to Unlock The Bootloader on LG G7 ThinQ variant.
Now you can unlock bootloader easily by following this simple guide. Though you should know that, unlocking the bootloader will void the device warranty. So if you planning to Unlock The Bootloader on LG G7 ThinQ, then it's always better to wait until your warranty gets over. In case if you have unlocked the bootloader, then you can always re-lock the bootloader on your device anytime.
This only works on LG G7 ThinQ LMG710 phone. Don't try this on any other model or device. Below is the full guide to unlock the bootloader on LG G7 ThinQ. Follow this procedure carefully. It is a somewhat involved process, but the majority of the process has been simplified as much as possible.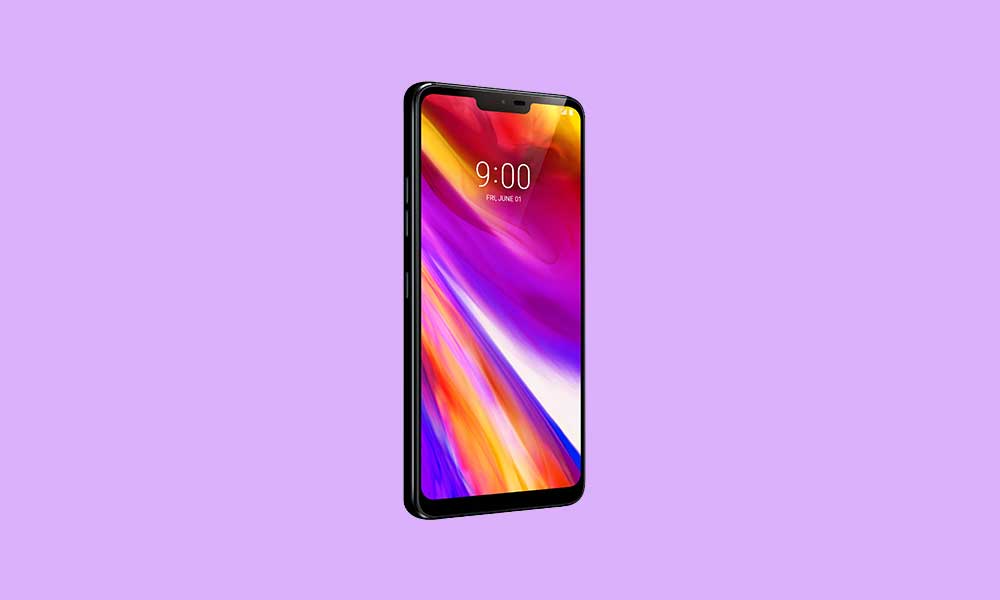 What is Bootloader Unlocking?
A Bootloader is a code which runs when we switch on our device. This code initializes some hardware and then loads the kernel and ramdisk, and gets the boot process going. So this process is known as Bootloader. The same concept applies to all the technical stuff such as Laptop, PC, Smartphones and any such device. Every Android OEM manufacturers lock the bootloader even though it is an Open Source. So if you want to try any CUSTOM ROM, it is impossible to load the CUSTOM ROM without the Unlock Bootloader. So Manufacturer made a policy of making the smartphone with Unlocked Bootloader will void the warranty. They want you to stick with the Stock ROM. Unlock Bootloader allows you to Root your android smartphone, Flash TWRP and Custom ROM in a simple easy method.
By Unlocking the bootloader, your warranty can void. So take your own risk. We are at GetDroidTips will not be responsible for any bricking/damage to your phone while/after installing this ROM.
Requirements:
To Unlock Bootloader On LG G7 ThinQ (LMG710 ), you need a laptop or PC.
Charge the LG G7 ThinQ to a sufficient battery level to avoid any sudden shutdowns during the process.
We strongly recommend you to take a complete full backup of your personal data, including the internal storage. The phone will be formatted, so be prepared for it. You can also follow our Android backup guide for the same.
You need a USB cable to connect your phone to PC.
Required Files on your PC:
Steps To Unlock The Bootloader on LG G7 ThinQ
Step-1 First of all, enable the Developer Option
Step-2 To Enable the Developer Option, Go to your Settings -> About Phone -> Now Tap on the Build Number 7-8 Times until you see a toast message "Developer option enabled".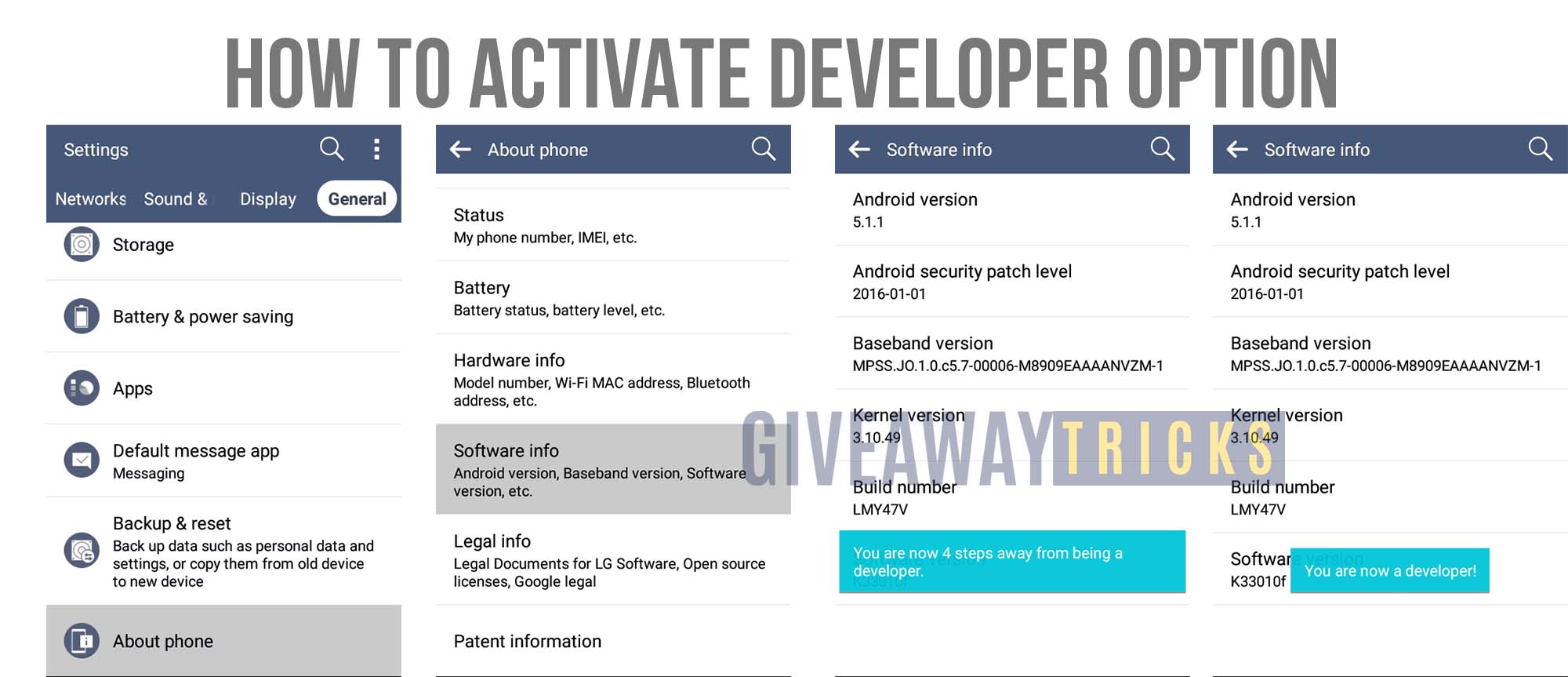 Step-3 Now you need to enable the OEM Unlock by going to Settings -> Developer Option and Enable OEM Unlock.
Step-4 Download the adb and fastboot driver and install/Extract it on your computer.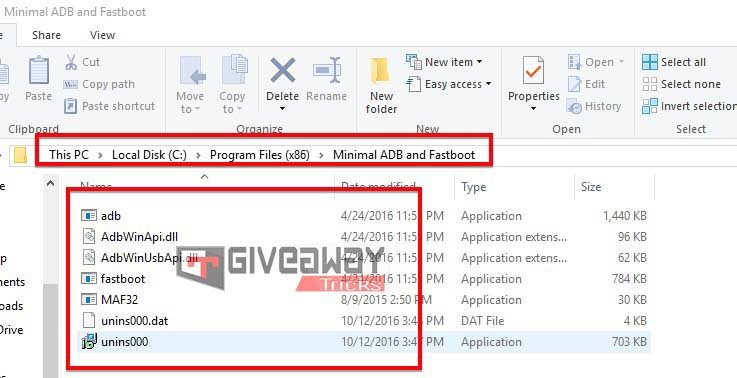 Step-5 Now note down the IMEI No of your device by dialing *#06# (Make sure note it down)
Step-6 Turn off your phone, now boot your phone into Bootloader by pressing Volume Up + Power Button Simultaneously. Now you will see a fast boot/bootloader
Step-7 Now go to the folder where you have extracted the ADB and Fastboot Tools
Step-8 Plug the phone into PC using USB Cable, then open a command prompt window by pressing Shift Key + Right Mouse Click.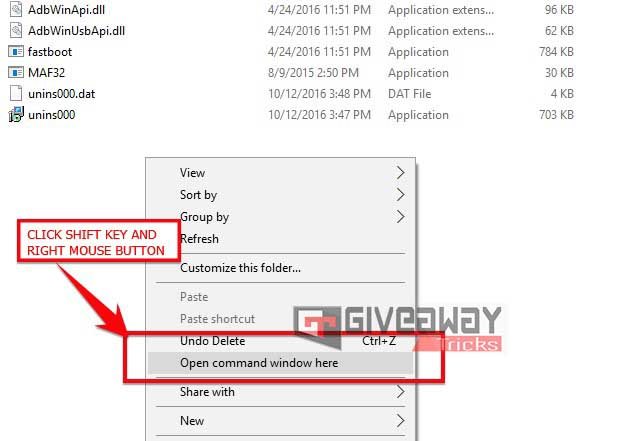 Step-9 Now turn your phone into bootloader -> Turn off your smartphone – Press and Hold Power and Volume UP button – You will see Fastboot mode – or else, you can type the command if your device is in ADB mode. ( phone should turn on and connect it to the PC via USB Cable.)
adb reboot bootloader
Step-10 If you boot into fast boot, type the command below in CMD screen.
fastboot devices
Step-11 This command will list the connected devices. If your phone serial number shows up you are good to go and may continue. If the phone is NOT listed this indicates that your drivers or cables are not installed correctly. if you want to continue, you must first fix your problem.
Step-12 If the phone has been recognized by the command above, proceed to unlock the bootloader. Remember, this step will wipe EVERYTHING off the phone. Take backup. In your command window, type
fastboot oem device-id
Step-13 This fastboot command will return a character string. This is the Device ID which is needed to generate your unique unlock key.
Example Device ID (PC user)$ fastboot oem device-id
(bootloader)—————————————————————–
(bootloader) Device-ID
(bootloader) CD58B679A38D6B613ED518F37A05E013
(bootloader) F93190BD558261DBBC5584E8EF8789B1
(bootloader)—————————————————————–
Step-14 To generate your unlock key, you will need to paste together the 2 lines of output into one continuous string without "(bootloader)" or white spaces. In the example above, the Device ID would be:
CD58B679A38D6B613ED518F37A05E013F93190BD558261DBBC5584E8EF8789B1
Step-15 Now open the official Unlock Bootloader Website at LG: Click here to open
Step-16 Click Starting Unlocking the Bootloader at the bottom of this page to start the bootloader unlock process. If you are not logged into your account, we ask that you log in.
Step-17 If you didn't register with your email id.
Step-18 After register click the Starting Unlock Button again.

Step-19 Now you will have a screen to type your IMEI no, name and Device ID. Now enter the IMEI number which you note down.
Step-20 Paste the Device ID(Continuous String you created in step 14) in the Unlock Bootloader website of LG.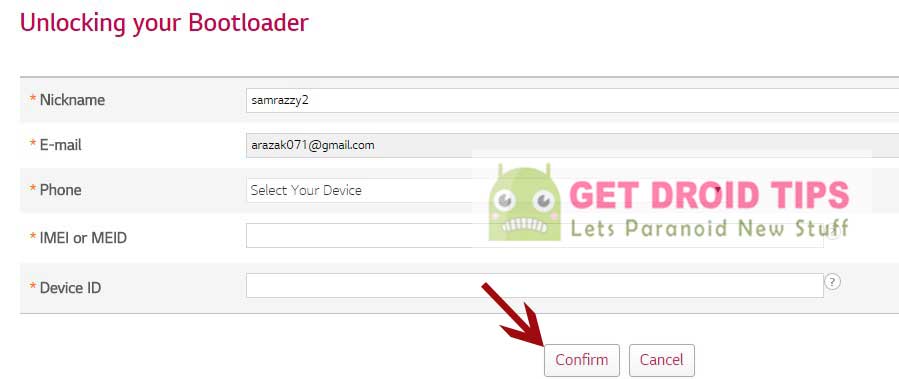 Step-21 Click Confirm. If your IMEI number and Device ID are valid, the bootloader unlock key will be sent to your email.
Step-22 Now open the email and check the mail sent by LG developer.
Step-23 In your email, you will find the attachment with unlock.bin, download and move the unlock.bin attachment to ADB and Fastboot folder
Step-24 Enter the command in the command window.
Step-25 Now when the phone is still in Fastboot mode/ Bootloader, enter the command below ("unlock.bin" is the bootloader unlock key you received the email.)
fastboot flash unlock unlock.bin
Step-26 You have unlocked the bootloader on LG G7 ThinQ Variant.
Step-27 Reboot your phone by entering "fastboot reboot" in the command window.
Step-28 To check if your device has unlocked the bootloader, then Connect your phone to a PC using a USB cable and enter "adb reboot bootloader" in ADB command window.
Step-29 Your phone will reboot into the fastboot mode. You can check if the device is successfully unlocked, you can check by entering command below and verifying that the response is "unlocked: yes"
fastboot getvar unlocked
Step-30 Now reboot your phone by entering the following command
fastboot reboot-bootloader
Click Enter and now you have unlocked the bootloader on LG G7 ThinQ
So, there you go. Now you know how to unlock the bootloader on LG G7 ThinQ.
Follow GetDroidTips for all important tutorials and information on bootloader unlocking.