Although when you plug in a USB device, instead of working, you'll get a notification "USB device not recognized." This is the most common error for Windows users. This error can happen due to various issues. So in this article, let us see how to fix the device is not recognized and all possible solutions for Windows 11, 10, 8.1 or 7.
USBs are the primary mode for peripheral connections. There are various connection types, among which USB is the most popular one because this is very standard and common among most electronic devices. But in case you are facing issues in connecting the USB device to your computer, then here are some troubleshooting tips that will help you solve the error.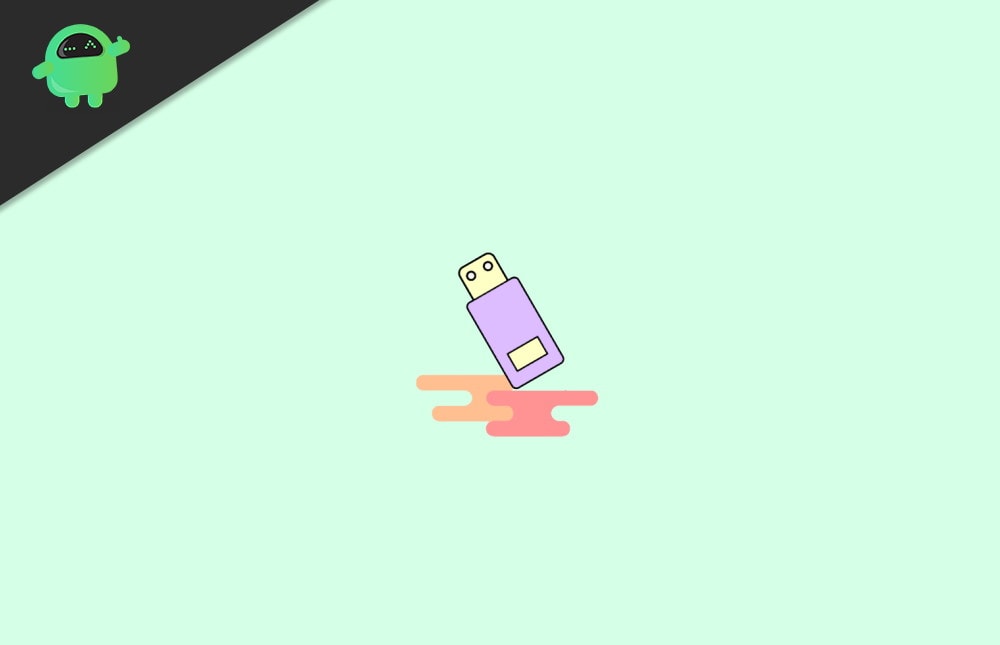 How to fix USB Device not recognized in Windows 11, 10, 8.1 or 7
As mentioned above, this issue can happen due to various issues. Let's boil down all possible reasons and how we can fix them one by one.
It damaged USB device or Hardware.
Device drivers issue.
USB port damaged.
USB controller turned off by power saver.
Solution 1: Damaged USB device or Hardware
If your device is damaged externally, there is no way to make it work until you fix that physical damage. Mostly this error pops due to plugging in damaged hardware. Look for the following Physically damages in your Device:
Broken parts in your Device.
Damaged in the USB pin area.
Damaged USB wire (in a USB mouse or keyboards).
So, if you find any of the above-mentioned defects, you should try to fix that issue first. Although if there are none, you can proceed trying out the following fixes one by one.
Solution 2: Device Driver issue
Device drivers will cause this issue. If you're using any special USB device like Biometric devices or special storage devices, you should install device drivers for the hardware to get recognized. Although, most of the time, the manufacturer will include those drivers in a package. You can even try downloading drivers from the official site for the product.
Now, you can try updating drivers from the Windows Device Manager.
Open Device Manager in Windows. (Press start and search for it, you'll find it.)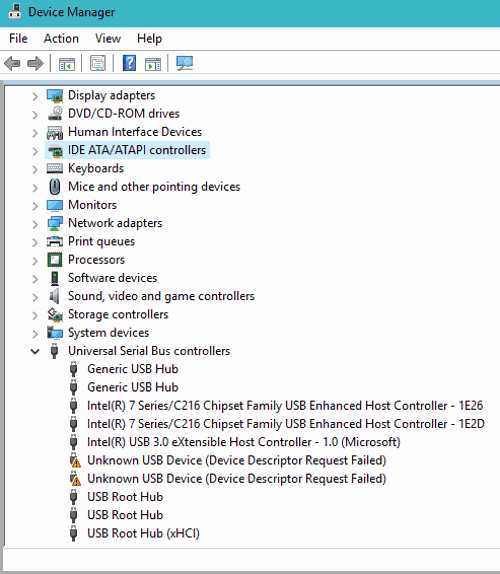 Now your unrecognized device will show up under Unknown devices or USB devices.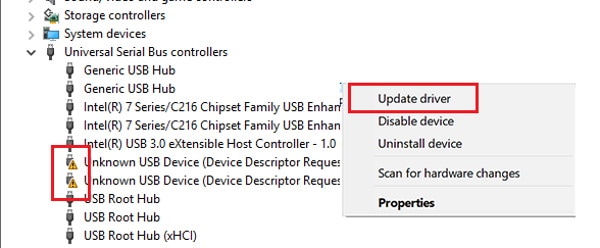 Right-click on the driver and select Update Drivers.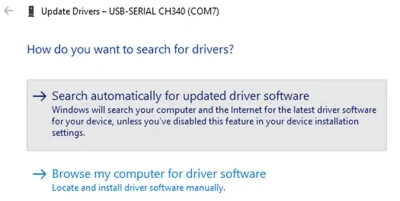 You can try searching for updated drivers by selecting "Search automatically for updated driver software".

Solution 3: Manually install Driver
If that option doesn't work for you, you can try "Browse my computer for driver software".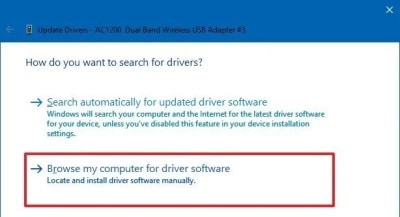 Select "let me pick from a list of device drivers on my computer."
From the Pop-up, select a device and Next.
This will install the driver for your Device. Once done, it should work straight away, or you can try rebooting your device.
Solution 4: Install from File
If you have a copy of Driver software for your device, you can install it manually. After selecting Browse, click on Have disk and locate your driver.sys file.
This will scan for drivers available in the sys file, and you can select the driver you wish to install.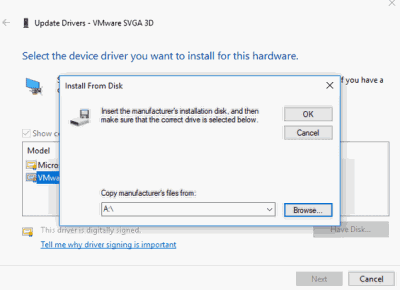 However, you should be careful in doing this. Because if you install incompatible drivers, the system will crash and might render it unbootable.
Solution 5: USB Port damaged
If the USB port on your PC is damaged, this error will pop up. Check the port for any physical damage or try changing ports. If the port was the issue, it should work without any issue on the new port.
However, you might consider servicing the port unless you want a dead port on your computer.
Solution 6: Power saver turned off the USB device
Windows powerplant and power saver feature can turn off your USB controller device to save power. If this was causing any issue, it's good to turn then off. To do so,
Right-click on the USB Hub root device and click on properties.
Click on Power Management deselect "Allow the computer to turn off this device to save power.

Now additionally, you should turn off USB selective suspending to avoid errors. To do so,
Press the Windows key and R at the same time, and a Run box will open.
Type in Powercfg.cpl and hit enter.
Click on Change plan settings next to the power plan you wish to use.

Now, click on Change advanced power settings.
From the pop-up scroll down to USB, expand it.
For both options, select Disabled to disable USB selective suspend for that power plan.

Now, this should fix the issue.
Conclusion
So these were the solutions for USB Device Not recognized issue on Windows Computer. These steps should be easy and would not require any special skills to resolve the issue.
Although these steps won't bring any adverse effects to your PC, you should be careful while changing drivers. It's always wise to have a restore point and bootable media before making any changes to get back in case of disasters.