Chromebooks are the new norms of mobile PC that are affordable, robust, and equally capable of their winder counterpart. And on top of that, they are very secure and VPN friendly. Setting up a VPN for Chromebook is a great idea if you're concerned about privacy and security. Where most wifi networks are not so secure, if you set up VPN on a Chromebook, it will surely help you keep your digital footprint secure from hackers and intruders. And with a VPN (Virtual Private Network), you can easily bypass region or country restriction. So it would be ideal for watching Netflix and other media streaming services that are region-specific.
Chromebooks do have an inbuilt setup for VPN services. If you have login credentials of your private VPN services, then you can log in easily. In not, there are many VPN friendly extension which you can use to access VPN servers. Nevertheless, to say, it's easy to set up VPN on a Chromebook. Ad today in this guide, we will help you install the latest VPN on your Chromebook so you can surf the internet with security and confendiatility.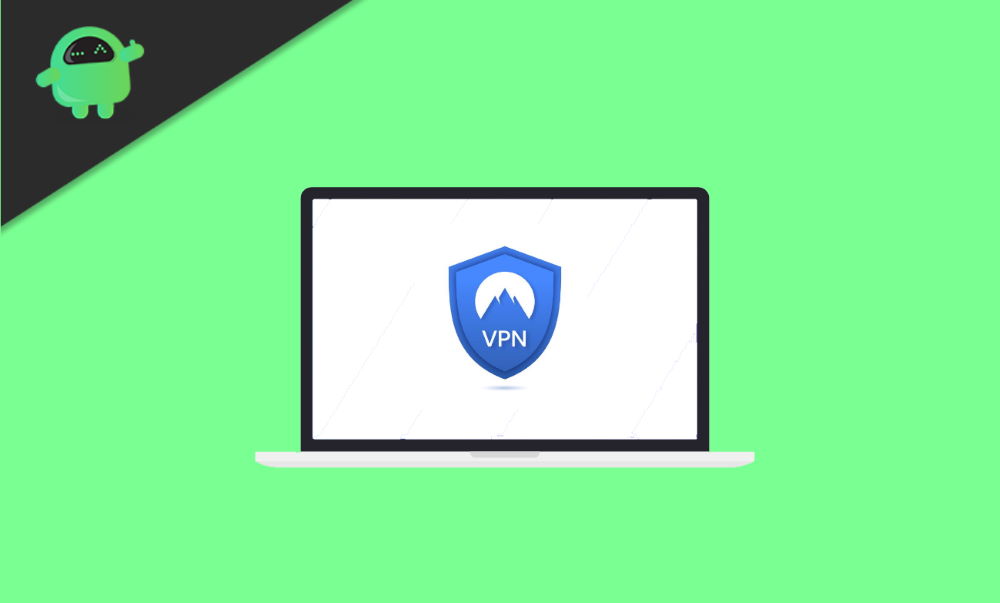 What is VPN on Chromebook
Chromebook is a laptop or tablet running on Linux -based Chrome OS. These devices work on the cloud-based system instead of the machine. Therefore, Chrome browser can be utilized for doing a variety of tasks on it. Chromebook has a built-in VPN (Virtual Private Network ) to provide you with a more secure connection and privacy.
A good VPN is a solution for using Chromebook without compromising your security and privacy. Most importantly, a VPN will change your IP address and encrypt your data, which gives you protection from malware, hackers, and trackers. Though Chromebook has, it's built-in VPN; you will still need CA certificates, which you can buy from a VPN provider company or can download for free online. You can also use any third-party VPN programs from the Chrome Web store.
How to Set Up a VPN on a Chromebook
Setting up a VPN in a Chromebook is an easy process. You can either do it manually in the Chrome browser app. Or you can use any third-party app to do so. It also supports extensions so you can use VPN extensions as well. All methods are discussed down below:
By Chromium Settings
Since most of the VPN companies are making a VPN for Windows and Mac only so you might have to put the information manually. These steps will show you how to set up a VPN manually on Chromebook if your VPN provider has no Chrome book app.
Download the CA certificates from your trusted source and store the file on your local storage. Open a new tab on the browser and put chrome://settings/certificates in the address bar and press enter. Click on the Authorities tab.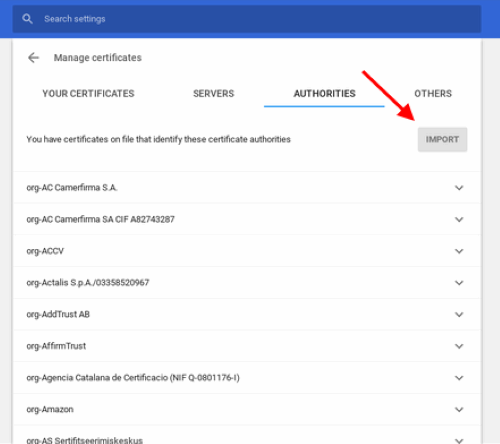 Note: If you have user certificate than go to the User tab instead of the Authorities tab.
Click on the import button and select the downloaded file, a window will appear verify it or leave everything unchecked. Your certificates will be installed and Imported.
Open the Settings and go to the Network section. Click on the Add Connection button.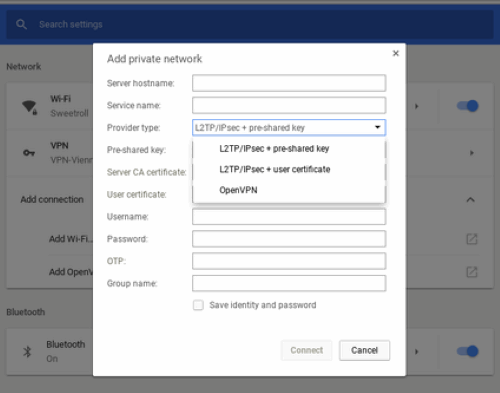 Now you will have to fill the following fields, you can get this information from your VPN provider official website or the person who administers your Chromebook.
Server hostname: The name or IP address of the server you'll be connecting to.
Service name: The connection name that shows in the settings. Name it anything you want.
Select L2TP/IPsec + Pre-shared key if you need to enter a second password once you log-on to your VPN or select L2TP/IPsec + User certificate if you have separate user certificates.
Select OpenVPN if neither applies to your VPN connection.
Pre-shared key: Enter the secondary password you need to connect here. If you don't need to use a second password, leave this blank.
Server CA certificate and User certificate: If you installed a CA Certificate as described above, choose it from the list or else leave it at Default.
Username: The username you use to log in to your VPN.
Password: Your VPN account password.
Click Connect to test your VPN. You will know its connected if you see a key symbol beside the wifi icon.
Installing VPN extensions/apps
You can easily download good VPN apps from the Chrome store to use VPN on your Chromebook.
Note: If you are running on a Chrome OS version lower than v64, only apps downloaded from the Google Play Store will be protected by the VPN.
Click on the Play Store icon and search for VPN, for instance, Express VPN
Click on install and accept all terms and conditions. After the app installed open it and Sign-in. You will need to allow the VPN to set up VPN connections. Select OK and OK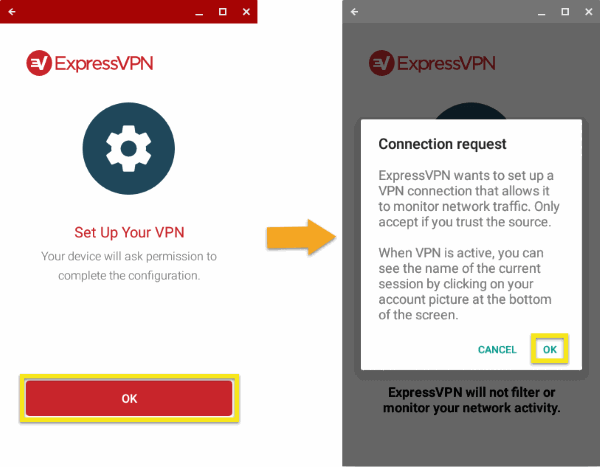 Click on the Connect button to connect to your desire location, it will show you connected after its connected,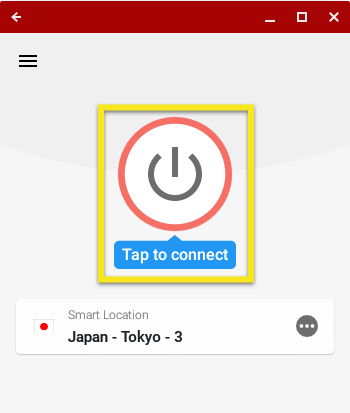 Enjoy your Privacy and Security by setting up a VPN on Chromebook.
Conclusion
Taking care of your privacy is very important. And that is why you must follow these steps to set up a VPN on your Chromebook. Usually, all your browsing details are protected by Chrome from any suspicious websites. But it is safe to use a VPN to protect your sensitive data online from intruders and hackers. You can also use any third-party Chrome extensions. But it will be effective only the browsing experience.